Love 'The Boys'? And waiting eagerly for its next season! Then, here's a good newsss!
The show is confirmed in mid-2020, as it's teased by actor Karl Urban on Instagram while the presentation was wrapping filming.
In Season One, it got top reviews and enlisted itself alongside with some best Amazon Prime original content, like The Tick. Season 2's trailer is out As a trainer, it doesn't reveal much about the plot but has unveiled so many characters. It shows plenty of violence and snapshots of the cast of the show.
It seems that season 2 will pick up right where the first season left off. So, it's a piece of good news. If you forget some critical scenes, there is a good chance to remind you!
PLOT of The Boys
The season 2 will pick up from when Homelander dropped Billy Butcher on the lawn of his wife, Becca, whom he assumed dead. Instead of having a family with Homelander, including their superpowered son. Is it quite a predicament for poor Billy to escape? That's more of questions everywhere.
In the first season, The Boys released in late July 2019. so this year also it may follow a similar pattern. Executive producer and showrunner Eric Kripke told Collider to expect the second season at "about the same time next year." A summer release of July 2020 seems the most likely,
"If it's a secret, if it's nothing the world knows about yet, then it becomes a secret that everyone would kill for, and it gives you an object that everybody wants, and it does all the great things a McGuffin does," Kripke told Entertainment Weekly, discussing Compound V's story significance. 
In an interview with EW, some new factors of season 2 were revealed. Billy's dog, Terror from the comics, is one of those. The death of Madelyn Stillwell (Elisabeth Shue) will be another big point for season 2's story. Vought International's mysterious CEO, Mr. Edgar (Giancarlo Esposito), will possibly appear in around four or five episodes. And at last minimum, a new villain will be added to the mix of all the flavors.
CAST of The Boys
 Both The Boys and The Seven's cast members to return. Karl Urban will return as Billy Butcher, along with Jack Quaid as Hughie. There will be  Laz Alonso as Mother's Milk, Tomer Kapon as Frenchie, and Karen Fukuhara as The Female, all of whom survived the first season.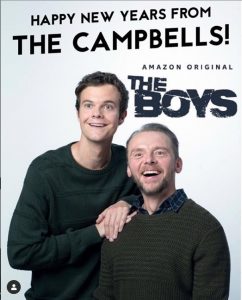 We know Starlight (Erin Moriarty) will return. Along with other members from The Seven like Homelander (Antony Starr), gross fish-man The Deep (Chace Crawford), Queen Maeve (Dominique McElligott), and probably A-Train (Jessie T Usher), can be seen.