Key West, often referred to as the "Conch Republic," serves as an exotic paradise, brimming with a vibrant history, stunning natural beauty, and a unique cultural tapestry. It's the southernmost point of the continental U.S., boasting crystal-clear waters, pastel-hued buildings, and an irresistible charm that captivates every traveler's heart. Let's embark on a vivid journey to this island, unveiling its secrets, experiences, and the best recommendations for your ultimate vacation.
Outdoor Adventures in Key West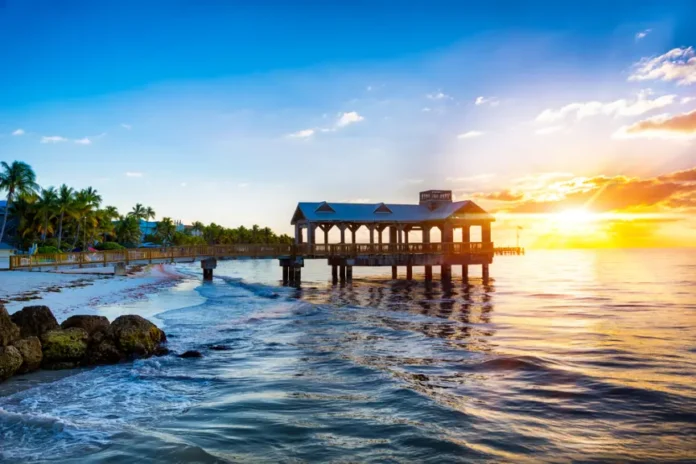 Nature enthusiasts, you're in for a treat. Fort Zachary Taylor State Park boasts some of the best beaches and offers a peaceful ambiance, punctuated with picnic spots, bike paths, and bird-watching areas. This historic fort doubles as a serene getaway.
Another spot, the Key West Butterfly & Nature Conservatory, is a realm of tranquility. Home to 50 different butterfly species and 20 exotic bird species, the conservatory paints a riot of colors and offers an educational, immersive experience for visitors of all ages. A private boat charter will give you the best experience of exploring the outdoors.
Exploring the Island's History and Culture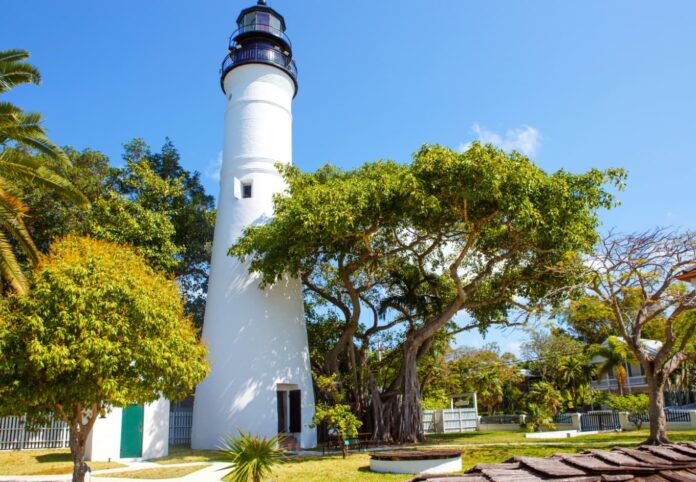 The heart of this island pulses with tales from centuries gone by. The Key West Shipwreck Museum offers a step back in time, recreating the perilous world of shipwrecking, a major 1850s industry. Live actors and artifacts vividly illustrate how salvagers profited from the misfortune of shipwrecks.
Moving away from the sea, Hemingway House stands as a testament to the legendary writer's love affair with Key West. The Spanish colonial home, now a museum, showcases personal memorabilia, and even the six-toed cats—descendants of Hemingway's beloved pet.
Unforgettable Water Activities
Dive deep into the allure of the ocean. The Dry Tortugas National Park, a cluster of seven islands, promises breathtaking snorkeling experiences. Here, amidst coral reefs teeming with marine life, lies the imposing Fort Jefferson, echoing stories of the Civil War.
For those seeking adrenaline, jet skiing around the island offers a thrilling ride. Not only do you experience the exhilaration of speeding over waves, but guides often provide intriguing tidbits about the island's history and ecosystems during pit stops.
Culinary Delights and Dining Experiences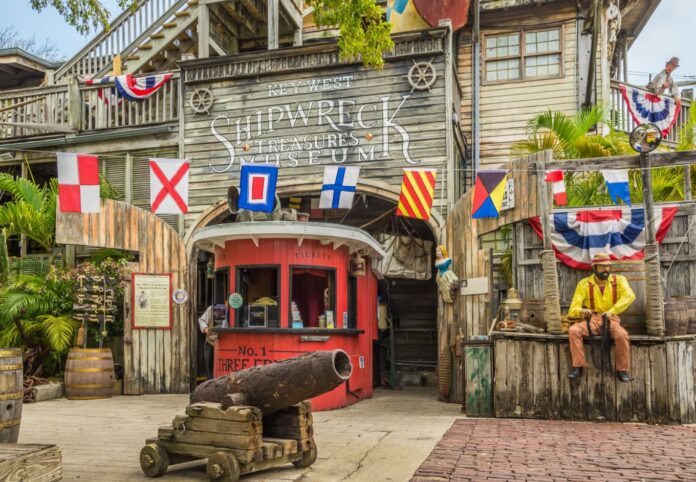 Epicureans, your taste buds are in for an adventure. Begin at Blue Heaven, famed for its rich Key Lime Pie. The laid-back, artsy ambiance, coupled with their Caribbean-inspired dishes, ensures a meal to remember.
Following that culinary experience, Santiago's Bodega stands out for its tapas-style servings. Located in Bahama Village, it brings to the plate a fusion of flavors, where Spanish preparations meet Key West ingredients in a delightful culinary dance.
Shopping and Souvenirs
Souvenir shopping in Key West is unlike any other. Duval Street is a hub, buzzing with art galleries, boutiques, and quirky shops. One can find handcrafted jewelry, tropical clothing, or even a hammock to evoke those beachy vibes back home.
Kino's Sandals, a legendary establishment, crafts unique footwear that's stylish yet comfortable. Handmade with love, these sandals have been a Key West staple since 1966 and make for the perfect memento or gift.
Nightlife and Entertainment
As dusk falls, Key West transforms into an entertainment powerhouse. The Sunset Celebration at Mallory Square is an absolute must-attend. Street performers, local artisans, and musicians congregate, creating a lively atmosphere against the backdrop of a mesmerizing sunset.
Following that spectacular sight, dive into the world of live music at the Green Parrot Bar. A historic bar that's been serving since the late 1800s, it epitomizes the essence of Key West's nightlife – vibrant, eclectic, and oh-so-memorable.
Accommodation Options and Recommendations
Accommodating your dreams, Key West offers an array of lodging choices. From luxury resorts to cozy bed and breakfasts, there's a haven for every traveler. The Waldorf Astoria stands out, pampering its guests with top-notch amenities against an ocean backdrop.
For those seeking a more intimate setting, The Mermaid & The Alligator is a charming B&B. With its vintage décor, lush gardens, and personalized service, guests are assured of a stay sprinkled with magic and memories.
Navigating Key West's Transportation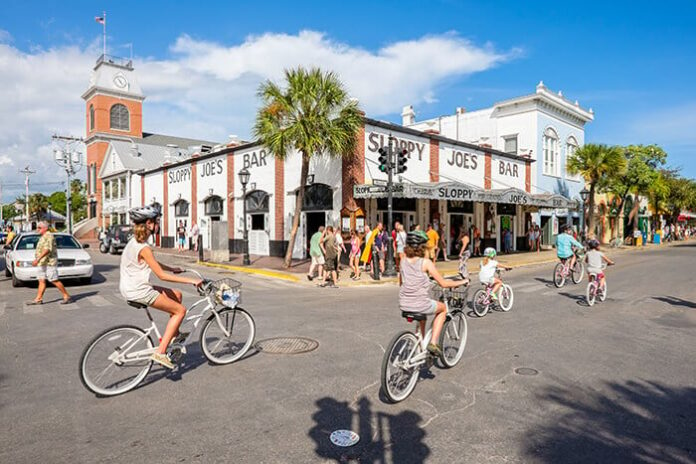 Getting around this paradise is hassle-free. The Conch Train Tour provides not just mobility, but also an insightful narration of Key West's history, landmarks, and more. It's an efficient and informative means to navigate the island.
Cycling enthusiasts can opt for bike rentals. Given the island's compact size, it's an eco-friendly and healthy way to explore every nook and cranny, making unexpected discoveries along the way.
Seasonal Events and Festivals
Throughout the year, this island bustles with festivals. The Key West Lobsterfest celebrates the lobster season with feasts, street fairs, and lively music. It's a seafood lover's dream come true.
Come October, Fantasy Fest paints the town in a kaleidoscope of costumes, parades, and revelry. With its unique themes each year, this 10-day carnival epitomizes the island's free spirit and creative pulse.
Tips for a memorable key west vacation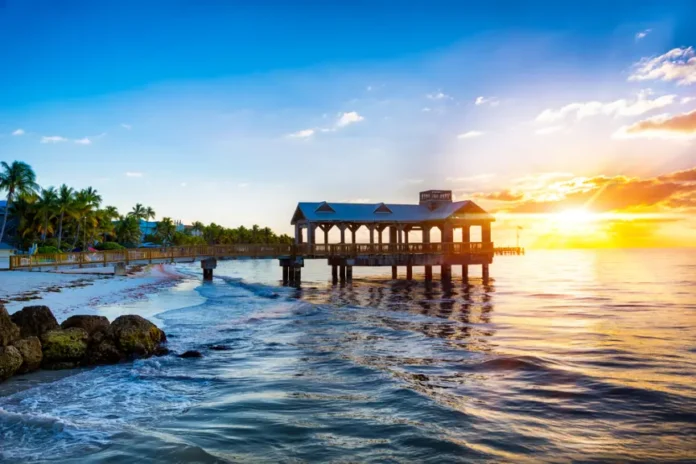 Planning always helps. While spontaneity adds charm, booking some activities in advance ensures you don't miss out. Whether it's a fishing charter or a sunset sail, reserve your spot for these popular adventures.
Lastly, immerse in the local culture. Engage with residents, partake in community events, and be respectful of the environment. This not only enriches your experience but leaves a positive imprint on this beautiful island.
Day Trips and Nearby Attractions
Venturing slightly off Key West unveils a treasure trove of experiences. The nearby Marquesas Keys, an uninhabited group of islands, are perfect for a secluded day trip. Surrounded by azure waters and teeming with marine life, they're a dream for snorkelers and nature lovers. A short boat ride north will take you to the Lower Keys, where Bahia Honda State Park offers pristine beaches and the old Bahia Honda Rail Bridge, giving a panoramic view of the surroundings.
Meanwhile, taking the ferry to the neighboring Garden Key introduces you to historic Fort Jefferson. This massive yet unfinished coastal fortress stands as a testament to America's 19th-century military prowess and architectural ingenuity.
Final Thoughts
Key West, with its myriad offerings, promises an unforgettable experience. Whether you're a history buff, an adrenaline junkie, a food lover, or someone seeking tranquility, this island paradise holds a special corner for you. As the sun dips below the horizon, casting a golden hue over the island, you'll find yourself leaving a piece of your heart here, already planning your next visit.