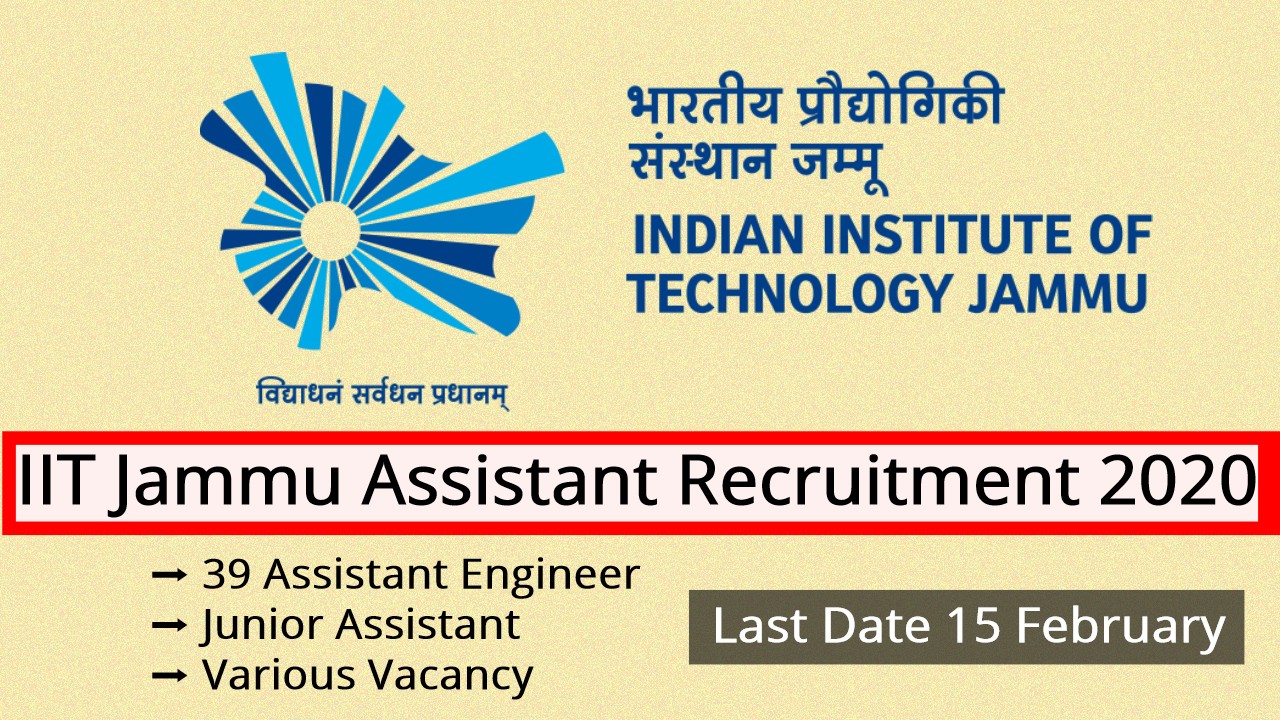 IIT Jammu Assistant Recruitment 2023 – Apply Now ?
The Indian Institute of Technology Jammu (abbreviated IIT Jammu) is a public research university located in Jammu, Jammu and Kashmir, India. The Institute came into existence in 2016 when a Memorandum of Understanding (MoU) between Department of Higher Education, Government of Jammu & Kashmir and Department of Higher Education, Ministry of Human Resource Development (MHRD), Government of India, was signed, setting the ball rolling to set up an IIT campus at village Jagti, Tehsil Nagrota at Jammu (Source – Wikipedia)
How to Apply IIT Jammu Assistant Vacancy 2023
Interested Candidates may apply Online through the website www.apply.iitjammu.ac.in form 16.01.2020 to 15.02.2020.
Advt. No. : IIT Jammu/01/2020 (DirectRectt.)
Job Location: Jammu
IIT Jammu Assistant Selection Process: Selection will be based on Written Test/ Proficiency Test/ Computer Test/ Interview.
---
IIT Jammu Assistant Vacancy 2023 Details
Post Name
No. of Vacancy
Pay Scale
Registrar
01
144200 – 218200/- Level 14
Scientific Officer
01
67700 – 208700/- Level 11
Technical Officer
02
56100 – 177500/- Level 10
Assistant Executive Engineer (Electrical)
01
Assistant Engineer (Civil)
01
47600 – 151100/- Level 8
Junior Technical Superintendent (JTS)
16
35400 – 112400/- Level 6
Junior Engineer (Civil)
01
Assistant Security, Fire & Safety Officer
01
Assistant Sports Officer
01
Caretaker-cum Manager
01
Senior Laboratory Assistant (SLA)
04
29200 – 92300/- Level 5
Senior Assistant
05
Junior Library Information Assistant
01
25500 – 81100/- Level 4
Junior Assistant
03
21700 – 69100/- Level 3
Total
39
Category wise IIT Jammu Assistant Vacancy Details
Post Name
UR
OBC
SC
ST
EWS
Total
Registrar
01
0
0
0
0
01
Scientific Officer
01
0
0
0
0
01
Technical Officer
02
0
0
0
0
02
Assistant Executive Engineer (Electrical)
01
0
0
0
0
01
Assistant Engineer (Civil)
01
0
0
0
0
01
Junior Technical Superintendent (JTS)
08
04
02
01
01
16
Junior Engineer (Civil)
0
01
0
0
0
01
Assistant Security, Fire & Safety Officer
01
0
0
0
0
01
Assistant Sports Officer
01
0
0
0
0
01
Caretaker-cum Manager
01
0
0
0
0
01
Senior Laboratory Assistant (SLA)
01
01
01
0
01
04
Senior Assistant
04
01
0
0
0
05
Junior Library Information Assistant
01
0
0
0
0
01
Junior Assistant
0
01
01
01
03
Total
23
08
03
02
03
39
IIT Jammu Assistant Eligibility Criteria
Post Name
 Education Qualification
Age Limit
Registrar
Master degree from a recognized university with 60% marks and above or its equivalent Grade of 'B' in the UGC seven-point scale and consistently good academic record.
55 years
Scientific Officer
Ph.D. in Computer Science/ Computer Science & Engineering/Electrical Engineering/Electronics Engineering/ Applied Science from CFTI/Institute of National Importance
45 years
Technical Officer
BE / B Tech in Computer Science Engineering / Computer Engineering and at least 60% marks or equivalent CGPA on a scale of 10 points in all graduate and postgraduate degrees with a consistently good academic background.
Assistant Executive Engineer (Electrical)
Diploma in Electrical Engineering from a recognized University/ Institute with 60% marks
Assistant Engineer (Civil)
Bachelor degree in Civil Engineering from a recognized University/ Institute with 60% marks or equivalent CGPA
40 years
Junior Technical Superintendent (JTS)
B.E./ B.Tech./B.Sc. with 60% marks or equivalent CGPA and above from a recognized University/Institute
35 years
Junior Engineer (Civil)
Bachelor Degree in Civil Engineering from a recognized university/Institute with 60% marks or equivalent CGPA
Assistant Security, Fire & Safety Officer
Bachelor's Degree with 60% marks or equivalent CGPA and above from a recognized University/Institute with Defense/Police/ Fire Fighting training.
Assistant Sports Officer
Bachelor in Physical Education (B.Ph. Ed.) or it's equivalent with 60% marks or equivalent CGPA and above from a recognized University/Institute
Caretaker-cum Manager
Degree in Hotel Management or equivalent with 60% marks or equivalent CGPA and above from a recognized University / Institute
Senior Laboratory Assistant (SLA)
M.E./ M.Tech. with 60% marks or equivalent CGPA and above from a recognized University/Institute.
33 years
Senior Assistant
Master Degree in any discipline from a recognized university with 55% marks or equivalent CGPA
Junior Library Information Assistant
Bachelor's degree in any discipline with 60% marks or equivalent CGPA and above and M.Lib.Sc/MLIS with 60% marks or equivalent CGPA and above from a recognized University / Institute.
Junior Assistant
Master's Degree in any discipline from a recognized university with 55% marks or equivalent CGPA and above.
30 years
Age Calculate on 15.02.2020
IIT Jammu Assistant Application Fee
For Group 'A' candidates
1000/-
Pay Examination fee through Online Debit Card/ Credit Card/ Net Banking.
For Group 'B' & 'C' candidates
500/-
IIT Jammu Assistant Important Dates to Remember
Starting Date for Submission of Online Application
16 January 2023
Last Date for Submission Of Online Application
15 February 2023
IIT Jammu Assistant Important Links
Details Notification Link
https://bit.ly/36cjJT4
Apply Online
https://bit.ly/2tnwsVX
IIT Jammu Recruitment 2023 Official Website
https://apply.iitjammu.ac.in/