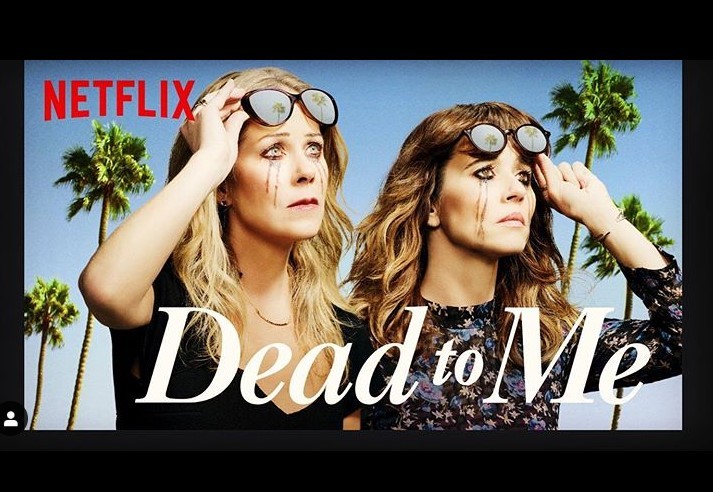 Netflix is back with its very popular, or I can say very notorious  DARK COMEDY! So, can you guess the name? Yes, So many guys can guess it from the cover picture. But if your answer is No! Then let me give you some more hints. This DARK COMEDY is one of the best American Black  Comedies. At the 71st Primetime Emmy Awards,  Actress Applegate received a nomination for 'Outstanding Lead Actress' in this Series. So what is it?
No other series but the Netflix's popular Dark Comedy: 'DEAD TO ME.' Dead to me is back with its Season two. Netflix has officially renewed the dark comedy series for a second season!
The Premise of the Series Soooo Far
The series is a Black Comedy, and this is where it attracts it's most viewers. The Taboo is no more a secret!
It is about a powerful friendship that blooms between Jen (Applegate) and Judy (Cardellini). Jen is currently a widowed real estate agent. She is trying to accept and come over with her loss through therapy, exercise, and other methods. On the other hand, Judy is (spoiler ahead) the culprit of her husband's death. Judy is also a member of that grief supporting group where Jen is continuing her therapy.
When Jen is mourning her husband, who was killed by a hit-and-run driver, at the same time, Judy laments for her fiancé, who died of a heart attack.
The two characters face their loss differently. This difference soon leads to a deep bond between the two. However, there are some deep secrets that Judy keeps, causes a disturbing plot twist later.
Faithfully, Jen becomes more unhinged as soon as she discloses the mystery of her husband's death and the secret life.
Premier of Dead To Me
On April 5, 2018, Netflix was releasing a series for a first season comprising of ten episodes. Liz Feldman created the series. He was also expected to write for the series and executive produces alongside Will Ferrell, Adam McKay, and Jessica Elbaum. On April 1, 2019, the series( first season) was set to be released on May 3, 2019. On June 3, 2019, the series was reincarnating for a second season. It is set to be released in 2023. The specific date has not been mentioned. But it's expected during the summer the series will be in the air.
The casting of the Second Season
During the June 3, FYSee panel, Netflix confirmed, Christina and Linda have both signed on for Dead to Me season 2. This signature means the central character os the storylines be – obviously — the two beautiful ladies. Filming has already been wrapped. Linda has the same conditioned post in her Instagram account.
Will Steve  (James Marsden) also be back for season 2? It's not yet sure. Let's wait for the official announcement.