It's not even been a month since Snowpiercer hit the screen. This long-awaited adaptation has managed to impress a lot of fans of the original movie. 4 episodes have been released so far and we are in love with how they turned out. In this article, we will give you a sneak peek into the series and the upcoming episode.
Snowpiercer Season 1 Episode 5 release date
The 5th episode of Snowpierecer Season 1 will release on June 14, 2023. You can watch it on TNT at 9 pm E.T. But, if you want to stream it online, you have Amazon Prime, iTunes, and Netflix to help you out.
What is Snowpiercer Season 1 about?
Set in a time after an apocalypse, this dystopian American thriller is based on a South Korean film of the same name. The film was actually based on a novel called Le Transperceneige.
The series Snowpiercer is set in the year 2023, which is seven years after the transformation of the world into a frozen wasteland. So, the story shows the people who've survived this time. They are all in a train consisting of 1001 carriages. But, the twist is that this train keeps moving perpetually and takes a year to circle once around the globe.
Furthermore, we see how the passengers are separated on the basis of class. Meanwhile, there's a revolutionary struggle against this social hierarchy and inequitable distribution of resources. Hence, this show combines two elements, namely, post-apocalyptic life and class-system promoting injustice and fight for survival.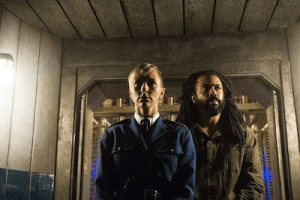 The star cast of the series
The credit of the appreciation being bestowed upon the series also goes to the talented and wisely selected cast. Have a look at the amazing actors who are a part of Snowpiercer Season 1:
Jennifer Connelly as Melanie Cavill
Mickey Sumner as Bess Till
Daveed Diggs as Andre Layton
Alison Wright as Ruth Wardell
Susan Park as Jinju Seong
Sasha Frolova as Pixi Aariak
Iddo Goldberg as Bennet
Sam Otto as John "Oz" Osweille
Mike O'Malley as Roche
Sheila Vand as Zarah
Annalise Basso as L.J. Folge
Rowan Blanchard as Alexandra
Jaylin Fletcher as Miles
Lena Hall as Miss Audrey
Roberto Urbina as Avi
Steven Ogg as Pike