The Dragon Prince is one of the best shows we have in the list of top animated TV series. All three seasons were really a treat to watch and fans are now waiting for the next season. Here's all we know about The Dragon Prince Season 4 so far.
The first season premiered on the 14th of September, 2018 on Netflix. With each new season, the average audience ratings and approval from critics kept improving. So, everyone has been very hopeful about season 4.
Looking at the reception of all three seasons, creators have also decided to develop a video game based on the series. The game will be set in the same world where the series is based. Currently, the video game is in its development stage.
The Dragon Prince Season 4 release date
Well, looking at the current situations, we can't see a fourth season coming in the near future. No announcement about the renewal was made by the creators after season 3 released. However, everyone was expecting it to release in May this year. But, clearly, we don't even have a trailer or a release date yet.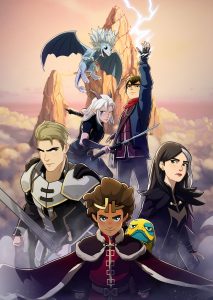 Also, speculations around the cancellation of the fourth season are also being made. This is because Danika Harrod (who is the voice behind Wonderstorm) said that the contract with Bardel Animation had ended when the production of season 3 was finished.
Hence, Season 4 of The Dragon Prince is not likely to release anytime soon.
Season 4 Cast
If season 4 is ever made, we can expect the main character, Callum to come back. Also, Rayla, Erzan, and Viren are also expected to reappear in the fourth season.s.
The Dragon Prince Season 4 plot
The fantasy drama series is set in a continent called Xadia. Xadia is a powerhouse of primal magic.
The dragons, humans and elves, all lived in Xadia peacefully. But, it all changed when humans' difficulty in utilizing primal magic made them head towards black magic. So, the harmony was disturbed and the humans shifted to the west. Then, the continent gets divided into two halves, separated by a river of lava.
Since there has been no official announcement about The Dragon Prince Season 4, there's no hint about its story. However, considering the end of season 3, we can make some guesses about the plot.
In season 4, we can expect a continuation of the battle between humans and dragons. Besides, some sources suggest the possibility of the resurrection of Viren (the antagonist). Hence, Erzan, who is the new hire of the Katolis throne might have to face new challenges.