Yet another shocking news is coming from Bollywood. After the news of Amitabh Bachchan and Abhishek Bachchan found Positive with Corona, today, fellow actor Anupam Kher also announced on his twitter that his Family Members had found Corona Positive.
Anupam Kher on his twitter uploaded a video. He said his mother, whom we know as Dulari has been unwell for the last few days. She stopped eating and used to sleep excessively. They went through blood reports, and later on, as per the instruction of doctors, they also did a city scan. Blood reports were normal, whereas the City scan revealed that she is mildly Corona Positive.
Here is the Tweet of Anupam Kher:
This is to inform all that my mother Dulari is found Covid + (Mildly). We have admitted her into Kokilaben Hospital. My brother, bhabhi & niece inspite of being careful have also tested mildly positive.I got myself tested as well & I have tested negative. @mybmc is informed.!? pic.twitter.com/EpjDIALft2

— Anupam Kher (@AnupamPKher) July 12, 2023
As Anupam and his brother Raju were in constant touch with their mother, Both of them undergone the tests. His brother, Raju's report, are also positive-mildly. Matter of Relief is Actor himself has found negative. Raju's family also got their reports done in which his wife and daughter have been found Positive and Son Negative. Family members of Raju are self quarantined as soon as they tested positive. Moreover, they have informed BMC about the situation, and BMC staff, after reaching Raju's home, have sanitized it. The actor praised the efforts of BMC in this pandemic.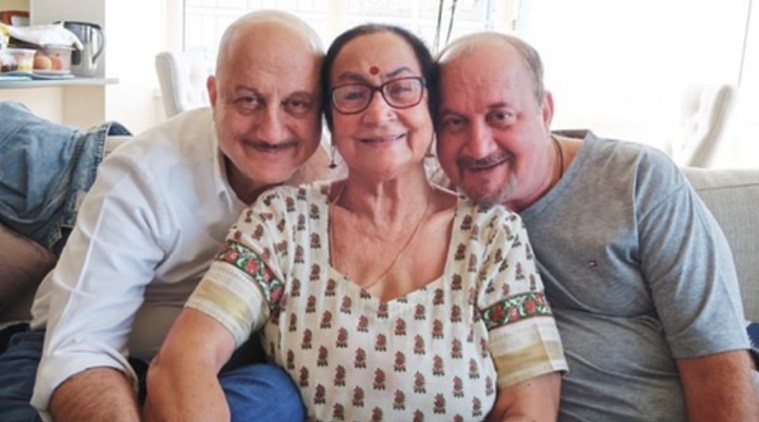 Actor's mother is admitted to Kokilaben Hospital. Actor himself appreciated the support of hospital staff. He urged everyone via a video uploaded on twitter to take care of elders, and if someone is not taking food appropriately, then they must visit doctors.
We hope his mother, Brother, Sister-in-Law, and Niece recovers very soon. We, on behalf of thenationroar, request you all to obey all the instructions issued for Covid-19. Maintain social distance and always put on a mask.
We would like to mention that Senior Bachchan and Junior Bachchan also tested positive yesterday and are admitted.
Also Read, legendary Bollywood Actor Amitabh Bachchan Tested Corona Positive, Abhishek Bachchan Has Also Tested Positive For Coronavirus After Father Amitabh.
Stay tuned for more quick updates and Information.