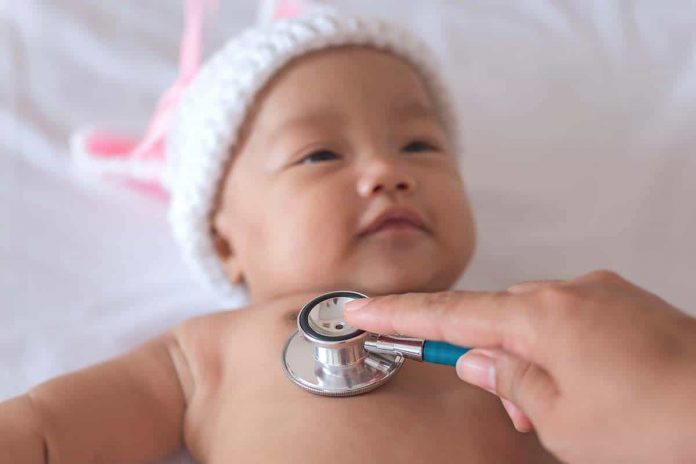 After a family in Toledo, Ohio, pleaded for money to help cover their son's medical treatments by saying their child should die, an anonymous person's response was 'barbaric' and people can't believe their eyes.
Randy James, or "RJ," is KC Ahlers' infant son, who was diagnosed with two rare medical conditions when he was born in July.
One of the diseases is Agenesis of the Corpus Callosum, which means the center of his brain is underdeveloped.
Another disease is Trisomy 9 Mosaic Syndrome, a rare genetic chromosome disease that got to him by birth.
On the GoFundMe which their parents created to collect money for their son's surgery Angela Ahlers, RJ's mother, wrote, "In his three months on this earth he has been to 15 specialist appointments."
Angela Ahlers wrote that the bills are beginning to stack up and they are not able to cope with the costs.
She further said one genetic test alone would cost $10,000. Although they have medical insurance, their insurance company stated that it's "Not medically necessary."
According to their fundraising page, The Ahlers family has managed to raise about $4,000, but to reach their $20,000 goal, they still have a long way to go.
To spread the news and ask for more people's help, KC Ahlers put up six signs around a local mall describing RJ's disabilities and asking onlookers to donate to their GoFundMe.
Last week, he spotted a horrifying sign that was right below his own.
The sign read, "Stop asking for money. Let the baby die. It's called Darwinism. Happy Holidays."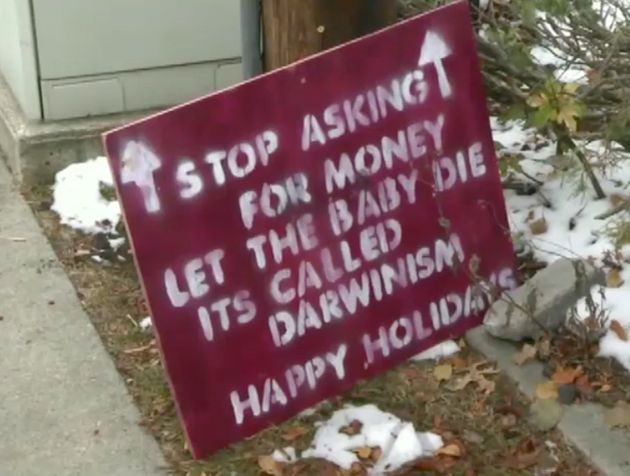 KC Ahlers told local news station WTVG that he was shocked by the cruelty that anyone can display at such a crucial moment.
"I came out. I saw it. Immediately took the one down. Other ones were up, but somebody, some other good Samaritans kicked them down," he said.
Unfortunately, the ideology and mentality of people regarding disabilities are not uncommon.
Numerous disability activists, including Emily Ladau, have condemned the sign on social media.
Emily Ladau herself is a wheelchair user and editor-in-chief of Rooted in Rights.
It is a website that fights stigma against the disability community.
Ladau in her tweet said that "how little society thinks of disabled people" and that the current health insurance system is an "abomination" that compels people, including the Ahlers family, to "seek monetary supports to avoid financial ruin."
The hateful sign went viral throughout the country and donations began following into RJ's GoFundMe page from all over the country.
All the generous people reached to lend out a haling hand and donated to the GoFundMe page of the family.
The family stopped accepting donations after receiving more than $63,000, which was triple their fundraising goal.
For his treatment, RJ saw a specialist at Boston Children's Hospital on Monday, who was treated for the rare chromosomal disorder.
Even though the odds are not great for RJ, he still has a long road ahead of him.
RJ's family said he now has excellent medical care and a lot of support.
"I think what was given to us for the first time, in Boston, was hope," KC Ahlers said.