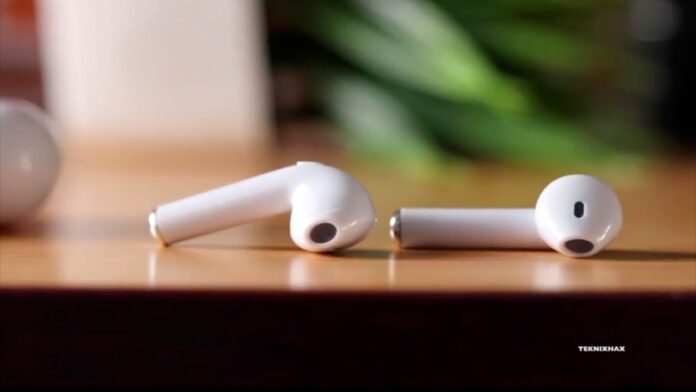 Realme has launched Realme Buds Air on Flipkart very recently, and they are all set to compete with Apple Airpods.
The main attraction is that Realme Buds Air has a selling price of only 4000 Rs, which is nothing as compared to AirPods.
So, is it worth it? With such less price, do they provide quality? Are they same as any other earphone, or do they deserve a chance to compete with AirPods 2?
Here's everything you need to know about everything before buying Realme Buds Air.
Realme Buds Air VS AirPods: Specs Compare
Realme Buds Air
Apple AirPods 2
Specs
Weight
4.3g (per earbud)
4g (per earbud)
Size
45x22x54mm
44.3×21.3×53.5mm
Bluetooth
Bluetooth 5.0
Battery Capacity
43mAh (per earbud)
93mAh (per earbud)
410mAh (charging case)
398mAh (charging case)
Charging Time
1.5 hours
Music Time
4 hours
5 hours
Standby Time
17 hours (with charging case)
24 hours (with charging case)
Driver Unit
12mm dynamic
13mm dynamic
Sound Quality
AAC/SBC
Support Protocol
HFP/HSP/A2DP/AVRCP
Waterproof
IP54
IP67
Interface
Type-C
Lightning
Features
Pop-up Window
No
Yes
Music Control
Yes
Phone Calls Control
Yes
Volume Control
No
Voice Assistant
Yes
Bone Voice Sensor
Yes
Active Noise Cancellation
No
Wearing Detection
No
Yes
Wireless Charging
Yes
Price
3999 rupee
14490 rupee
From this comparison table, we can quickly get the similarities and differences among the upcoming Realme Buds Air and Apple AirPods 2.
Apple AirPods 2 performance is better than Realme Buds Air in sound quality and compatibility with iOS devices.
But if you are an android user, then the lower price Realme Buds Air may be more suitable for you.
So, let's compare in more detail before jumping to the conclusion.
Realme Buds Air VS AirPods: Outlook Design
The main similarity between AirPods and Realme Buds Air is the outer look and design.
Both of them possess a design with half-in-the-ear type and have a rectangular charging box.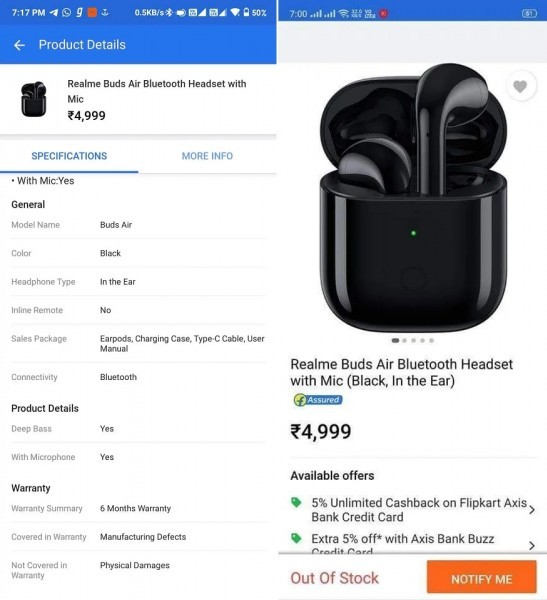 However, Realme provides a multi-function button directly in front of the Realme Buds Air charging case, which is not equipped with AirPods.
Also, Realme Buds Air is available in three colors, namely, yellow, white, and black colors, while AirPods are only available in white color.
Realme Buds Air VS AirPods: Connectivity and Sound Quality
For Connectivity, both the Realme Buds Air and AirPods are supported with Bluetooth 5.0, which gives an experience of stable and seamless connection.
However, one of these two truly wireless earbuds supports active noise canceling, but they have adopted dual-mic noise cancellation.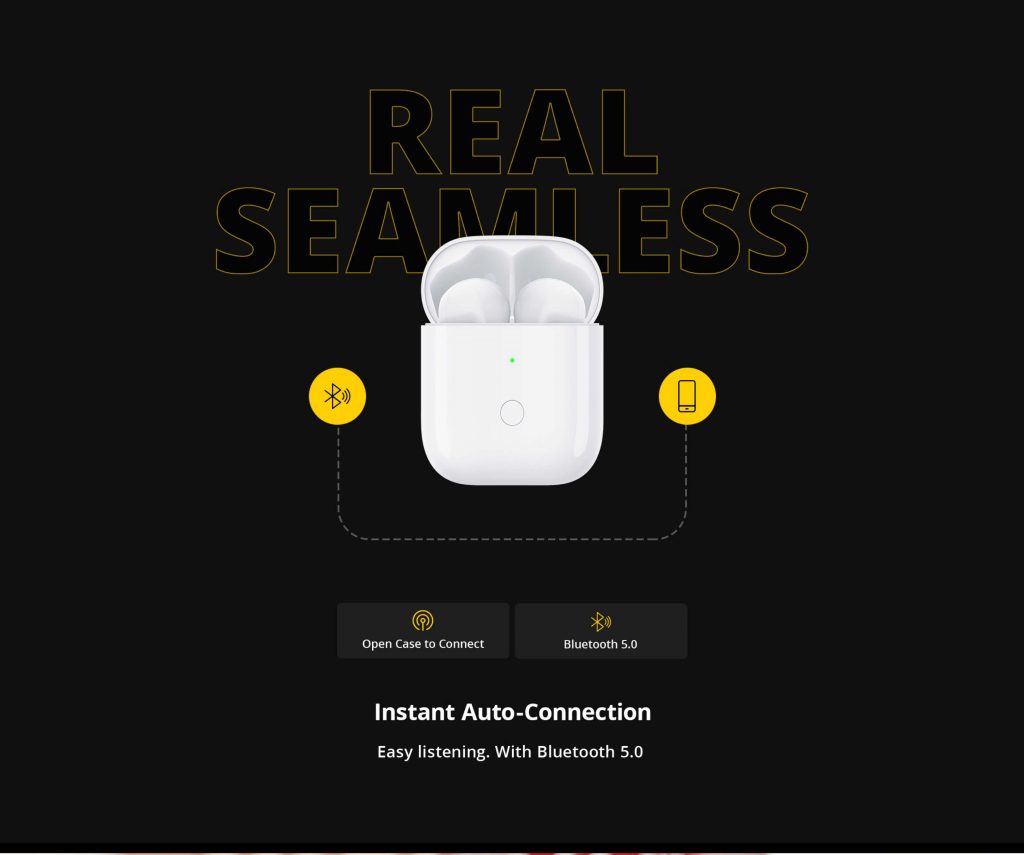 Realme Buds Air is also equipped with deep bass and AAC codec, which promises you an excellent music quality.
However, the Apple AirPods powered by the Apple H1 headphone chip, and the AirPods now feature hands-free access to Siri using just your voice; it is very convenient and practical.
Realme Buds Air is equipped with a low latency gaming mode, which gives you the ultimate gaming experience.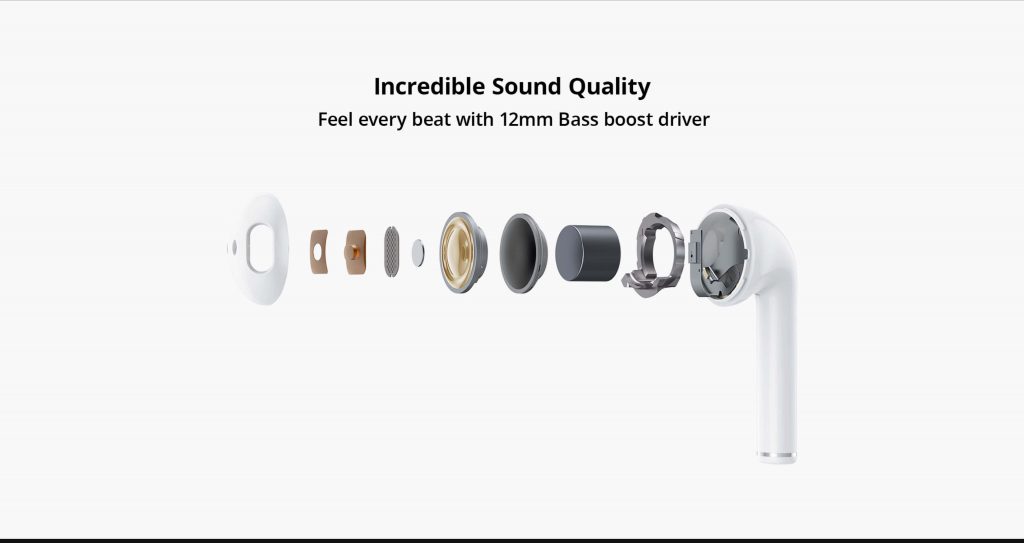 The 120ms supper low latency can give you a stable and fast watch experience or phone gaming experience.
Realme Buds Air VS AirPods: Battery Life
Battery life plays one of the critical features of buying suck electrical devices.
There is a significant difference in the battery life offered by Realme Buds Air and AirPods.
AirPods 2 offers you 24-25 hours of music time. However, Realme Buds Air provides only 17 hours of music time. But both of them support wireless charging.
The Verdict
The Realme Buds Air is undoubtedly a worthy and new competitor Apple AirPods.
Its design and function are very similar to AirPods.
Also, the price of Realme Buds Air has been announced at 3999 rupees, only 1/3 of AirPods.
Realme Buds Air VS AirPods, which one would you prefer?