Halo engagement rings are becoming a very popular option for everyone who loves classic, sophisticated, and elegant. As the word itself suggests, it is a larger diamond or gemstone in the center and surrounded by a halo of smaller stones, which gives a luxurious effect. Could anyone resist those sparkles and turn down the offer?
Of course, luxury comes at a price, but that doesn't mean you have to pay a huge amount of money for a ring like this. On the contrary, there are excellent options for those with a limited budget. There are many different models and styles, but hidden halo rings seem to be the most sought-after by sellers right now – and for more information, you can stay with us as we talk about the most luxurious options available to you.
But we're also here to discuss budget-friendly styles. Halo engagement rings are a popular choice for their elegant and timeless look – no matter if you go for the inexpensive or luxurious option. Anyway, it's up to you to determine your budget and make the right choice. Luckily, you have plenty of options to choose from, so this task will be pretty easy for you.
And we are here to help you with that! Here are some affordable and luxurious options to consider for every budget:
Affordable option: Sterling Silver Halo Engagement Ring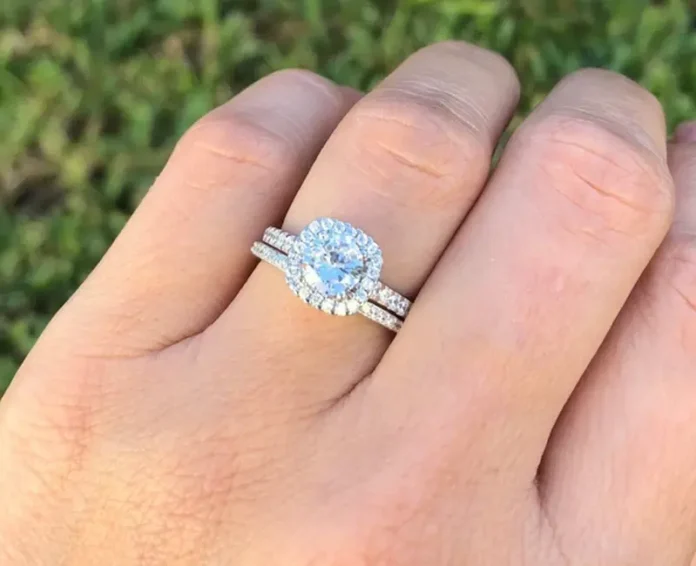 A sterling silver halo engagement ring is an affordable option for those on a budget. Still, it looks pretty expensive and high-end, so you won't get wrong choosing this style, and giving it to your loved one. As expected, it features a center stone surrounded by smaller diamonds, creating a halo effect. This ring is elegant and sophisticated, yet budget-friendly.
And you don't really need to worry about the price tag because it looks so elegant and so bougie, no one can ever figure out it's a budget-friendly option.
As you can see, affordable doesn't really mean cheap. Many affordable options look luxurious enough to compare with the million-dollar styles.
Mid-range option: 14K Gold Halo Engagement Ring
Everyone loves gold, and when someone says they dislike it – they probably lie to you. So, if you can afford to buy a more expensive ring, consider checking on the golden ones. You'll be surprised how beautiful some of the models can be.
A 14K gold halo engagement ring is a mid-range option that offers a luxurious look without breaking the bank (or squeezing out your pocket, if you prefer). Just like the sterling silver one, the ring features a center stone surrounded by diamonds, and the gold band adds a touch of glamour.
And we understand if you're in a doubt. For many years people refer to gold as outdated jewelry material, but it's still very worthy and luxurious. So, don't fall for that trap, especially if you know your loved one likes gold. It's still a great option for those who can spend some more money on an engagement ring that looks like a part of a royal jewelry collection.
Luxury option: Platinum Halo Engagement Ring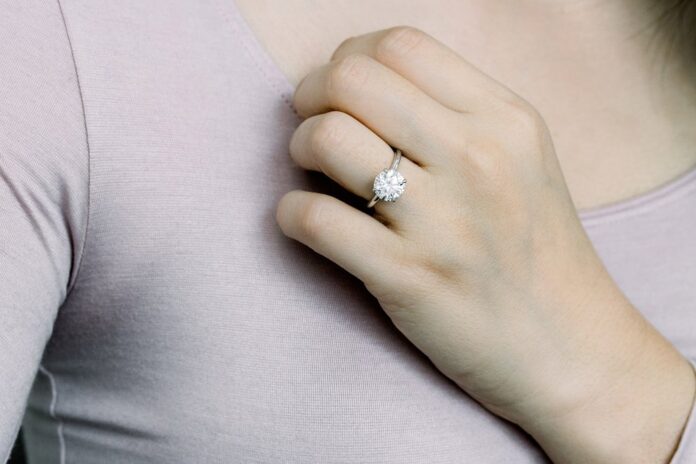 For those who want the ultimate in luxury (and can afford it for sure), a platinum halo engagement ring is the way to go. Platinum is a rare and durable metal that is also hypoallergenic, making it perfect for those with sensitive skin. And we must note it's quite expensive too.
This type of ring, as you suppose, features a center stone (diamond or gem) surrounded by diamonds, and the platinum band adds to make it quite impressive. And when you see it, you'll immediately understand why it's so precious and expensive.
Sometimes platinum looks similar to silver, and that's why people prefer it over gold rings. Still, it has a unique shining effect, making it look more luxurious compared to silver. And you don't need to clean it due to oxidation. We must say it's worth the money you invest.
How halo engagement rings became a trend among people?
If you have an impression that many choose halo engagement rings, you are right. One of the primary reasons is their stunning appearance. Additionally, they are pretty versatile, which gives the freedom to customize them according to individual tastes. You can choose any stone to combine with the diamond, or you don't even need to use a diamond at all.
The halo enhances the size of the ring, making it look larger and more appealing. Still, it looks elegant and sophisticated, but also traditional, which is the goal of engagement rings. The customization options allow you to create the perfect ring for your spouse, no matter the price.
That also means you can adjust the expense, and still get a stunning piece that fits your loved one. And we can talk about how beautiful these rings are for days, but we don't have that much time.
Instead, we recommend checking on the options yourself and seeing what the sellers and jewelers have to offer these days. We are sure you'll find something stunning that symbolizes the love you have for your spouse.
But how have all these things become one of the most anticipated trends when it comes to engagement rings?
Probably the fact that the rings look so beautiful contributes largely. Every future bride loves a lovely engagement ring on her hand, and her spouse can buy a luxurious style and model, without spending a fortune on it.
Final thoughts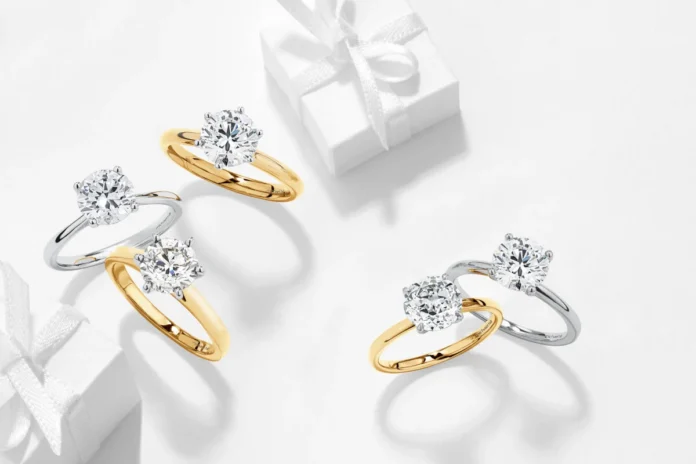 Regardless of your budget, most halo engagement rings are available for every price range. Sometimes you'll have to adjust the stones according to your budget, but the result will always be something beautiful and unique.
Whether you choose an affordable sterling silver option, a mid-range 14K gold ring, or a luxurious platinum ring, you can be sure that your halo engagement ring will be a stunning and timeless symbol of your love.
Now you know almost everything about these rings, it's time to research your options and go shopping. We are sure you'll be able to find the most beautiful ring among them all, and your spouse will love it!