Aditya Paudwal losing his life is another bad news for this horrendous year. 2022 is relentless, and the bad news keeps coming through the door. In addition to the pandemic and the natural calamities, we are losing stars.
The latest unfortunate news came from the proximity of a loved legend. Veteran Singer Anuradha Paudwal has lost her son Aditya. The prolific playback had passed her musical genes down to the child. Aditya was a music composer full of talent and a musical knowhow.
Although, he was unwell for so long, he didn't just leave his dreams alone. With immense fighting spirit and will-power, he pushed through many difficult times earlier in life.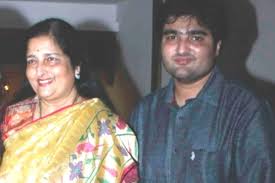 What happened to Aditya and his health?
Most of the details coming out, comes from the legendary composer Shankar Mahadevan. He was very close to the family and kept track of Aditya's health for a long, long time.
In an interview with Indian media outlet Indian Express, he gave more insight into his battle with the deadly kidney-ailment:-
"Aditya was only 35 and such a vivacious person. He was unwell for many years actually. He had some physical ailments because of which he also developed hypertension."
In addition to his suffering, he also gave more details about a recovery and the collapse during his long-term illness.
"He even got fit, but the ailments recurred. It had to do something with his lungs and finally, his kidneys failed. Last four days he was in the ICU and this morning he passed away. Very sad."
Passionate career in Indian Music Industry:-
The outpouring support from legends like Shankar Mahadevan is a proof of his talent's outreach. He's not the only great of the industry that's coming out sharing his condolences after the demise of Adi.
Pankaj Udhas, Armaan Malik, and Kaushal Imandar were one of the few big time names who showed solidarity with the family and followers.
The last musical project from Aditya was a musical setup in the year 2018. Aditya arranged the music in Nawazuddin Siddiqui's film Thackeray.
With times so troubling, we would all like to send our prayers to the departed soul and strength and support to the family.
Check out more articles like this on The Nation Roar:-
Jaden Smith: Dating Book has Another New page Now? Are the Rumors True!?