The Masked Singer is all set to make a triumphant return to your TV screens. After three incredible seasons, the show is coming back this year. The excitement of fans is at an all-time high, especially knowing the fact that this series keep getting better and better.
However, the FOX broadcasting company won't leave any stone unturned for promotions. Latest of the lot is a sneak peek in of a particular performance, and it doesn't disappoint one bit! The train of followers is already losing their collective minds trying to guess who is under the costume.
It's a winning formula that FOX have tied down with proven track record. Also, the fact that there's no limit of content and such a dynamic format, makes things better.
What's the new headline maker in the market?
Fox released a brand new promo for the upcoming fourth season of The Masked Singer. The video consists of a performance in a curious costume representing a Broccoli. A popping performance with an absolutely incredible visual from top to bottom!
However, it's untellable who's under that lavish and surely not too comfortable to carry outfit. For the fans of heath and dieting, this one must've been easy on the eyes. For a change, people are dressing us like something other than a hotdog. Eww… That's so unhealthy.
When is the Fouth season coming out?
The wait for fans is almost over to get the guess the celebrity roulette. Season Four will premiere on September 23rd, 2023 with the usual schedule. New episodes will be coming out in a weekly format at 8 PM, Every Friday!
New set of episodes started filming in late August after a delay due to the pandemic restrictions. However, the fact that it's episodic, the episodes will start airing along with the production.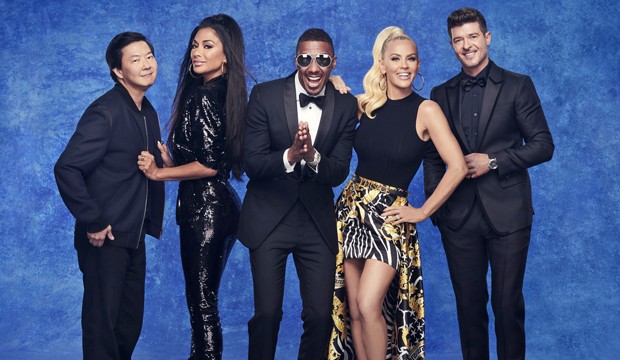 Who's on the judging panel this season?
Robin Thicke, Jenny McCarthy, Ken Jeong and Nicole Scherzinger will all return as the judges on the show. The guessing game continues and the judges will surely be all in. However, Nick Cannor makes his return as the anchor of the series.
What's the chain he's wearing? Are they moving like a 20-year-old or a 50-year-old? The voice isn't that good, right?
These question will catch us at our homes and judge on the screen guessing. Just wait for a couple of weeks and let the Guessing Games begin!
Check out more articles like this on The Nation Roar:-