At the end of March, Tiger King: Murder, Mayhem and Madness was released. Since the time it was released, it spread like a storm in the World. The story of Joseph Maldonado-Passage — better known as Joe Exotic, was so fascinating that it took the attention of millions. Among the other fans, the most prominent ones became the Blue Bloods actor Donnie Wahlberg and wife, Jenny McCarthy.
They showed their excitement by creating a Tik-Tok video inspired from the Tiger King-music.
'Tiger King' still manages to entertain the World
Tiger King is about the majorly twisted story of an exotic zookeeper. It shows how he will stop at nothing to gain fame and to take down Big Cat Rescue owner Carole Baskin successfully. While going through the seven-partt docuseries,  we can learn that in addition to his wish to become the number one exotic pet owner, Maldonado-Passage also had other dreams. He even dreamt of becoming the president, then a governor, and also a country singer in Tiger King.
According to Forbes, Tiger King has stayed at number one on Netflix's Top 10 list for about 15 straight days. That may be because Jeff Lowe also gave an announcement about the other episode that will be added this week. Now, apart from that, we all know that the real reason for still being number one is maybe because Maldonado-Passage's music is just that entertaining.
Donnie Wahlberg and Wife Jenny McCarthy recreate 'Because You Love Me' on Tik-Tok.
Maldonado-Passage always loved being on camera. All thanks to the talents of the Clinton Johnson Band, Maldonado-Passage was given a chance to create a library of country music. This library included the song "Because You Love Me". In the JoeExoticTV YouTube Channel, the tune of this song is explained as a "fun song with some fun customers from the zoo".
After watching the Maldonado-Passage's musical expertise and "exotic" nature, Wahlberg and McCarthy filmed their own music video. This music video was on the country song of Tiger King.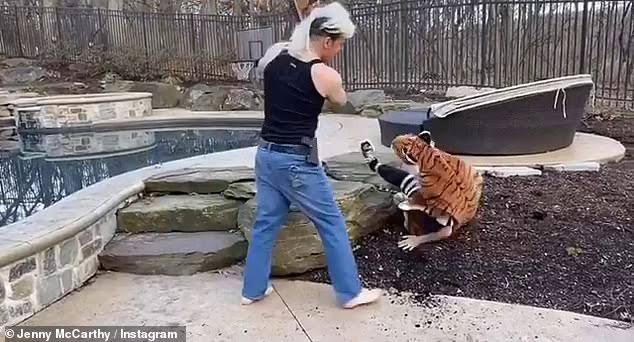 In the music video, we can see Wahlberg was relaxing by a pool wearing an outfit totally inspired from Exotic. He completely lip-sings to the song "Because You Love Me" as McCarthy paws at him wearing a tiger costume.
They show, irritated by the "tigers" affection, Wahlberg's Exotic hits the faux tiger in the head, and later raises his guitar to ward it off. McCarthy's caption to the post was: "Joe Exotic and his meow meow kitty. Portrayed by @donniefreakingwahlberg and his meow meow kitty."
Fans of the couple were in love with the post, while some were curious about this creation. An Instagram user also commented, "But how did you happen to [have a] mullet wig and tiger suit at home ?? I need answers". 
Jersey Shore: Family Vacation's star Jenni "JWoww" Farley could not find the words for a response, so, her comment was many cry-laugh emojis. 
How is Joe Exotic's career as a country music artist?
Maldonado-Passage was always passionate about a lot of things. One of these was the country music. He also collaborated with the Clinton Johnson Band on various songs, including "I Saw a Tiger", which was an ode to his life's work. He also did "Here Kitty Kitty", which is the tune about Carole Baskin feeding her missing husband, Don Lewis, to the tigers. 
In an interview with the Los Angeles Times, Eric Goode, creator of Tiger King, talks about a deleted scene from the series. In that scene, Maldonado-Passage says: "Of course not every singer sings all his songs, that's just how it's done".Maldonado-Passage believed that anyone could be a musician and a singer but still never sing.
It is pretty clear as per the records that everyone is enjoying their quarantine time with Tiger King. 
Stay safe and keep reading for more updates.