Ozark star Julia Garner and Foster The People lead singer Mark Foster have tied the knot in a private ceremony on Friday. The 25-year-old Emmy Award winner and her new 35-year-old husband officially announced the news at the exact same time with the same photo uploaded to Instagram today. Though Garner and Foster had not publicly confirmed their engagement, she was photographed wearing a diamond sparkler on her ring finger days later at the Dirty John FYC panel in Los Angeles.
The Assistant star also showed off her diamond engagement in October, when she shared photos, taken by Foster, from their trip to Montana.
Actress Julia Garner married Foster The People's frontman Mark Foster on Friday (December 27).
All the Details on 'Ozark' Star Julia Garner's Old Hollywood-Style Wedding Gown
The bride is wearing a gorgeous old Bollywood style wedding dress created by the bridal label Danielle Frankel.
From Kim Kardashian to Duchess Kate, These  Are The Best Celebrity Wedding Dresses of the Decade
As seen in Instagrams shared by the designer brand and friend Zac Posen, who also wished the couple stay happy in a sweet Instagram post. The white gown features an intricate design that included lace detailing throughout, a satin bodice and short sleeves. Though the lower back of the dress is open, buttons go up from the middle of the back to secure the high neckline. The groom's ensemble was a classic and straightforward black tuxedo, which he wore with a white shirt and dark tie.
Famous fashion designer Zac Posen shared pictures and videos of the wedding scenes. The videos and photos have glimpses of the couple having their first dance and cutting their wedding cake. He even shared a picture of the cute couple passionately kissing.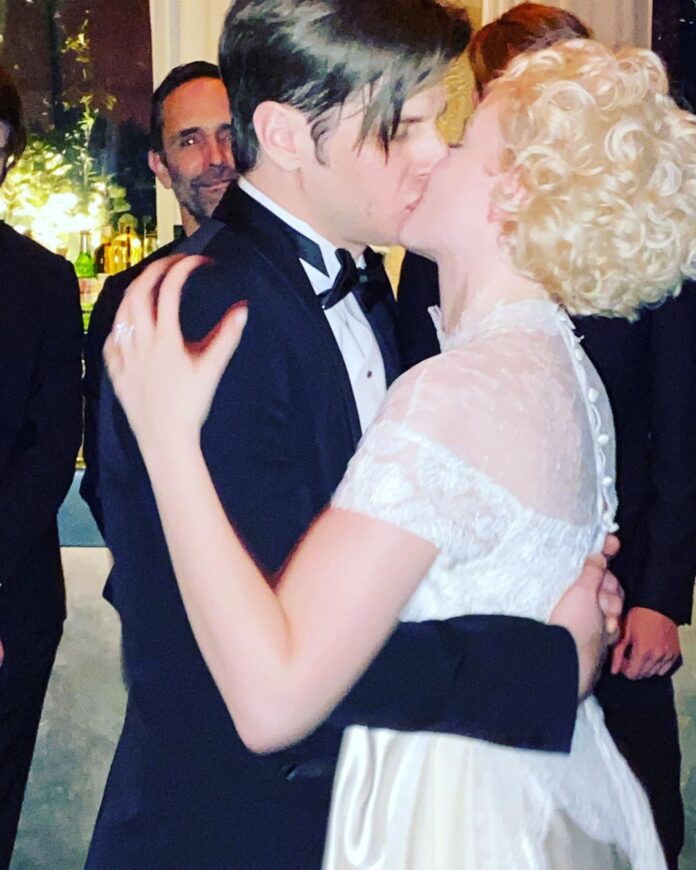 The pair got engaged in May with the Ozark actress sharing a photo of her engagement ring on Instagram shortly after he popped the question in Yellowstone while they were on a road trip. The couple has kept their relationship private, even keeping their engagement under wraps until they were ready to announce it to the public officially.
Earlier this year, Garner won an Emmy for Outstanding Supporting Actress in a Drama Series for her role in Ozark. The actress thanked the "love of her life" in her acceptance speech while her now-husband wrote an emotional Instagram Post praising her victory.
"Congratulations, you beautiful angel of a human," he wrote. "It brings me immeasurable joy to see you lifted and recognized by your peers, your industry, and your fans."