Five years ago, anyone who wanted to play slots, poker or blackjack had two choices: Las Vegas or Atlantic City. Sure, you could also visit tribal casinos or use offshore sites.
But Las Vegas was the primary destination for gamblers in the US. Nevada is still the best place to play casino games in the US, especially if you also love to socialize, dance and have fun at nightclubs.
However, Sin City now has competition from a growing number of states with legal casino sites. They include:
New Jersey
Pennsylvania
Michigan
Delaware
Connecticut
West Virginia
www.gamblingsites.org explains more about online casinos in the US. Visit the site to discover how to find a good casino. Or, you could also pick one of their recommended sites.
In this article, however, we'll focus on the most played casino games in the US. Let's dive right in.
1. Slot Machines
Slot machines are the most popular casino games in the US by far. Almost every year, these games contribute 70% to 90% of the revenues collected by American casinos.
To provide some context, slots earned Nevada $9 billion in profits in 2023. All the other casino games combined—blackjack, poker, baccarat, roulette, scratchers, craps—generated $5 billion.
What is it about slots that make them so popular? For starters, they are effortless to play. No skills or experience required. The standard game has five reels and three rows.
Each slot has a unique theme: fruit, stars, wildlife, sports, music, movie, ancient Egypt, mythical gods, celebrities, TV shows or fictional books. Slots also have betting features, to help you adjust your bets.
Once you click play, you don't have to do anything else. All you need is to wait for the reels to stop. If they stop spinning at a winning line, you get paid in free spins or real money.
In case you're wondering, these are the most popular slots in the US:
Starburst
Mega Moolah
Guns N' Roses
Thunderstruck II
Gonzo's Quest
2. Blackjack
Blackjack is a one versus one card game played between a gambler and the casino. Casinos appoint an employee known as the dealer to play on their behalf. The goal is to beat the dealer in producing a hand of 21.
The way it works, you decide how much to bet in one blackjack hand (game). Then you receive two cards facing up. The dealer also gets two cards, but only one is usually facing up.
At this point, you can look at your cards and the dealer's up-card and do the following:
Hit for another card
Stand
Double down
Split your Cards
Take an insurance bet
Surrender
You hit for another card if your two cards add up to a small number, say 9-13. But if you have a hand of 17 or higher, this is a good time to stand.
When should you double down? If getting another card will take you close to 21, you can double your bet. However, ensure the dealer's up card is weak.
When it comes to splitting cards, split aces and 8's but not tens, fours or fives. A pair of aces adds up to 22, which is a bust (loss). A pair of 8's adds up to 16, which is not good enough. But if you hit for another card, you could bust.
By comparison, a pair of 5's adds up to 10. This means that if you hit and get a 9-11 card, you stand to win. The same also applies to fours and tens.
3. Poker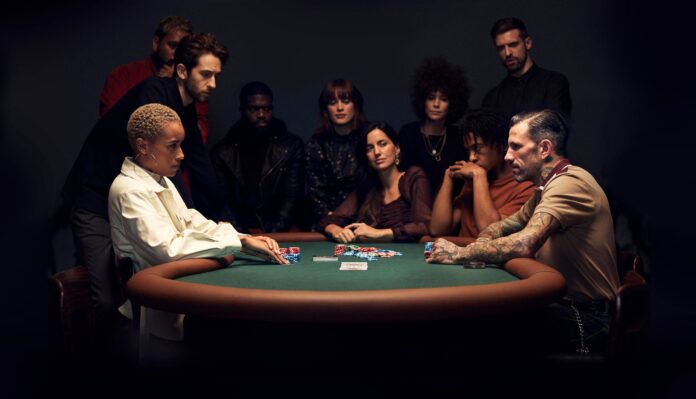 Poker is a special casino game. Unlike blackjack, some states and judges believe it deserves special treatment because it is a game of skill. Nevada is a good example.
The Sagebrush State prohibits online slots, blackjack, craps and roulette. But it permits online poker. California has a similar law. In New York, online poker is still illegal.
But when authorities tried to prosecute a man for running an illegal poker run a decade ago, a judge set him free on the grounds that poker is a game of skill. And as such, it should never have been criminalized.
Poker comes in multiple variations, though:
Texas Hold'em
Omaha Hi
Omaha Hi and Hi/Lo
7-Card Stud
5-Card Draw
Caribbean Poker
Texas Hold'em is most people's favorite poker game. It has a short learning curve. But becoming excellent at it takes time. There are tons of people who love the game, and some of them are incredibly gifted at it.
4. Roulette
If you want to have fun at the casinos and you don't want to play slots or card games, roulette is the game to play. It comes in two main versions: European and American.
European roulette has 37 numbers while American roulette has 38 numbers on its wheel. Because of this minor difference, the European game has better odds of winning for every bet type.
To be clear, the difference between these two games boils down to the number zero. European roulette has one pocket with the number zero. American roulette has a slot with a single zero, and another pocket with two zeroes (00).
To win in roulette, predict where the wheel stops spinning. Usually, it has a marker or a croupier might throw a small ball in the opposite direction the wheel is spinning.
The wheel can stop spinning at:
A straight number (0-36)
Black/red slot
Odd/even
High/Low
Corner Slot
Dozen bet
5. Baccarat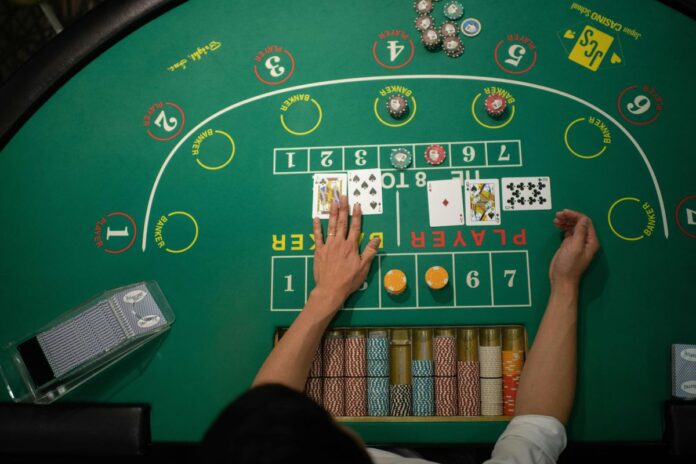 Globally, baccarat is the most played casino card game. Maybe it's because James Bond also loves this game so much. But it's mostly because of its popularity with wealthy Chinese players in Macau.
In the past few years, baccarat has been generating up to 70% of revenues for casinos in Macau. This makes it the equivalent of slot machines in the US. That said, baccarat is also popular in North America, especially in Nevada.
The game features two hands: Player and banker. As a gambler, your goal is to predict which of these two hands wins. To win in this game, you need a hand of nine.
If you exceed nine, say you get a hand of 14, you don't lose. Instead, four becomes your new hand. Keep in mind that 20-value cards don't count in this game and aces are treated as ones.