Harry Potter is undoubtedly the best fantasy film series we've watched since childhood. Many other film series came after that, but none has ever managed to match Harry Potter's charm. Certainly, it won hearts all over the world, India included.
We'll tell you about the two Indian characters in the series, namely Padma and Parvati played by Afshan and Shefali in this article.
Afshan and Shefali in Harry Potter
So, all of us remember the amazing and popular Yule Ball from "Harry Potter and the Goblet of Fire." The two lovely Indian characters with their vibrant traditional outfits caught our attention. They looked outstandingly gorgeous, and their performances in the movie were appreciated by everyone.
In the fourth part of the movie series, Afshan and Shefali were introduced as twins Padma Patil and Parvati Patil. They became the partners of Harry Potter and Ron Weasley. The girls were a part of following 5 films out of the total 8 parts of Harry Potter series-
Harry Potter and the Goblet of Fire, Harry Potter and the Order of the Phoenix, Harry Potter and the Half-Blood Prince, Harry Potter and Deathly Hallows part 1, and Harry Potter and Deathly Hallows part 2.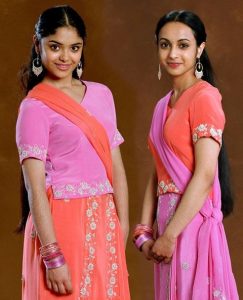 How were they cast for the film?
Very few people knew the story behind their casting before Afshan and Shefali revealed it in an interview with BBC a few years back.
Here's how the story goes. Shefali (who played Parvati Patil) was in her school when the makers were auditioning in schools around hers for the role of the twins.
After a while, her teacher informed her about the casting agents who were looking for twins for the popular Harry Potter series. So, she immediately agreed to audition and read the Harry Potter novels.
She nervously went and gave the audition. A couple of weeks later, she got a selection call for the next round and cleared all rounds. Then, Afshan and Shefali had to finally audition together in front of the director of the series, Mike Newell.
Afshan Azad (named Padma Patil in the movie) also came to know about the casting through her school. She gave it a try as she heard that they were looking for Asian girls for the roles of twins.
So, that's how our Asian beauties Afshan and Shefali got the role in one of the most successful and loved film series, Harry Potter.