A live-action version of the well-known book series Artemis Fowl is now available for streaming on Disney+. People already have expectations as high as the Harry Potter film series from this book series adaptation. The director has increased our excitement by explaining his strategies behind the project. Here's what Kenneth Branagh has to say about.
What does Kenneth Branagh have to say about the movie?
The movie was originally supposed to release in theatres on 12 June 2023. But, due to the current situations, it has now been released on Disney+. He said that all the eight books of the book series are very exotic giving credit to the imagination of the writer, Eoin Colfer. He described it to be full of twists and turns with vivid incidents. The first book in the series is full of simplicity. So, from what Kenneth has said about the movie, we can assume that Artemis Fowl will be a great blend of action and emotions.
However, it is being said that the makers might have moved away from the source a bit so that they can portray the story in the best way possible. But, the director has still tried to stick to some parts as much as the script could allow. You can watch the trailer below.
What will the movie version of Artemis Fowl bring to us?
As per what the director has confirmed, the basic idea about the journey of a kid who learns and understands magic after a point in his life will be kept as close as possible to the book. The book series is often kept in comparison with the Harry Potter series because they have some similar elements. Both feature the journey of exploration of magic by young characters.
Will all 8 books of Artemis Fowl series be made into movies?
Well, that depends entirely upon how the audience accepts it. But, there is for sure a great amount of potential for this amazing book series. However, the director is already planning some more installments in the series. So, the upcoming movie will leave the scope for some kind of development in the story for the sequel. Hence, we might see Ferdia Shaw's character growing up on-screen through all the installments.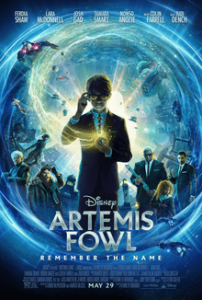 Go watch the magic unfold on-screen and witness your favorite characters' exploration of magic. We hope that many more movies from the Artemis Fowl book series come up in the future!