Buying, remodelling, or repairing your own home is an amazing experience. It's exciting to be able to own anything for the first time while simultaneously finishing all or a portion of the work on your new home. When the project is finished and everything is ready to be furnished, you must arrange specific items to ensure that everything goes together flawlessly.
We see the same theme in nearly every design component, but carpets and furniture are always at the core of these questions, which all encompass – location, size, colour, style, and so much more. To guarantee that your next carpet purchasing excursion goes smoothly, we will focus on carpets, primarily the bedroom, in this piece. A bedroom isn't that hard to furnish and design, there are a few parts you need to consider and fit around, but what we see and hear, people generally have a hard time with colours and carpeting in the bedroom.
For all of you looking for a quality carpet, you can easily find here everything you need to make your bedroom, dining room, living room and every other room in your home stand out and bolster everything else around in all the right ways.
Here are a few ways you can do your bedroom from the ground up and depending on your taste you can go classic and timid, traditional and over the top with colours and decorations, materials and so on, but after all that you will still have that floor to think about and fit in everything else. Let's help with that.
The ultimate conundrum
So, as previously stated, this is a topic on which we receive a lot of questions, such as how far away from the wall should my rugby be. Can I place a rug over my carpet? Can I stack two rugs? Do I put all four legs on the ground or just two? Is there no evidence of furniture legs on my rug? We realize that many of you have similar worries, therefore we'd want to discuss rugs today to help you figure out what you should and shouldn't do while designing and planning.
You may start with a wall-to-wall carpet in your bedroom and work your way up to a pleasant lounge area, depending on your tastes. For me, a low pile Berber or a low pile shag is the way to go because they are timeless trends. They also go well with a variety of furniture styles. Another reason I favour low-pile carpet is that it is easy to cover with a rug. And, in the bedroom, I love to put rugs on top of the carpet since it anchors the space, grounds the room, and offers a pop of colour. Furthermore, wall-to-wall carpet provides a safe, warm environment for toddlers to run, crawl, leap, and land on.
Wall to wall or area rug?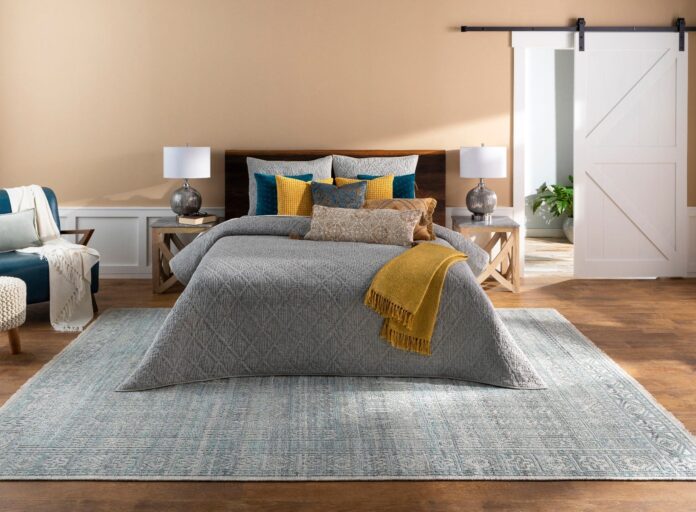 Although some individuals despise wall-to-wall carpeting, keep one thing in mind. It is necessary to have a good quality hardwood floor, a good quality tile floor, or outstanding quality parquets. Furthermore, other than an area rug that must be appropriately positioned, you don't have many options. You may use bigger or smaller area rugs to cover the space in front of or surrounding the bed, depending on the size of the room and your layout.
As much as I enjoy hardwood floors, I prefer the feel of carpet beneath my feet in the morning. Another advantage is that it helps to maintain a healthy living environment by keeping allergens out of the air. But let's leave it up to personal preference and not try to make you like what I like.
Location, location, location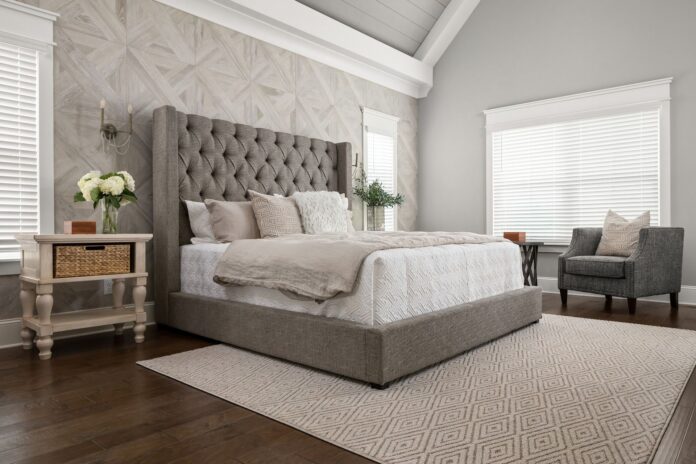 The most important question here is how many furniture legs should be used on a rug. We are frequently asked this question. Traditionally, all four furniture legs are placed on the rug, but I like to only place the front two legs. If there are no furniture legs on the carpeting, the space feels unconnected. For a moment, consider space. So, we use a 12 to 18-inch guideline to ensure that the rug fits the space while not covering all of the floorings below.
The kind and size of the rug/carpet will be determined by the size of the area, which in this case is the bedroom. If you have a large bedroom with a lot of space, a larger rug over the floor or a wall-to-wall carpet can tighten it up and make that most utilized region warmer and linked. You may accomplish this by piling rugs in nearly every room of the house. Put one beside the kitchen sink, a run along a hallway, in dining rooms and living rooms, and even in the laundry room to make things lovely, warm, and comfy.
This will be planned by designers depending on the design goal that homeowners are attempting to attain. With new materials, colours, and design philosophies, it is possible to have a room or rooms in the house that do not have and do not require carpets or rugs. They just look better that way, and if you put one in, it disrupts the flow of the space. Some designs are more traditional, and they provide warmth to the rooms where these carpets and area rugs are used. If you want a mix, choose area rugs to fill in the "blanks" in the design and better bind rooms and places together.
Conclusion
As you can see, there are some ground principles to follow while shopping for carpets and rugs. They can be stacked but do not have to be; you must consider the overall style and size of the space. Getting anything larger than necessary will make the space feel cramped, tiny, and unappealing. Use area rugs in front of furniture or beneath the front two legs of your furniture, in this example the bed legs. If you stick to the 12 to 18-inch guideline, you'll never get it wrong when it comes to the size of the walls, in, around, and below the furniture.