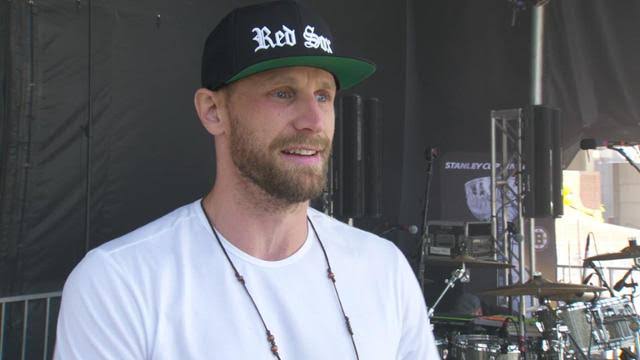 As we all know, the sudden outbreak of the Covid19 Pandemic has shook the entire world. The government has advised the people to stay indoors and go out only when necessary to avoid any risk. But, it is still a big challenge to stop people from going out. One such incident was when hundreds of people were there together for a musical concert of country singer Chase Rice.
This was Rice's first live concert in months. But, the shocking part was hundreds of fans attending the concert without masks in a stadium.
On Saturday, Chase Rice was giving a performance for his fans in Petros, Tennessee and he was really happy and thrilled. He also wrote in his Instagram stories, 'We Back' accompanied by a large crowd of his fans singing his hit song "Eyes on You."
Now, after such an event, at this time, the singer and his fans who were at the concert got the wrath of the general public on Twitter.
Reaction on the concert.
Chase Rice just played a concert to an enormous crowd of unmasked fans here in Tennessee. For once, I am at a loss for words. pic.twitter.com/wB47u1EaFd

— Lorie Liebig (@lorieliebig) June 28, 2022
Chase Rice really held a concert and 4,000 people attended. No masks, no social distancing, crowded together. What was the point of those three long months in quarantine just to do shit like this the very moment we have flattened the curve enough that we can start to reopen?

— madeline (@madelinarohn) June 29, 2022
Chase rice and everyone who attended that concert are fucking idiots. ? I miss concerts as much as the next person but please use common sense people

— Amber Shelley (@Shelley6Amber) June 28, 2022
When 4,000 people risk their lives to see Chase Rice in concert pic.twitter.com/gQUqkP9xcO

— Allison the Disney diva (@Daviesallison1A) June 29, 2022
As per reports, Country singer Kelsea Ballerini also criticised Chase Rice and expressed her feelings and anger about the concert.
Imagine being selfish enough to put thousands of people's health at risk, not to mention the potential ripple effect, and play a NORMAL country concert right now. @ChaseRiceMusic, We all want (and need) to tour. We just care about our fans and their families enough to wait. ??‍♀️ https://t.co/eJaLnGu28k

— Kelsea Ballerini (@KelseaBallerini) June 28, 2022
According to TMZ, less than a 1,000 people attended the concert, at a venue that had a maximum capacity of 4,000 people. Speculations are, the venue claims the distribution of hand sanitizers and temperature checks was done. Also, they say that vendors were advised to wear proper masks and gloves in order to maintain all the proper safety measures.
Chase Rice's reply to the fans attending the concert.
About 48 hours after the concert, Rice posted a video on his Instagram handle with the caption, 'To the fans, love y'all', addressing the issue.
You may like: Black is King by Beyonce: Disney+ released teaser of the new visual album
Along with that, Rice confirms his Friday concert saying, "Thank you guys for understanding, please go by the rules, please go by the laws on this Friday show coming up and shows moving forward."
As per the latest reports, on June 26, Tennessee has recorded its highest number of new COVID19 cases i.e, 1,410. That's pretty huge!
Stay safe and keep reading for more updates.