Madonna, her 25-year-old BF, isn't exactly rushing to the altar but all signs point to them taking things to the next level because his dad tells us SHE dropped the L-word!!!
 So, here's the deal rumors have been swirling for months about Madonna dating Ahlamalik Williams one of her backup dancers. Williams' father, Drue, tells TMZ  his son and Madge are 100% an item, and it's gotten serious.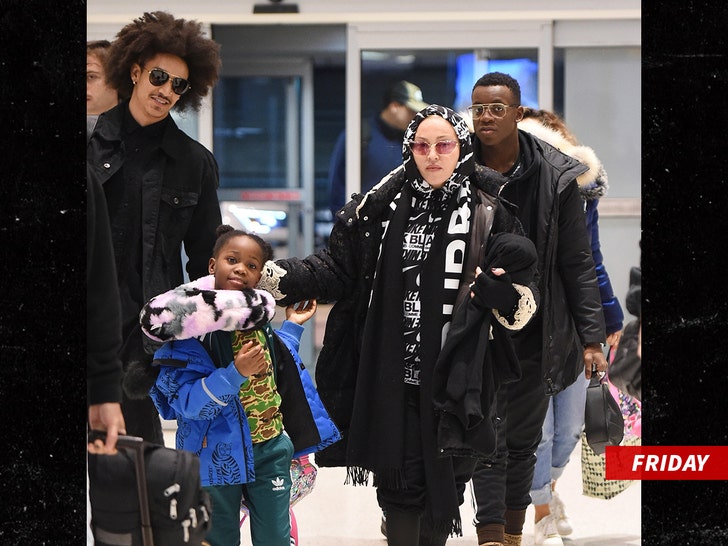 For starters, Drue says his son's been dating Madonna for a little over a year now. Drue says they first met back in 2015 when his son auditioned for Madonna's Rebel Heart Tour and Madonna personally picked Ahlamalik out of the group.
A lot of people on social media were shocked to see Madonna getting pretty cozy with a 25-year-old man, and she even got harshly criticized for it by Wendy Williams! However, as it turns out, things between the performer and Ahlamalik Williams are much more severe than what people may have thought!
That's right! The young dancer and the 61-year-old singer are not just having a fling, and his father confirms it!
The man named Drue has chatted with TMZ, telling the news outlet that his son and the legendary performer have been an item for about a year and that things keep getting more serious between them.
When asked about the dating reports, Drue allegedly told the publication that they were '100% an item.'
The backup dancer's parents have supposedly already met Madonna, and they spoke after one of her NYC shows.
Ahlamalik's dad mentioned that both he and the mother are all for their relationship despite the age gap, telling TMZ that 'Love has no age.'
Speaking of the L-word, Madonna has told her boyfriend's parents that she loves him and wants to take good care of him. But while the parents are all for it, there's plenty of people who think dating a man only three years older than one's daughter is not appropriate.
Wendy Williams is one of them, and she criticized Madonna on her talk show, saying: 'He is three years older than her daughter, Lourdes. They are all on the same vacation, and there is this old grandma with a 25-year-old. Here is what I feel about things like that because when I go out, I get the side-eye from young boys too. But, here is the thing, it's supposed to be just a one night stand if anything — not a boyfriend.'