In Alabama, two policemen posted a picture on Twitter holding the confiscated cardboard signs from the people who were asking out for handouts taped together, which one of them referred to as a "Homeless Quilt." These policemen gifted this to their supervisor.
"Wanna wish everybody in 4th precinct a Merry Christmas, especially our captain, Hope you enjoy our homeless quilt!" Was the caption of the officer of the Mobile Police Department, who posted this picture on his facebook.
Guessing from the state and meaning of messages written on these signs, it is predictable that it may be taken from people suffering from homelessness.
The facebook post was signed as "Sincerely, Panhandler patrol." and it has recently been made private or is taken down.
americans are insanely evil pic.twitter.com/rl90hz44BZ

— ❄️? Goth Ms. Krampus ?❄️ (@spookperson) 30 December 2019
Then on Twitter, a screenshot of this message was posted where it was retweeted more than 1000 times. In a statement taken on Monday, Chief of Mobile Police Department, Chief Lawrence Battiste apologized for the photo and termed it as an "insensitive gesture."
"As a police department entrusted with serving and protecting our community, we offer our sincerest apology for the insensitive gesture of a Facebook post by two of our officers where they are holding up a homeless 'quilt,' made of panhandling signs," the statement reads. "Although we do not condone panhandling and must enforce the city ordinances that limit panhandling, it is never our intent or desire as a police department to make light of those who find themselves in a homeless state. Rather, our position has always been to partner with our community service providers to help us help those faced with homelessness with hope to improve their quality of life.",
A representative for the department reported. He also informed that an administrative investigation was launched for the officers' actions.
"The two officers' behavior of taping the signs was immature and insensitive and in no way indicative of the department as a whole and not something that is approved of and practiced," Department's spokesperson, Charlette Solis, wrote in an email.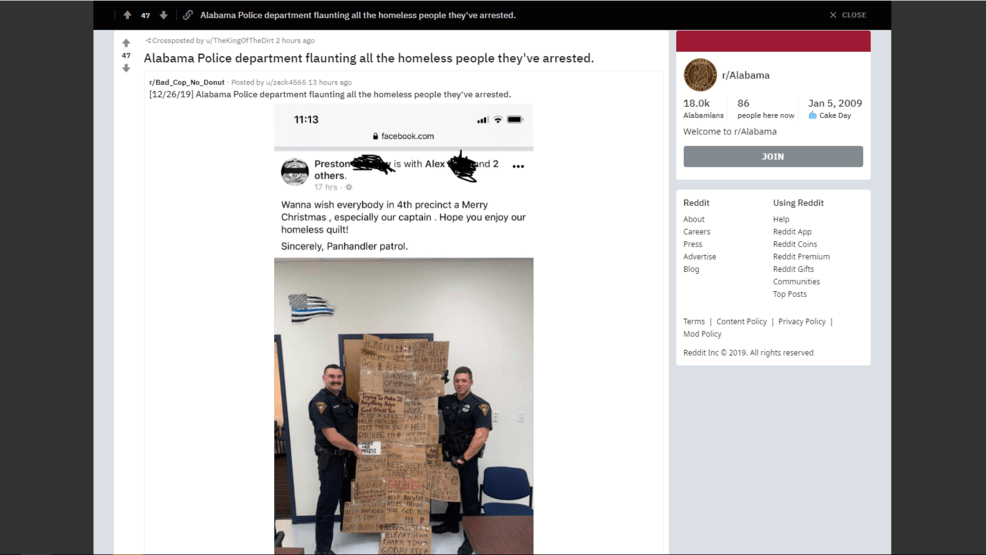 As confirmed by Solis, Preston McGraw, and Alexandre Olivier were indeed the two policemen in the picture and also informed that both of these officers we be on duty and do active patrolling during the investigation.
The department's Facebook handle is filled with reposts of images of the cardboard signs and is showing anger in the department for making fun of the city's homelessness.
One of the users said, "Hoe does chic file A feel about you guys preying on homeless people than making fun of them on social media." While the other said, "Doesn't change the fact that y'all are the worst kind of humans." One more person added that "No amount of toys for tots will make up for this."