The American sci-fi series Expanse has come up with 4 seasons so far and we are absolutely in love with everything about it. Here's all we've got to tell you about The Expanse Season 5.
The first three seasons of the series were aired on Syfy. Despite receiving critical acclaim and a huge appreciation for its visuals, narrative, and characters, it was canceled by Syfy in May 2018.
But, as they say, heartfelt efforts always pay off. A strong campaign by fans to bring it back proved to be successful. Thankfully, Amazon Prime Video picked it up and released The Expanse Season 4 on December 12, 2019.
When will The Expanse Season 5 release?
Well, Amazon Prime Video not just renewed the show but also has full confidence in its potential. This is apparent by the fact that Season 5 was officially announced 5 months before season 4 released.
So, as per the official announcement made by Amazon on 27th July 2019, The Expanse Season 5 is confirmed.
However, there's no official release date and trailer released as of now. Nevertheless, we can make a guess looking at the pattern they have followed so far. The pattern suggests that season 5 will release by the end of 2023  or at the beginning of 2023.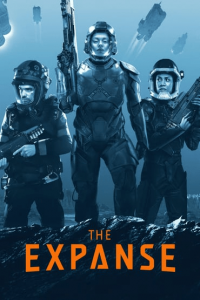 The Expanse Season 5 plot
The story of season 4 was based on the novel "Cibola Burn". As per sources, the next season will be derived from the novel "Nemesis Games" by James S. A. Corey.
This information can be true as the previously mentioned novel is the fifth one in Corey's The Expanse novel series. Cibola Burn was the fourth one in the series.
So, following that logic, you can read about the novel to get a rough idea about the next season.
Also, season 4 left us with many expectations yet to be fulfilled. We can expect a closer look at the personal lives of the core cast of the series.
Naomi's past, Alex's arrival on Mars, and Amos going back to earth are some elements that might be given more detail to.
Having said that, no confirmed information about the storyline for The Expanse Season 5 has surfaced so far. Hence, we'll have to wait till the makers shed light on the same.
Expected Cast
For The Expanse season 5, we can expect the core cast to be back. So, Keon Alexander, Jasai Chase Owens, and Nadine Nicole will be back in their respective roles. No announcement about new additions to the cast has been made so far.
Stay tuned to get all the latest updates about the upcoming season.