Legally Blonde and Legally Blonde 2 were undeniably the best comedy movies in the early 2000s. Come on! Who didn't crush over Elle Woods! After 17 years since part 2 released, there's a news about Legally Blonde 3. Here's what we know.
Legally Blonde
The first part released in 2001, and viewers quickly fell in love with the movie. Then, with the release of  Legally Blonde 2: Red, White & Blonde, Reese Witherspoon charmed everyone all over again as Elle Woods. Let's admit, we all wished for another part. And thankfully, the wish is soon going to be fulfilled!
Legally Blonde 3
This news first broke out in 2018 through Reese Witherspoon's Instagram post. Since the face of Legally Blonde had herself said that we believed it instantly. Have a look at what Witherspoon posted on Instagram on June 7, 2018.
But, since then, there hadn't been any major update about the movie. Thus, speculations about the cancellation of part 3 started surfacing.
However, fans' hopes have been restored with Reese's recent Instagram post. She mentioned that she is happy to have Mindy Kaling and Dan Goor as the writers of Legally Blonde 3.
Truly said, some things are just meant to be! So, we can now be sure that the third part of our most favorite comedy is going to happen.
Who's in the team?
Needless to say, Reese Witherspoon will sure be the main lady. Also, as she mentioned in her Instagram post, Mindy Kaling, along with Dan Goor, will pen the script of Legally Blonde 3. Dan Goor is the man behind Brooklyn Nine-Nine. Also, Kaling and Reese had earlier collaborated in A Wrinkle in Time.
Furthermore, another element of excitement is that the original producers are going to be back for this part, and Reese Witherspoon will also be in the production team.
Luke Wilson and Jennifer Coolidge might reappear in Legally Blonde 3, but there's no official confirmation about the same yet. Also, the release date hasn't been announced yet.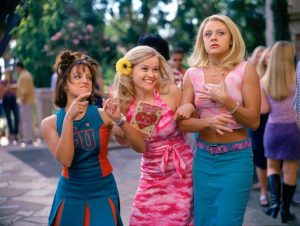 Legally Blonde 3 plot
As per the makers, the script is going to be a completely new and fresh spin. Moreover, Reese said that the story would be filled with awesome feminist ideas and fashion.
She is very excited about it as it will be on a global level. It will have animals, original cast members, and everything amazing.
So, with such a great team of writers and actors paired with the original producers, Legally Blonde 3 will surely be as iconic as the first two parts. We really hope that it will live up to high standards set by them!