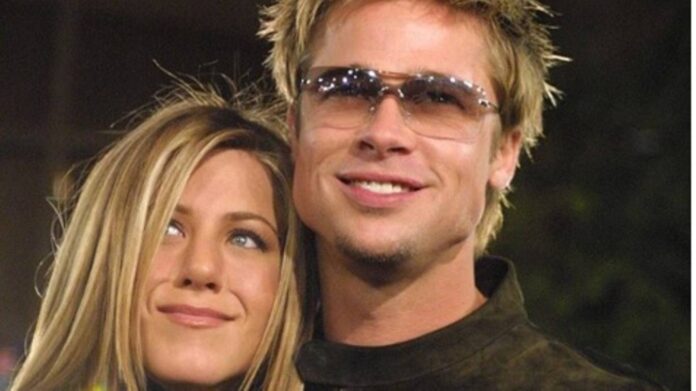 Is Jennifer Aniston and Brad arranged reunion on pre-Christmas to announce that they are back together?? Is it true or just a rumor?? Read the full article to answer this.
Brad and Jennifer were together separated 14 years ago before. They were married from 2000 to 2005.
After their Divorced, they both get married to different people but nowadays they both are single. In 2014 Brad get married to Angelina Jolie and they made their family and also adopted a child too. after 2 years of their marriage, they get divorced in 2016.
After brad, Jennifer married to the Justin Theroux in 2015. But they get divorced in 2018.
Brad Replied To Rumors
Recently in the photography session, A photographer asked Brad that he and Jennifer are going to get back together? Brad replied to the photographer with  "Oh my God. Okay, there is a good one," And according to him, friends are an important part of his life there is impossible to make friends reunion.
According to source Jennifer also replied the same. She added that friends dose not need the reunion, in fact, it's not possible for all too.
Are Pitt and Aniston Thinking Back Together?
After the divorcing of Brad with Angelina and Jennifer with Justin. Every fan of Brad and Jennifer thinks that this is the perfect time for them and also they want to see them back together.
That said, an inside source revealed that Pitt and Aniston's bond is getting stronger with every passing year. They might be only friends at the moment, but you never know what that could turn into down the road.
One of the common friends of them said that there are many common friends between Jennifer and Brad. After her divorce, they are still the same in touch with their common friend so there is nothing to make gossip or not a big deal to see them at the same Christmas party.
Brad's Christmas Planes
Already we had seen Brad at Jennifer's pre-Christmas party. But it was so general according to them. They did not meet like this for the first time, before this, they meet at Jennifer's birthday party. Also, Brad gave a gift to her on that day.
Brad has simple Christmas planes to spend time with his children. Brad will celebrate Christmas with Shiloh, Knox, and Vivienne. We are not hoping to see Pax, Zahara, and Maddox with Brad on this Christmas.
Conclusion
Unfortunately, fans of Brad and Jennifer have to wait till they make a move by them. The rumor of this reunion and announcement of their back together are not reliable according to Brad.