Carnival row was probably the best neo-noir series last year. This fantasy series won many hearts because of the performances of the actors, genius direction, and spectacular special effects. The Amazon Prime original series was also nominated for several awards. Here's all we know about Carnival Row Season 2.
The series was renewed for a new second season soon after the end of the first season.
Release date and trailer
As per reports, the filming of the second season began last year. But, the release date has not been specified by the makers yet.
Firstly, Daredevil alum Erik Oleson has replaced screenwriter Marc Guggenheim. The latter left the team due to some differences in creative opinion as per reports. This might be a reason behind the delay and other problems in the project.
Furthermore, the COVID-19 pandemic might also cause some more delay. Also, no trailer or teaser for Carnival Row Season 2 has come out as of now. You can have a look at the season trailer below.
What will be the plot of Carnival Row Season 2?
The story revolves around some mythological characters who've left their homeland due to a dangerous war. The story shows how these immigrants dwell in a city already surrounded by many issues.
So, we can surely expect all the unanswered questions to be answered in the next season. The never-ending troubles like murders, competition for power, and social issues will take new forms. Let's see how the characters develop to cope with the new challenges in Carnival Row Season 2.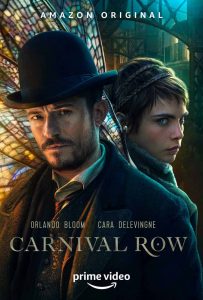 The expected cast for the next season
While the main stars are expected to be back for the next season, some new additions have also been reported. However, the names of the new cast members have not been disclosed yet.
These are the core cast members that we'll see in Carnival Row Season 2-
Orlando Bloom as Rycroft Philostrate
David Gyasi as Argus
Arty Froushan as Jonah Breakspear
Cara Delevingne as Vignette Stonemoss
Tamzin Merchant as Imogen
Caroline Ford as Sophie Longerbane
We will keep you updated about any new additions to this list and the release date. Stay tuned!