Recently, the news about the character of Grand Admiral Thrawn getting a stand-alone film has been doing the rounds. Various theories about the same have surfaced ever since this news started spreading. Here's all we know about it so far.
About the character
Grand Admiral Thrawn is for sure among one of the most popular and important characters in the Star Wars Legends continuity. Of course, all of us have come across many Star Wars action figures and other merchandise inspired by this amazing character. So, fans are really intrigued to know about the movie in which we can watch him in all his glory. You can check his light saber here.
Initially, this character appeared in the novel Heir to the Empire. The novel the first part of the Thrawn trilogy. He was shown as a grand admiral in the Imperial Navy. Also, Thrawn is undoubtedly one of the sharpest of the Emperor's minions. Here's an amazing video of some of the best scenes of this character.
The tall, blue-skinned humanoid quickly grabbed our attention with his red eyes and white uniform. Moreover, the image of Grand Admiral Thrawn is well-established as an unmatched strategist and genius. Such a strong character deserves a stand-alone film considering the immense potential it has.
Grand Admiral Thrawn movie
Sources suggest that in an upcoming Star Wars venture, fans will see a real-life form of the character. Is this holds to be true, there are innumerable questions that every fan will have. However, these are just some speculations about the movie.
Who will play the role of this magnificent character? How will the character of Grand Admiral Thrawn turn out as a completely individual concept? Furthermore, will it disappoint us or justify the character's popularity?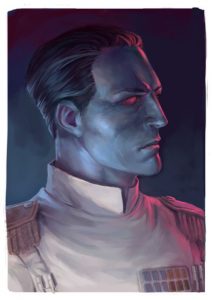 There is a never-ending list of questions and the answers will only come up when an official announcement is made. Having said that, there is no smoke without fire. Maybe the project is in its initial stage but the makers don't want to reveal much too soon. So, Grand Admiral Thrawn might appear as a real to life character.
Conclusively, we'll have to wait and hope that these questions and conjectures get a justified reply from the creators.