When we talk about the specifics of the church interior, what is your first association? With no doubt, many things come to mind, right? There are, among other things, frescoes and icons, specific altars, again certain church furniture. We are sure that you have paid attention to the fabrics that are used both in the wardrobe and in the rituals. These are not just any materials and randomly selected colors, but everything has its symbolism. To be specific in the quality of color and type of material, church textile items are also specified in the way they were created, especially when we talk about small parishes. Most of what you see in the church regarding the fabric is handmade, most often by women from the parish or monastery. Because of that, these pieces are infused with additional uniqueness and love.
There is an extremely large list of materials, linen and vestment used in the church. One type of material covers the altar, another is used for uniforms, a third for specific rituals and so on.
If you want to know more details about church fabrics, textiles for church you can just visit here https://www.wattsandco.com/collections/textiles for more information.
Here you can certainly find all the specifications, different designs of church fabrics and even order them.
And today we will talk about church fabric and textiles for church, but from a slightly different angle, more purposeful. Stay tuned for our text and find out more about 6 things to know about church linen, vestments and textiles that you certainly didn't know.
1. Altar cloths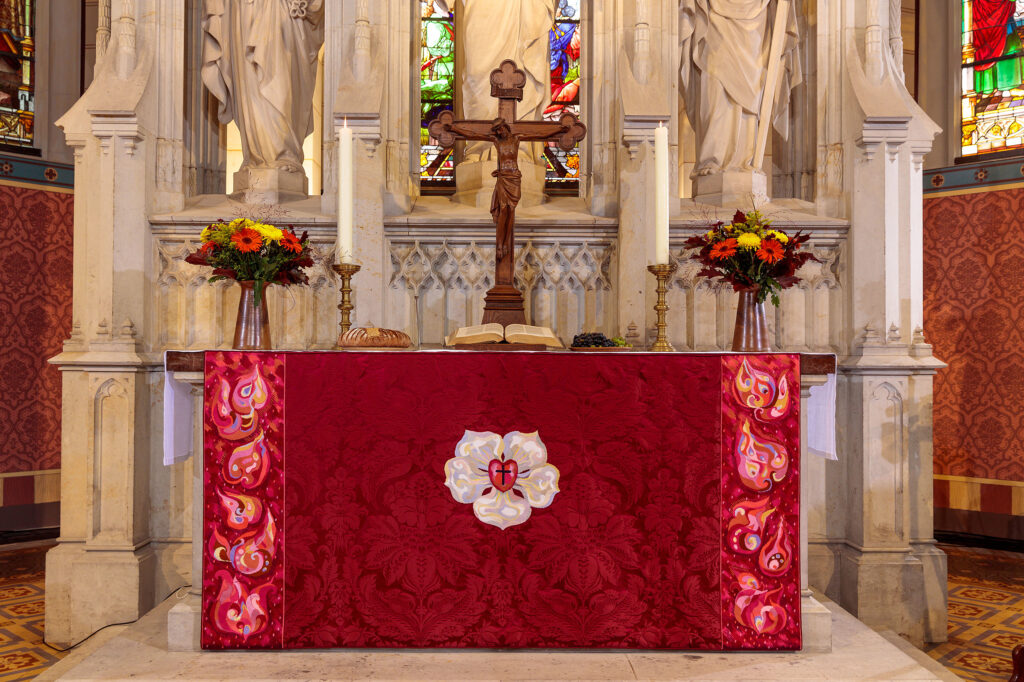 The first specificity of church materials is reflected in the clothes that cover or are used on the altar. When it comes to this topic, there is a certain difference between Western and Eastern Christianity. In Western Christian churches, several different fabrics are used for the so-called altar covering. However, the most commonly used material is white linen. Linen is usually decorated with embroidery and other ornaments. The cloth that protects the entire altar is usually a cere cloth. It is quite heavy and it shouldn't be decorated. The pillow used on the altar is also made of harder linen but not waxed like cere cloth. After hard linen, it is covered with the soft one. This soft cere is very often decorated with embroidery and lace. It is usually decorated with 5 small crosses or one in each corner of the sheet. A similar cloth is used to cover the altar when it is not in use.
There are also bruce, chalice veil, corporal, pall, purificator. All of them are usually decorated with white embroidery and are characterized by soft linen.
In Eastern Christianity, where Byzantine rites are performed, there may be colored fabrics on the altar, most often red or green. It is specific that here the altar is covered with a cloth that is tied to a hundred altars and is rarely taken off. This fabric is called strachitsa. Above it is placed inditia, which is usually made of brocade, and its color depends on the liturgy that is served. Other fabrics covering the relics are more or less of the same materials as Western Christianity.
2. Alb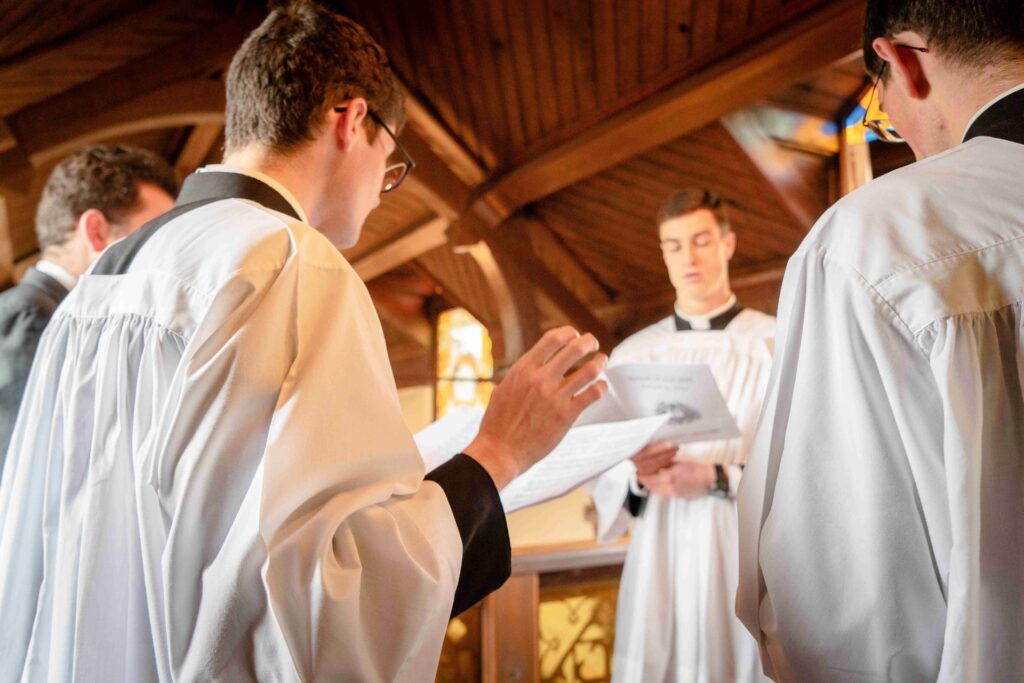 The word alb is derived from the Latin word "albus" which means white. This is the name for the church spirit in most churches of Western Christianity, and it is used by various priests. It is usually worn under chasuble or dalmatic. The most common material from which alb is made is white linen. The lower edge of the alba, as well as the end of the sleeves, are usually decorated with embroidery with lace.
3. Chasuble / phelonin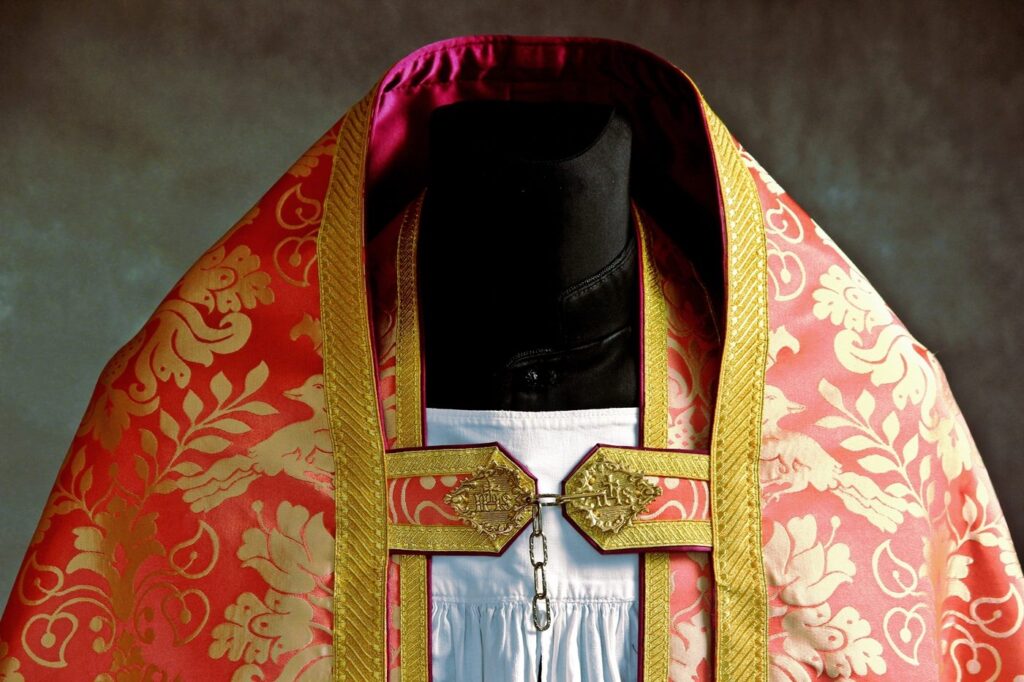 This is a liturgical movement that is associated with Eastern Christianity, but is not excluded from the West one. Simply explained, it is a sleeveless hooded cloak, made of a circular fabric with a slot through which the head is threaded. It is usually made of damask, and brocade or velvet. It is set with silk and is usually decorated with embroidery on the front side. It is usually white.
4. Cope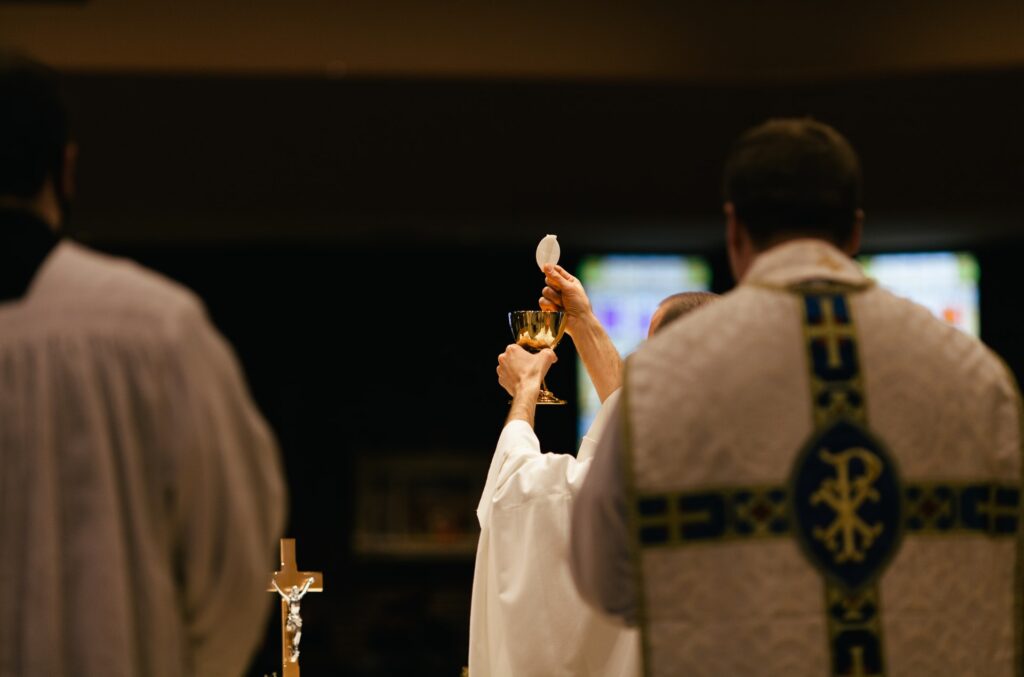 If you have ever seen a Christian priest during the liturgy in the feast days, then you have certainly noticed cope. It is worn over the mantle and is in the shape of a long cloak. It is fully open at the front, only has a small buckle on the chest with which it is tied. It dates back to the eighth century AD and since then it has had various forms and purposes. Copes are made of decorative woven material. Biblical motifs are more common on it. The cope is decorated on the side with a decorative ribbon (orphrey) which is all embroidered.
The color of the cope depends on the liturgy that is current in the calendar.
5. Stole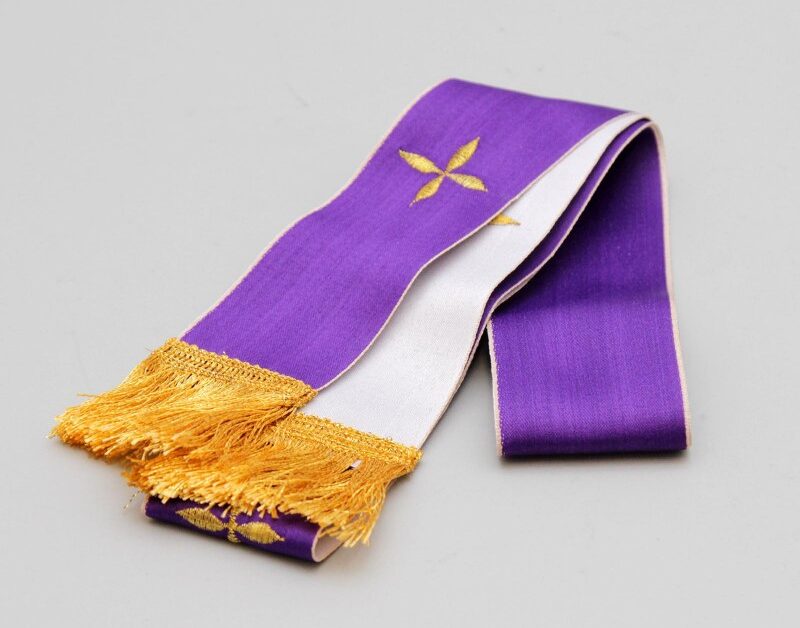 This is the name for liturgical attire, or part of it. It is a strip mostly 250 cm long and about 10 cm wide. It is made of canvas and the color may vary depending on the liturgical calendar. What makes it special is the embroidery with which it is decorated. The middle of these canvases is located at the back of the door, so that equal arms hang on both sides. It is equally often used in Western and Eastern Christianity, with the Orthodox and Greeks calling it an orarion if it is carried by a deacon, or an epitrachelion if it is worn by priests or bishops.
6. Church furniture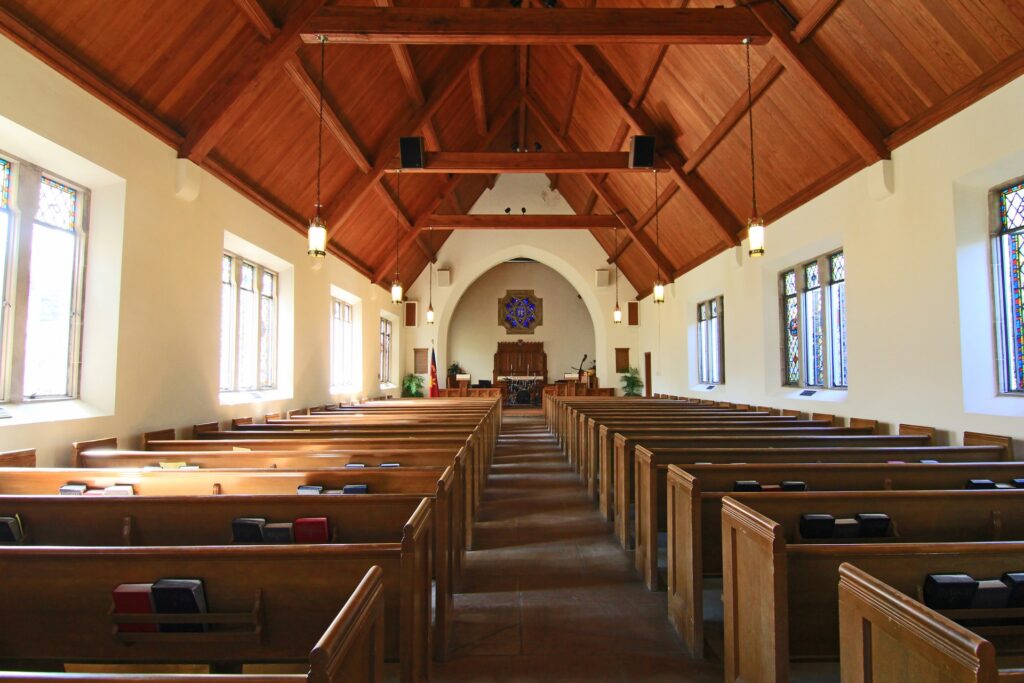 Just as the material from which the furniture in churches is built is carefully chosen, the canvas with which the furniture will be upholstered must be carefully peeled. The benches on which people sit every day must be very durable, neutral in color and suitable for maintenance.
At the top of the list of priorities in this regard should be durable fabric, heavy and strong enough. You need to calculate that it must withstand all challenges for a long period. In addition to durability, you need to think about the style of fabric used to cover the furniture in the church. The style of the material and how it can affect the atmosphere that the chapel has. It must exude respect, inconspicuousness, and still have a dose of solemnity. In addition to choosing a style, there is a choice of colors. We suggest that when choosing church fabric, you follow the tones that have been dominant in your church so far. Big changes are not desirable unless there is a complete renovation. It is important that the color does not attract much attention and is pleasing to the eye.