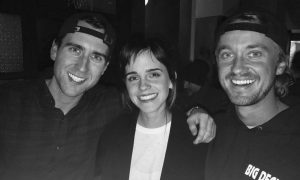 This Christmas comes with good news for Harry Potter fans. We are all excited to see the photos and reunion of the Harry Potter cast. And especially when it's come to see Emma Watson and Tom Felton.
Harry Potter and the Philosopher's Stone was the first part of the Harry Potter series. It was released on 12 April 2002. It's been 17 years to the cast act together on screen. In the movie series, we used to see Draco Malfoy and Emma Watson at the opposite side every time. But in real life, we all know that the cast of Harry Potter are so close to each other that we get many pictures of them on social media.
In 2019, we were not expecting a Harry Potter reunion because of the busy schedule of stars. But the cast of Harry Potter is too amazing to surprise us. Emma Watson put the Photo reunion.
Post of Emma Watson
View this post on Instagram
In the picture of the reunion, we can see Daniel Radcliffe (Harry Potter lead actor) and Rupert Grint (Ron Weasely) are absent, but at least Neville Longbottom showed up. From left to right, there's Tom Felton (Draco Malfoy), Emma Watson (Hermione Granger), Evanna Lynch (Luna Lovegood), Bonnie Wright (Ginnie Weasley) and Matthew Lewis (Neville Longbottom).
Emma Watson quoted the caption as Merry Christmas from us ☺️. It's so satisfying to see this cast together in one after so long time. Tom Felton has also put a Reunion post on Instagram.
Post of Tom Felton
Tom Felton always makes sarcasm with his crazy mind. He captioned as "Season's greetings from my school mates. @mattdavelewis & I mid debate x #gryfindorVSslytherin"
All-stars has also posted the same picture.
here, are the caption
Bonnie Wright –  time turning
Evanna Lynch – AS IF I'm not going to repost this ?❤️??
Matthew Lewis – Roses between two thorns…