Euphoria is an American teen drama television series and the creation of  Sam Levinson. The story has a loose basis on the Israeli mini-series of the same name, which was initially created by Ron Leshem, Daphna Levin, and Tmira Yardeni.
Euphoria goes with the storyline that follows a group of high school students through their occurrences of sex, drugs, friendships, love, and trauma. The series cast Zendaya, Maude Apatow, and Sydney Sweeney and premiered on HBO on June 16, 2019.
Rue and Jules settle as Rue improves in the hospital after a kidney infection. Whereas, when Nate is unable to sex, Maddy confronts him about his sexuality.  Maddy steals one of Cal's videos and watches it. Nate and Maddy break up. And many more things place.
Fezco breaks into the house of Mouse's supplier and robs him to pay his debt to Mouse.   Rue confronts Nate over the raid on Fezco's, Cal's sexual activities, and Nate's previous attraction to Jules. She warns to expose Cal's pranks, and Nate mocks her about Jules' loyalty.
On a notion, she asks Jules to leave town with her, but Jules leaves alone. Discouragedly, Rue has a flashback to the day her father died. In this memory, she gets high after the death of her father.
EXPECTING FROM THE SEASON 2
what happened to Rue at the end of season 1 is the focusing. There are also plenty of narrative curves, like – Nate's sexuality, Cassie and McKay's relationship, Gia's growing rebelliousness, Kat and Ethan's future together, and soo more. What happened to Jules after Rue left her on the train – that has not yet been figured out!!
Season 2 could also explore the stories of some of the minor characters like Lexi, BB, and Ashtray, etc.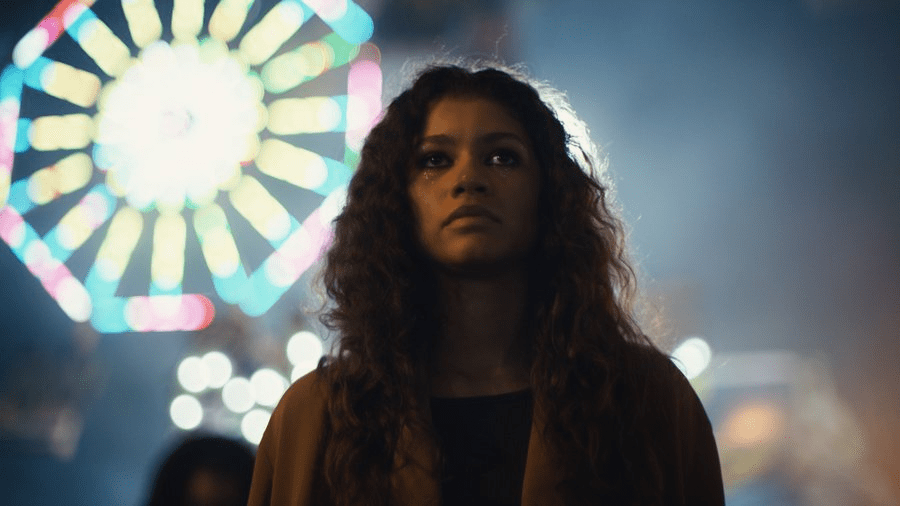 AND HERE COMES THE RELEASE DATE FOR THE SEASON 2
Although NO second season has been confirmed yet by HBO, and no official release date is here, so there could be no specific date for the premiere. But the fans have a guess that if it follows the same pattern as season one, it should be in the air in June in the US.
The CASTS ARE COMING IN ITS WAY…
Zendaya as Rue Bennett
Hunter Schafer as Jules Vaughn
Maude Apatow as Lexi Howard
Angus Cloud as Fezco
Eric Dane as Cal Jacobs
Alexa Demie as Maddy Perez
Jacob Elordi as Nate Jacobs
Barbie Ferreira as Kat Hernandez
Nika King as Leslie Bennett
Storm Reid as Gia Bennett
Algee Smith as Christopher McKay
Sydney Sweeney as Cassie Howard