If you are social media savvy, you probably have seen lots of people displaying beautiful photos of their amazing kitchen décor. Farmhouse sinks will catch the attention of anyone looking at a stylishly designed kitchen. They are unique and very different from the standard kitchen sinks found in most homes.
If you are moving into a new home or planning to revamp your kitchen, you should consider creating space for this beautiful sink in your home.
What Are Farmhouse Sinks?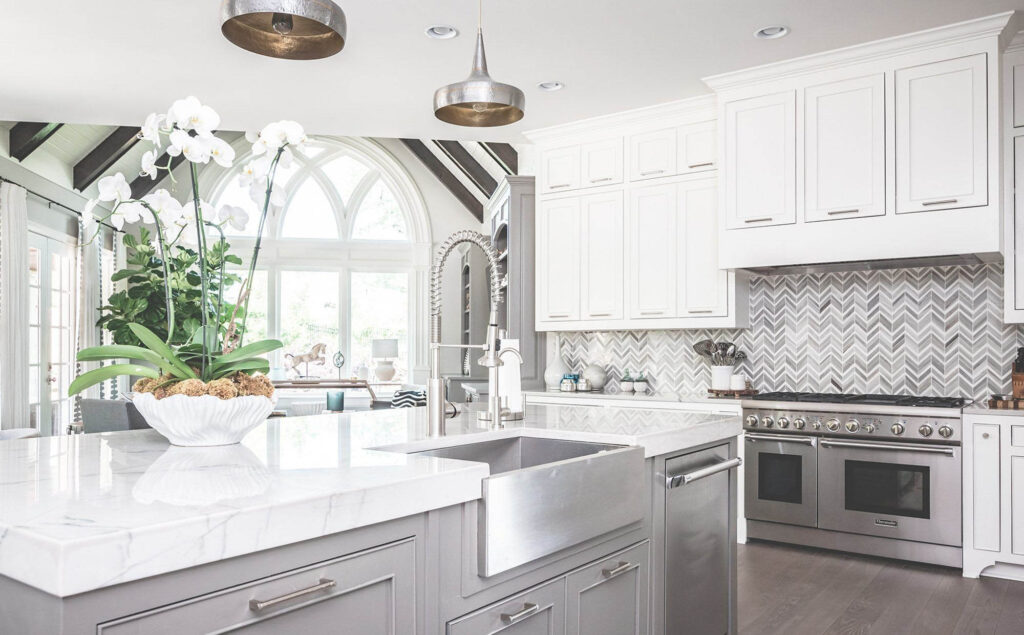 When compared to standard kitchen sinks, as we said earlier, the farmhouse sinks are very different. They usually come with an apron front and takes up more space than standard sinks. This drop-in sink comes with an exposed front-facing side, and you would have to forfeit the lower storage space, which could have been part of your kitchen cabinetry.
However, the large design is what even makes it more attractive.
Farmhouse sinks are versatile and give you enough room to do anything you want. You can run water in these large sinks for your cooking and washing. Some people even wash their children and do laundry in this sink. There isn't any limit to what you can do with a farmhouse sink. The sink also gives your kitchen a rustic look and a homely feel.
Types of Farmhouse Sinks
One thing you should know before making any purchase is discovering the various types of farmhouse sinks sold today. The type of sink you get will determine its purpose, and you should get one that fits your needs. The two popular ones are the Laundry sink and Drainboard sink. The reason they are popular is that they can easily be customized, unlike the other types. You can do all of your kitchen work in them without any limitations.
1. Laundry Sink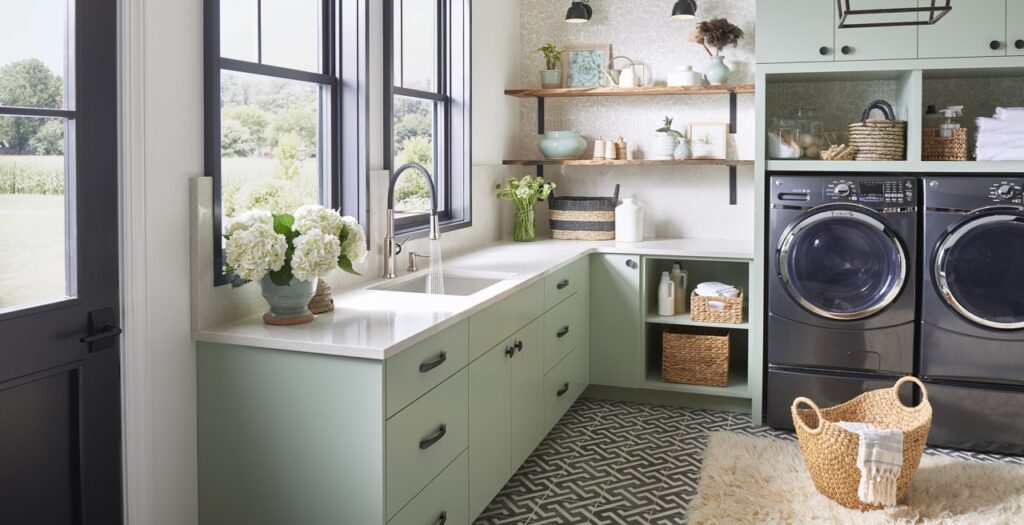 This type of farmhouse sink has a classic design and usually has one or two deep basins. The laundry sink is as deep as 9inches and can hold enough water for your laundry and dishes. It allows you to do multiple chores with it. You can wash your veggies in it and other food items.
2. Drainboard Sink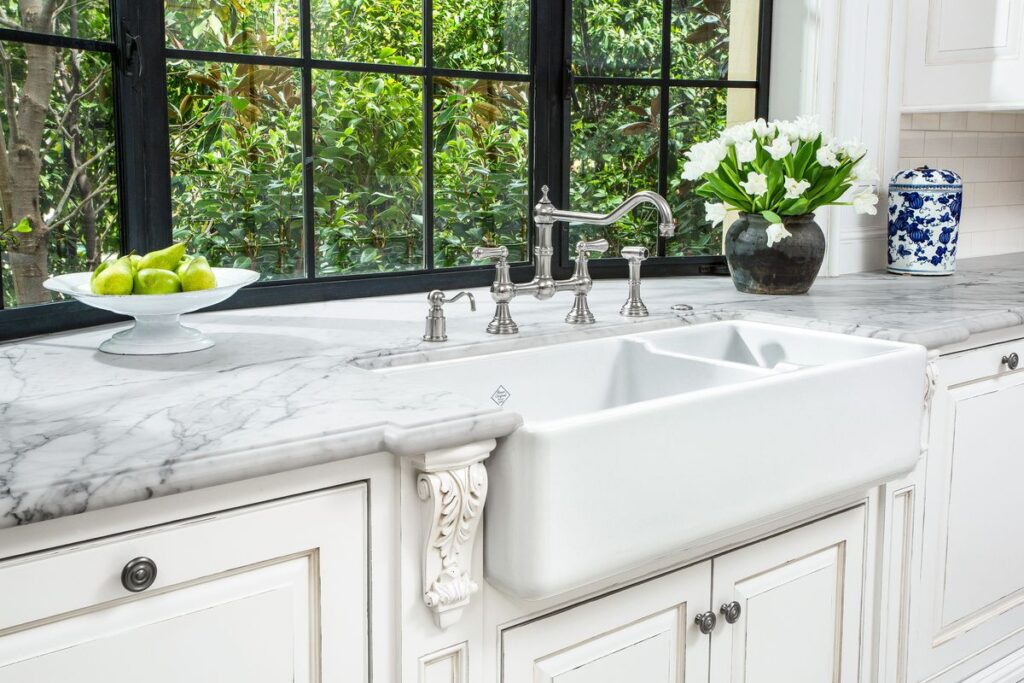 The drainboard sink serves well for washing dishes, and the design makes it easy to wash without spilling water on the countertop. The major feature of the drainboard sink is its apron which is attached to the side. It collects any excess water from the sink. The apron also has a self-filtering function that allows the water to return to the sink. This way, your kitchen surface remains dry all the time. The drainboard sink comes with only one basin while its other space holds the grooved apron.
What Materials Are Farmhouse Sinks Made Of?
Farmhouse sinks come in different materials and options. Among the popular varieties is the metal-built sink. You will find a good farmhouse sink made from bronze, cast iron, fireclay, and natural stone. The type of material used will determine its strength and weakness. Some are more durable than others, while some look more attractive. You need to prioritize which material to get based on its value.
1. Ceramic/Cast Iron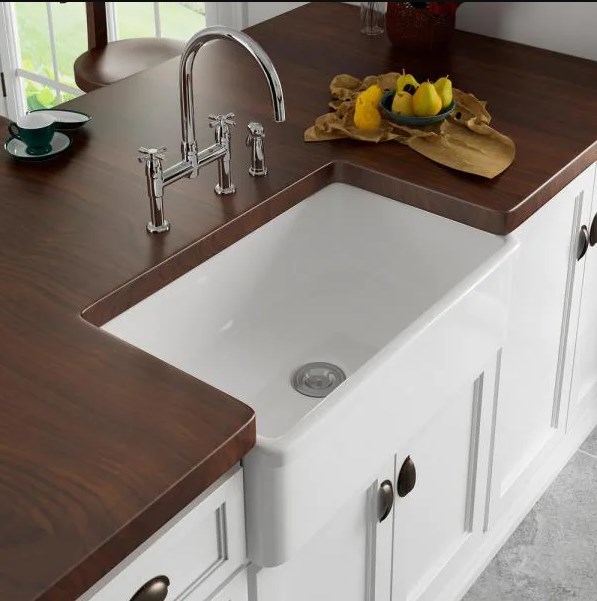 Ceramic sinks, also known as cast iron farmhouse sinks, come with ceramic or porcelain layers for protection. The sink has a glossy feel and look and is very appealing. The porcelain sinks are the best sellers because of their design. They have a timeless look and will always complement your kitchen décor. The downside to this material, however, is that it can chip easily and get stained. You won't face any of these problems with careful use, and the stains can easily be removed using the right cleaning agent. The ceramic sinks also feel very heavy and would need additional reinforcement to hold them in place when installing your sink.
2. Natural Stone
There are also farmhouse sinks made from natural stones like limestone, travertine, marble, and granite. These materials add a unique touch to your kitchen. One thing about natural stones is that they are beautiful and are built for heavy use. You can do multiple kitchen chores on your natural stone, and it won't crack easily. The material is also non-porous and can be easily cleaned.
You can use this type of sink for hundreds of years if adequately resealed and it would still look attractive. They are more expensive than the other farmhouse sinks except for the copper and bronze options. Like ceramic, natural stone sinks will need additional reinforcement.
3. Bronze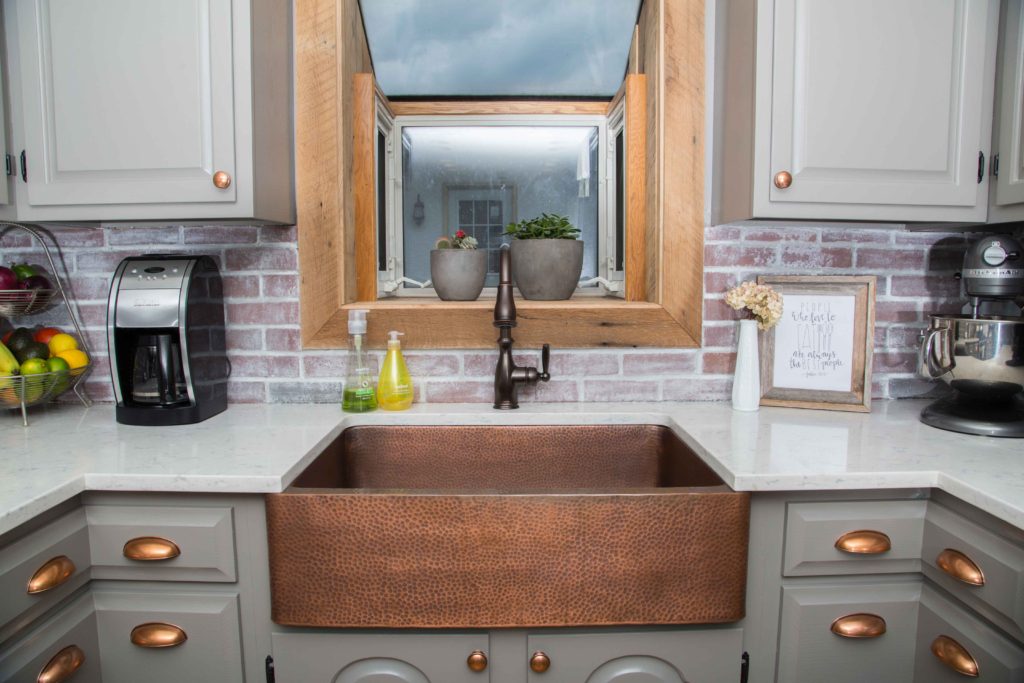 Bronze farmhouse sinks are one of the most durable materials to get. The bronze comes with antibacterial properties and is rust-resistant. It is attractive and one of the best choices to go for. The benefit of bronze sinks is that over time, they still retain their appeal. The bronze would darken and patina with time making it look more attractive. The only problem with this material is that it is more expensive than any other farmhouse sink material.
4. Stainless Steel
Stainless steel feels like every classic kitchen sink design, and it is a go-to option for people who want an easy-to-maintain material. This type of sink is rust-free, and its selling point is its durability. However, if you want to get the best out of a stainless steel farmhouse sink, you should go for a steel gauge of about 16 to 18. Stainless steel is one of the lightest materials and won't require any support. However, it makes a lot of noise when you are working on it. There is also the issue of being limited to one color option, which is silver.
5. Fireclay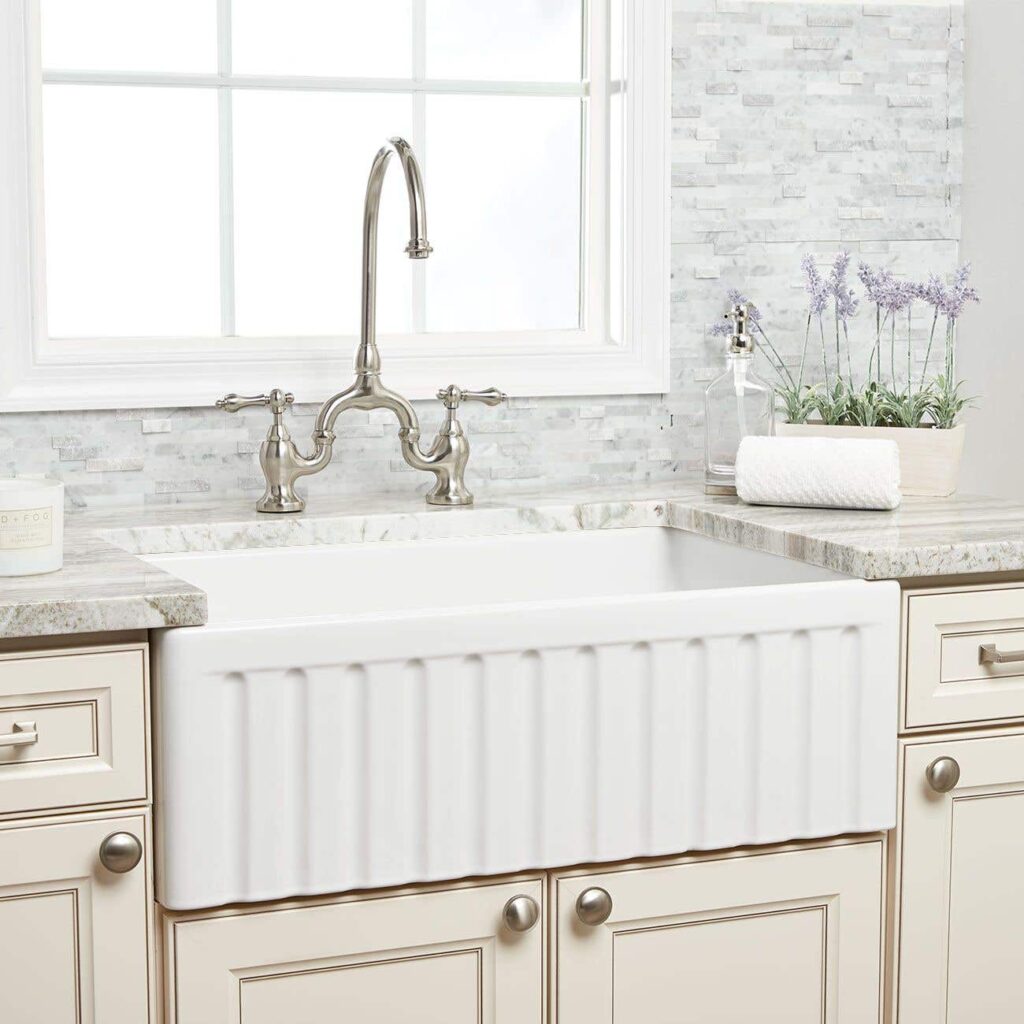 The fireclay comes from glazed clay heated at high temperatures. The result is a more durable ceramic and solid one. The fireclay farmhouse sink looks like the enameled cast iron but a more solid version. It is scratch-resistant and also non-porous. Getting this type of sink would mean that you don't have to deal with stains, acid, or alkali reactions. Also, like with cast iron sinks, fireclay farmhouse sinks will need additional reinforcement.
Conclusion
Now that you know a lot about farmhouse sinks, finding the right type for your kitchen shouldn't be difficult. You can browse around on this site to find an extensive collection of farmhouse sinks and a wealth of information on achieving the farmhouse design. Not everyone will choose a farmhouse sink, but it is an excellent choice for people who do a lot of work in the kitchen. You should consider the many benefits when getting one for your home.