Brooklyn Nine-Nine is the biggest fan-favorite sitcom on American television. That's not the hill I'd choose to die on, but it is not entirely implausible. One clear thing is that none of the shows have had fans that have voiced their opinion so much, not in this decade surely.
The American sitcom premiered in 2013, and despite constant audience support, the network telecasts have been less than smooth.
Although, like every brilliant sitcom from the US, this has attracted foreign remake interests. And the latest news is about a French-language remake.
What's causing the shock?
French language remake of Brooklyn Nine-Nine is titled "Escouade Nine-Nine." The promo for the brand new show was released on August 17, 2022, and has attracted some not-so-nice comments.
Melissa Fumero, who portrays the character of Amy Santiago, was amongst the first few to give her honest opinion.
She has made sure to let people know that the first-look hasn't impressed her too much. The production in Quebec, Canada. This fact is crucial because she pointed out that the Hispanic representation is a point of worry.
The shot-by-shot remake features a white woman in character equivalent to Amy. Also, the role seems to be overtly sexualized for the sake of it. Fumero said that her style was not supposed to be sexual. Instead, it was rarely used and that too for comedic purposes. Meanwhile, the remake shows it as a part of her persona.
This was the tweet put out by Melissa. Also, it includes the reply by the actor taking on the role:-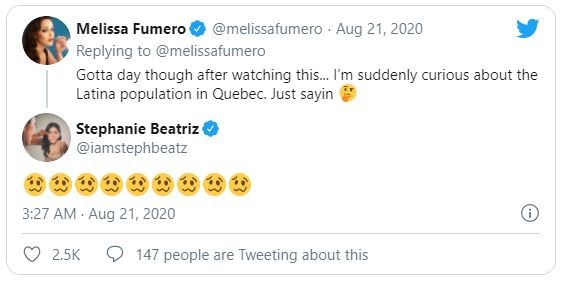 Why is the original Brooklyn Nine-Nine beloved?
Brooklyn 99 is pure humor with comedic tales that are naturally delivered by the very likable actors and characters. Also, with a consistent storyline that not a lot of sitcoms have. Another significant fact is that they minimize the laughing tracks from the show.
Although, laugh tracks help to make some episodes funnier, it's mostly to give audiences a cue on when to laugh. That's unnecessary if the comedy is good enough.
But no, this show uses no shortcuts like that. Instead, it enamors viewers with exclusive and unique content. The sitcom also doesn't depend on one-liners or simple jokes. Rather, makes use of the characters' personalities and actions to entertain viewers, which is pretty smart.
Check out more articles like this on The Nation Roar:-
The Promised Neverland Season 1: Know All About Netflix Release And Trailer