Do you own a small business in an area prone to hurricanes? If so, being prepared for potential natural disasters is essential to ensure the safety of your workers, customers, and property.
Hurricane preparedness doesn't have to be complicated; with adequate planning and clear communication, you can easily create an action plan that will give your company the best chance of weathering the storm.
In this blog post, we'll look at some practical steps that all small business owners should take when preparing for hurricanes: what supplies are needed, strategies for minimizing disruptions if they happen due to power outages or flooding, and more at https://www.employers.com/blog/2022/hurricane-preparedness-for-business-a-small-business-owners-guide/.
Let's get started.
The Risk Of Hurricanes For Small Businesses
For small businesses near coastlines, the risk of the devastation caused by a hurricane is high. Without adequate insurance coverage or enough structural strength to withstand extreme weather conditions, these establishments often fall victim to storms with disastrous consequences.
Extreme weather events like floods and high winds can severely impact businesses. Damage caused may require costly repairs or rebuilding, as well as losses in business continuity due to being unable to operate while everything is getting fixed up again. No one wants that hit on their bottom line.
Hurricane season is an essential time for small business owners to prepare; the risks associated with these storms can ruin your livelihood if you have yet to protect yourself.
Being proactive, from understanding how much insurance coverage you may need to creating evacuation plans and having emergency supplies on hand, are just a few ways to help ensure your survival should Mother Nature strike.
Hurricane Preparedness Is Key For Small Businesses Against Hurricanes
Hurricanes can bring catastrophic destruction, and being prepared ahead of time is essential for protecting businesses. Hurricane preparedness against storms will not only help a company to be ready, but it may also lessen the damages that come with them. Planning now is critical.
Although hurricanes can have devastating consequences for small businesses, there are steps that owners and managers should take to ensure they're ready before the storm hits. This includes securing their premises, reinforcing windows and doors, planning for power outages with backup sources of energy as well as reviewing insurance policies.
Hurricane preparedness for disasters like hurricanes isn't just about avoiding damage; it can also help small enterprises to avoid significant legal issues that could lead to expensive fines and missed income. Securing property against natural occurrences is a must for any business.
Hurricane preparedness can make all the difference in shielding small businesses from costly disruption and damage. Being proactive against storms helps protect their tangible assets and safeguards their long-term success.
Things To Have For Hurricane Preparedness
For coastal small businesses, hurricane season can be daunting. A good preparation plan and proactive risk assessment are critical to weathering any storm. To get a head start on your strategy, here are six basics all business owners should have in place:
1- Flood Insurance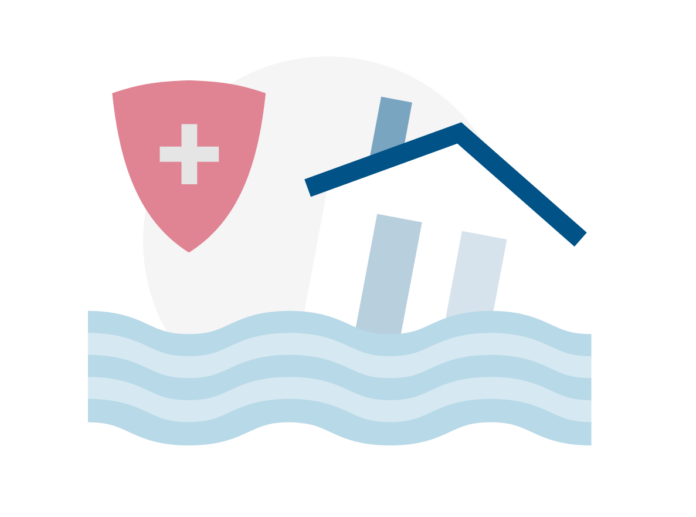 Having flood insurance is the best way to safeguard your home and investments against floods, one of the most common side effects of a raging storm. It's an integral part of planning, so get yourself covered today before it's too late.
Regular homeowner's policies don't always have your back regarding floods; ensure you're adequately protected with an individual coverage plan for the ultimate peace of mind. After extreme flooding, flood insurance can save the day, helping you cover costly damages and repairs and support rebuilding.
Protect your business with flood insurance during hurricane season. You'll be glad you did; having sensible precautions in place can give you greater peace of mind.
2- Evacuation Plan
Hurricanes can be a frightening experience, but having an evacuation plan in place will help keep your family safe if the worst happens. Knowing what shelters to access and which routes are safest could ease property damage and save lives.
During powerful storms, a hurricane preparedness plan is essential for ensuring the safety of yourself and your family. Taking proactive measures like forming an actionable strategy helps ensure you are well-equipped to face these environmental conditions head-on.
3- Property Protection
Hurricanes can devastate any property owner, leaving destruction and financial hardship. Protect your hard-earned investment from mother nature with the added safety of a property protection plan. With this coverage in place, you'll know that if heavy winds or hail strike, along with flooding concerns, there's an extra layer to protect what matters most.
4- Secure Documents
Hurricanes can be devastating, often wreaking havoc on our finances and emotions. However, securing essential documents is a simple way to help reduce the damage. Whether hard copies or digital files are stored safely in an online system, ensuring records are safe from high winds and flooding is vital for people and businesses.
5- Photos of Inventory
Hurricanes are devastating, leaving destruction in their path. But there's a way to mitigate the damage they cause by taking inventory photos before disaster strikes.
It could help companies track losses if items were damaged or destroyed by proving that certain things existed beforehand. This is invaluable when it comes time for an insurance claim, so businesses get any aid they deserve after being hit by a hurricane.
6- Survival-Relief Kit
During hurricane season, it's essential to be prepared. A survival-relief kit can provide relief and assistance in an emergency, with everyday items like flashlights or dust masks crucial for protection in the aftermath of a storm when power is lost or clean-up operations are necessary.
So, stock your shelves this season; having essential supplies on hand will help reduce potential losses should disaster strike.
Hurricane Preparedness For Small Business Owners – In Conclusion
Starting early and being proactive is the best way to prepare for a hurricane. Small business owners are responsible for ensuring their business is ready in case of an unexpected natural disaster.
Assessing risks and planning to protect your business from within and without is crucial. Ensuring you're insured for hurricane preparedness is also vital to your storm prep to be financially protected in a hurricane.
By investing in time now, businesses with hurricane preparedness can take steps to better weather any hurricane events in the future and support their community with resilience during tough times. Get educated, get informed, and most importantly: get insured.