DC's ambitious Doom Metal crossover is finally here. It is the initial step for a much longer line of plans planned by the producers. For the fans, more and better content is no problem at any point. Meanwhile, the preview for the series was released for the masses by DC, as a part of lots of previews this week.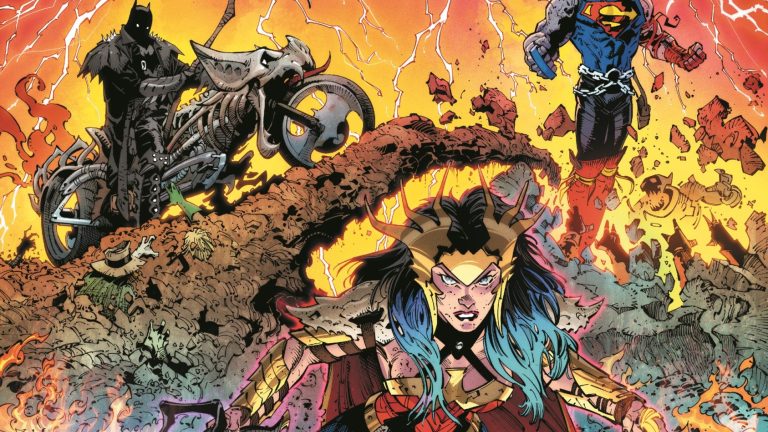 Dark Nights: Death Metal is a big deal:-
"Doom Metal" crossover will merge into the Dark Nights: Death Metal event. In the series, Nightwing is on a personal adventure to free the Legion from the Doom from Perpetua. And it's not a straightforward task. To accomplish the mission, he needs support from Lex Luthor. Nightwing, Lex, and a new Justice League must fight their way through an Earth twisted by the Dark Multiverse.
Besides, Joshua Williamson has penned the Five-Part crossover series. Although, Xermanico is handling the art and illustration. Also, Tom Napolitano is in-charge of all the custom lettering in the show.
What lies ahead for the DC universe with Doom Metal?
Due to a certain super-villain called Covid-19, but the sequel of sorts to the Dark Nights: Metal event of a couple of years ago is here. That event, also overseen by Snyder and Capullo, introduces a dark multiverse that exists alongside the regular DC multiverse. Various Metals connect these two.
That first event focused mostly on Batman, that being Snyder's main book at the time, and we got to see several nasty variations of Batman, which was fun. It was very popular, with all the various tie-ins, so a sequel was inevitable.
Is DC getting one over Marvel after Doom Metal?
DC has always been far better than Marvel with anthology books. Possibly because of their extended history, that they have that much more material than Marvel had, and could make extra money by packaging old, sorry 'classic,' reprints with the odd new story or framing sequences.
The recent run of DC anniversary issues have also seen them put out some rather good 100-page anthologies, but now with all-new material, though with very definite nods towards source material of the past.
Check out more articles like this on The Nation Roar:-