We all are aware of the roller-coaster relationship of Kylie Jenner. But is she reunited with Travis Scott? What are the reasons behind it? Is Stormi Webster is the reason? Look at our article to know more.
Have a short look at Kylie's relationship
Kylie had a relationship with Tyaga. It was her love at first sight, kind of thing. They also dated for years. But after 2-3 years we got the news that the guys broke up with each other and Kylie is looking forward to her carrier and new person.
After Tyaga, Kylie got a friend named Travis, and after we are all aware of this. Also, in 2017, Kylie gave birth to Travis's baby girl after ten months of secret pregnancy. Though there were some issues that Tyaga had claimed that the daughter is her, but it was the only rumors nothing more than that.
In 2019, Kylie and Travis decided to fall apart for some time and take a break. They also said that things are very smooth and they are still best friends. But currently we are seeing them together at everyplace. So, are they back together or what?
Are Kylie Jenner And Travis do meet?
Well, it is but obvious that they do meet because they have a daughter to grow together. But if you are looking for their meetings, then here it is, They do meet, and we can see it by Kylie's Instagram activities. Either it is vanity fair oscar party or late night dating they do meet with each other even we can say they are finding a reason to meet each other.
Kylie Jenner has clear this that they are just friends and doing co-parenting for Stormi. It seems like they don't want to accept the romance and love between them in front of the public.
Thought the Kylie's gift to Travis is clearing up that she loves him so much.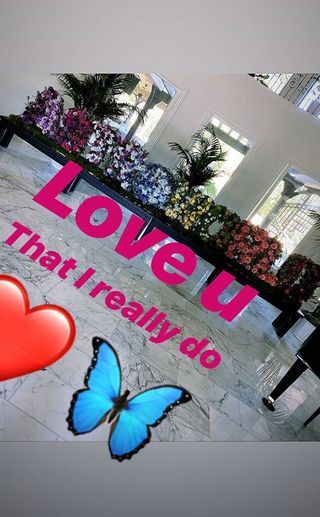 There are lots of things that clear that they both love each other, and even they both are used to upload their pictures on their social media handler. Well, the best moment which forces our eyes to see it is, Last year Kylie Jenner had gifted multi-colored flower to Travis, which spell out "ASTROWORLD." Travis has uploaded this picture on Instagram, too, with the caption, "Love You, I Do."
Also read, Justin Bieber Get Trolled After His Comment On Coronavirus: He Can't Feel Bad For What He Has
Whether it's co-parenting for Scotti or its love affair between them, We hope that the guys come together into the formal relationship soon.