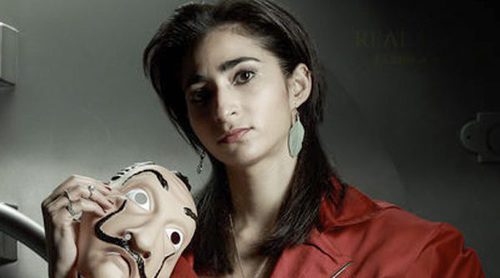 Still, four months are left before the ultimate fourth season of The Paper House goes on air. Fans all around the world are desperately waiting for the show and are fully prepared for the announced "chaos" that will follow in the new season.
The first teaser puts the fate of Nairobi in focus, the scene with which he will open the new season draws our attention directly to The Professor.
Netflix and Vancouver Media team has chosen Comic-Con de Brazil to unveil the launch date, which also marks the perfect location to show how the 4th installment will start.
The Brazilian media have been in luck to enjoy the first minutes of 4×01.
And even though the sequence has not yet been broadcast on video, we do know what's about to happen, all thanks to the Omelete portal.
According to what a source said, "The season begins with the Professor in trouble."
As per the cliff-hanger finale of the third season, we gather a group of heavily armed policemen accompanied by dogs enters the forest where the protagonist is.
Alvaro Morte, who is playing The Professor in the series, remembers the phase where he hears Raquel's shots.
When the shots approach him, he hastily sprints as fast as he can and promises, "I will try."
When the Professor attempts to escape from the police and the dogs who are set upon them, a stone structure in a forest clearing comes to his notice, and without taking a second thought, he gets into it.
However, upon entering, he gets terrified by what he sees.
A founds a menacing bull staring at him, and he tries to confront the bullock as he asks it to calm down. Succeeding, the bull decides to move on, and this brings relief to The Professor.
What Is the fate of Nairobi?
The greatest mystery revolving Money Heist is the fate of Nairobi. This has to be answered in Season four.
As we all know, Nairobi was shot in the third season. But her death has yet been made absolute.
This has created one of the greatest suspense stories, and many fan theories have come forward regarding the fate of Nairobi.
The first official teaser of the fourth season of Money Heist, which lasts only for seconds for the robbery, released by Netflix shows us and takes us back to the last moments of theft.
This has made fans believe that Nairobi might still be alive.
Even the series has not been released yet, but Nairobi's name is amongst the TOP Trending on the internet. This has been a great surprise and joy for the fans of Nairobi.