Christmas is coming, and it's time to buy presents for family and friends. Have you found all the right things for each of your loved ones? How about a beautiful, chic, and elegant sweater? Many people avoid buying sweaters for Christmas because of the stigma from the film industry. However, you can find gorgeous elegant sweaters at fashion brands like Revir that will change your mind. For this winter season, you can find great options and if you are still not convinced, you can also continue reading this article to find out how a sweater can turn out to be the perfect gift! So, let's make the sweater "a cool Christmas present" again!
The best thing about a sweater, especially around Christmas time, is that they come in different shapes and sizes. You can find a sweater for every person on your list, whether it is for your grandma, mom, sister, or friend. They are all unique and different, so it is important to find the right one. There are also different colors and materials to choose from, so you can easily find the perfect one for each person. You don't have to worry about finding the right size or color because they have a variety of different options. This makes it easy for you to find the right one without any hassle.
The Stigma on the Sweater as a Christmas Present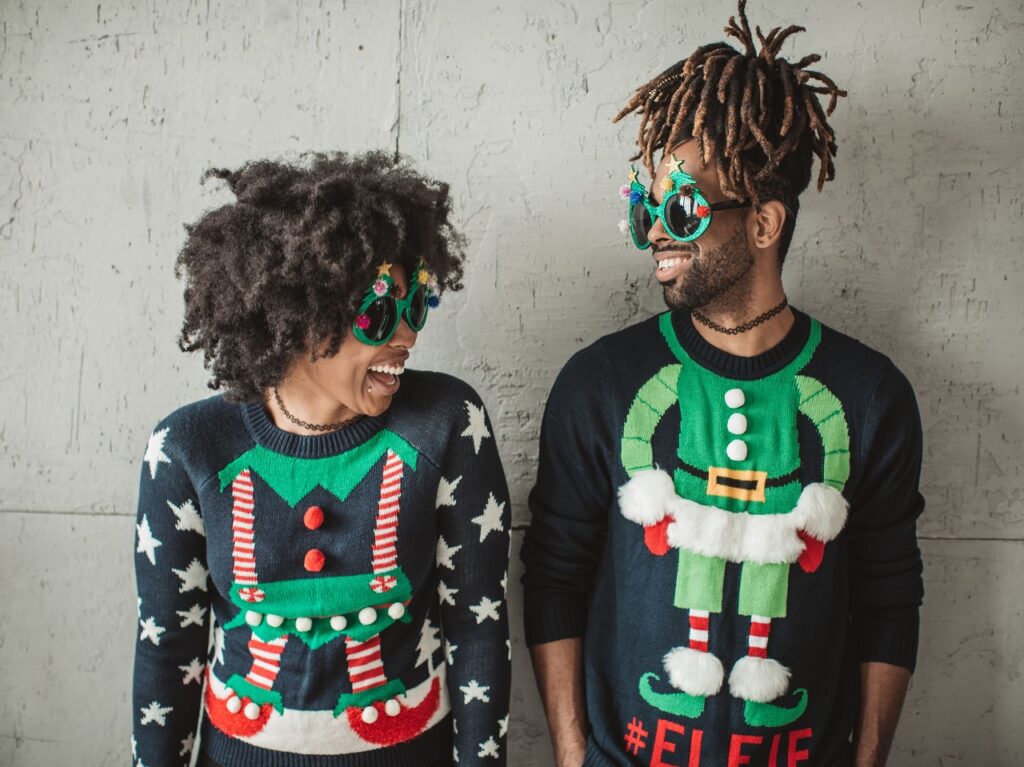 Christmas is coming! There is a tradition that is impossible to resist – wearing sweaters! Here you will learn the story of the Christmas-themed sweater and why it is a thing of the past.
There is a stigma on the sweater as a Christmas present. Now the movies portray characters wearing sweaters for Christmas as dorks. And the "cool characters" frown when they receive sweaters for Christmas. Furthermore, they also present awful tacky Christmas-themed sweaters where the characters mostly dislike having a family photo wearing identical Christmas-themed sweaters like a family uniform.
But a sweater for Christmas can be a wonderful present if it is chic, stylish or if its fabric is of excellent quality. What better way to show you want a person you love to be warm during the cold winter days?
Christmas sweaters and their origin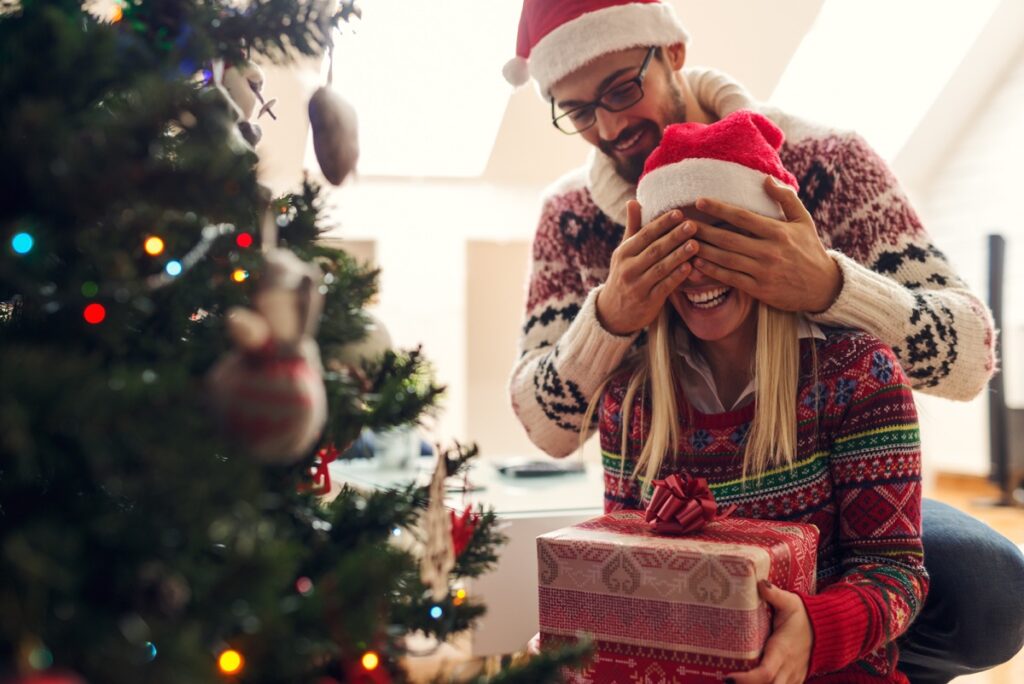 We are in the advent of the Christmas holidays, and there is a tradition that never grows old. It returns every year more alive: wearing Christmas sweaters decorated with deer, snowmen, gift packages, and pine trees to enjoy the Christmas mood.
These Christmas-themed sweaters, which we don't like today, date back to the late 1900s in the Scandinavian countries. This particular item of clothing was usually in very bright shades to make it easier for fishermen to be found in the event of a fall into the sea. There older women knitted heavy wool sweaters in bright colors for the fishermen, exposed to the harsh climate of northern Europe. The choice of colors was not for aesthetic reasons but safety. The idea for these sweaters wasn't to be stylish or elegant. They saved lives.
Today, wearing a sweater for Christmas could bring joy and warmth during the holidays. You can look stylish with a sweater this Christmas while keeping warm on the coldest days of the year. Celebrate the last working days in the office, or wear them for Christmas dinner or lunch. You can give it as a gift for your loved one. The sweater is a must-have for December. You can destigmatize it by giving as a gift a stylish sweater.
Sweaters in the Movies
After we learned more about the history of Christmas-themed sweaters, we can continue further and also thank the cinema, which makes them an emblem for the holidays. In a way, that has led to fewer people seeing the Christmas sweater as a gift. The movies have influenced people to avoid giving them as a Christmas present for a while because when you think of a sweater for Christmas, you immediately think of those tacky bright-colored Christmas-themed ones. So, instead, people now choose to give jewelry or accessories for Christmas.
Yet, the sweater can be the perfect gift. And we are not talking about sweaters like the ones from "The Diary of Bridget Jones," in which Mark Darcy, played by the young Colin Firth, wears a fun sweater embroidered with a giant deer. For Bridget Jones and Mark, this sweater is the starting point of their love story in the magical Christmas season. But this is a romantic comedy, and people rarely want to be seen as funny characters in real life.
Sweater as a Gift for Christmas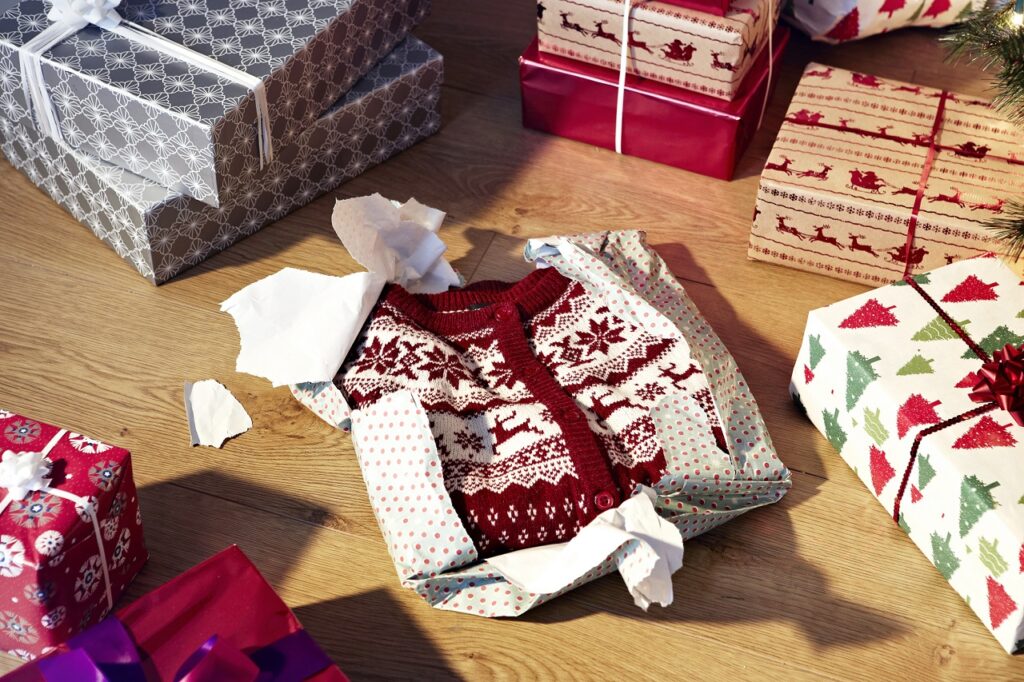 Nowadays, women can be found wearing them with an elegant dress to do some last-minute shopping. Or perhaps because they work in service management and have to answer the phone all day long, so the sweaters are practical garments that help them warm up. But what about giving it as a gift? Wouldn't it be a great idea to give the gift of a sweater, something that the person can use every day and will always remember you by?
In Conclusion
The sweater can be "a cool gift" again. All you need to do is spend a little time and find the perfect one for your loved one. It can be stylish, elegant like the ones offered by Revir. It won't be a Christmas-themed one, on the contrary. The Christmas-themed sweaters date back from the beginning of the 20th century in Scandinavia, where women knitted sweaters for their family members in bright colors to save their lives in harsh weather. If a fisherman fell overboard, he would be easier to spot. The Christmas bright-colored sweater was meant to save a life in the old days.
Today, the film industry has turned the sweater gift for Christmas into an unwanted gift presenting only the tacky, bright-colored ones. Now, it is time to reverse this trend and bring the stylish, elegant, luxurious sweater back to the "cool gifts" section.