Money Heist is a Spanish television crime drama series. The Spanish name of this drama "La Casa de Papel." The creator of this famous series is Álex Pina. This crime drama series based on eight robbers led by the Professor.
The first season divided into two parts, which broadcasted in Spain in 2017. The first season not renewed for a third season because there was not the result as much as expected, so the story closed with the successful robbery of  "The Spanish Mint."
After the ending of this story, the broadcasted right has been bought by Netflix to the series. But the story was run on Spanish Network Antena 3,2017. After purchasing this by Netflix(2019-Present), the story becomes successful and the most viewed account on this platform.
So automatically Money Heist was becoming a favorite of the United States. After this success then the network decides to produce a third and fourth season of fiction.
Money Heist season 5 & 6 are all to be released soon. In season 3, we saw there are introducing some new characters to the Netflix series. In this series Ei Professor which represented by Álvaro Morte. Rio, which represented by Miguel Herrán.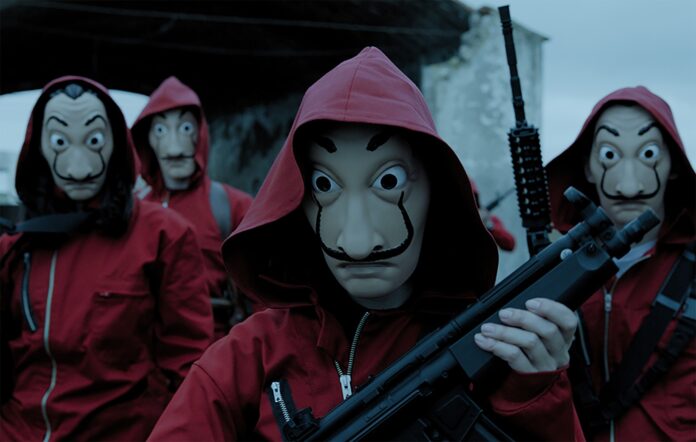 Tokyo, which served by Úrsula Corberó. Raquel Murillo, which represented by Itziar Ituño. Berlin, who helped by Pedro Alonso. Season 3 of Money Heist released on Netflix on July 19th,2019.
In season 4, Gandia, which represented by José Manuel Poga. Marsella, which represented by Luka Peroš. Bogota, which represented by Hovik Keuchkerian. Helsinki, which served by Darko Perić. Season 4 released on April 3rd,2020.
In this trailer of season 4, and we have seen that all the significant players are wearing a red-colored jumpsuit. Because they are ready for the next outing. Some returning characters included Tokyo, Rio, the Professor, and Denver.  But in the new trailer, there was a reveal Nairobi may still be alive.
Also Read, The Seven Deadly Sins Season 4: What's The Release Date, Cast And Story line For The New Season
Money Heist Season 5:
In season 5, Suarez, which represented by Mario de la Rosa. Monica Gaztambide(Stockholm), which represented by Esther Acebo. Daniel Ramos (Denver), which represented by Jaime Lorente. Anibal Cortes (Rio), which served by Miguel Herrán.As reported by Spanish portals, for the season 5, only the actors Itziar Ituno and Alvaro Morte have been confirmed yet.
So all are excited to know what to expect from season five is different and great. But the Netflix has not officially confirmed. The continuation of the story it is an open secret.