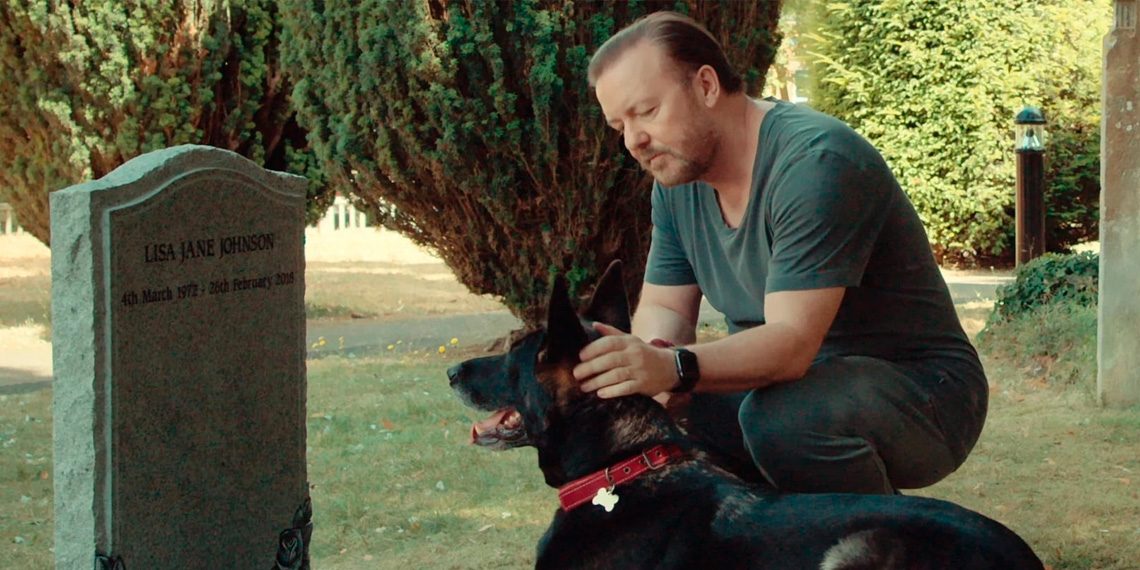 It seems like Ricky Gervais is getting a permanent home for now at Netflix. As he reveals that Netflix comedy After Life is coming back a third season.
The creator of "The Office" and the host for the Golden Globes multiple times, has signed a deal with Netflix. This new partnership of Ricky and Netflix will result in the production of scripted series as well as stand-up comedy shows.
For now, the famous comedian is into a multi-year overall deal with Netflix. This deal's outcomes is the renewal of his show After Life for a season 3. Yes, Ricky Gervais' After Life is coming back with a season 3.
In this post, we will be sharing with you all the details of the upcoming season of After Life.
When will Ricky-Gervais-After-life-season-3 release?
The second season of After Life recently went on air on Netflix, as of April 24th, 2023. And we are already talking of season 3. Will there be a season 3? This is a question that almost all might have. And the answer is yes.
A recent Twitter post from the official account of Netflix confirmed the news about the renewal of After Life Season 3.
NEWS: After Life will return for season 3.

— Netflix UK & Ireland (@NetflixUK) May 6, 2023
Although initially, Ricky had no plans of doing another season, somehow, he later changes his mind. In a recent interview, Ricky said: "I was planning to retire soon and just wander around the house drunk until I die, but I've grown a bit tired of doing that since the lockdown, and also Netflix has made me an offer which I couldn't refuse." 
On the same day, Ricky also posted about the show's renewal for the third season from his official account.
Because so many of you watched #AfterLife2 so quickly and made it Number 1 again, the nice people at @Netflix have suggested that I get off my fat arse and do another season. This is all your fault. pic.twitter.com/NDD2gGnFXx

— Ricky Gervais (@rickygervais) May 6, 2023
What is the show about? 
The show "After Life" revolves around Tony. Tony is lead, and Ricky Gervais plays the role. Tony is a middle-aged journalist. His dream of a perfect life crashes to dust after the death of his due to cancer. After this loss, Tony tries to take his own life.
He thinks instead of living long and bothering the world by saying and doing whatever he likes, giving up on life is much better. Tony feels giving up on life is like a Super Power. But he eventually realizes life is much more complicated than he ever thought of while everyone who knows him tries to save this nice guy, who once they used to know.
The concept behind the show:
During an interview, Ricky Gervais explained the ideology and concept behind the character and the series After Life.
"At the end of the day, it's all those little mundane interactions that actually save your life — they're the variety of life, they stop you from feeling too sorry for yourself. He's got to take the dog for a walk, he's got to go to work to make money to get drunk, and after all that, time heals," Gervais explained.
To celebrate After Life being renewed for a 3rd season we've…put all the most heartbreaking moments from S2 into one video. Sorry. ? pic.twitter.com/IWHlprvJCR

— Netflix UK & Ireland (@NetflixUK) May 6, 2023
Till the time, season 3, starts streaming, you can enjoy this short video clip posted by Netflix, compiling all the memories of Ricky Gervais' After Life.