Ricky Gervais' 'After Life' is a unique concept of black comedy-drama web series. Recently, Netflix has officially announced the future of  After Life, season 3. The web series is a Netflix original series from Derek Productions. 
Gervais is the creator, writer, and director of the series. Whereas Charlie Hanson is producer, and Gervais and Duncan Hayes are executive producers. These are the details of some formal information. Now just jump to the core form of After Life.
Some Recaps From Ricky Gervais:
The series is set in the small, fictitious town of Tambury, where Tony, Who is a writer for the local newspaper, is the center of the series. His life was going well, but after his wife died from cancer just ended his Life. This is the core story of the black comedy.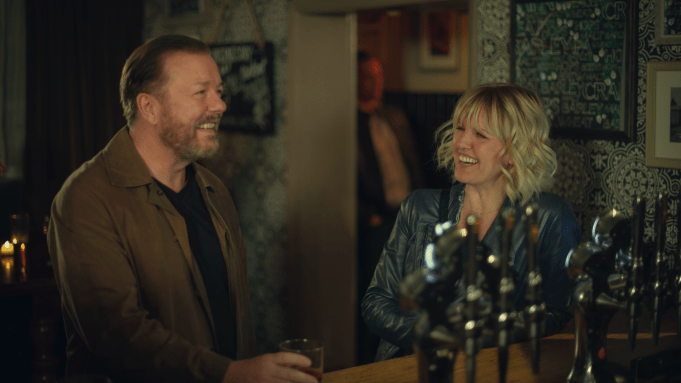 In series 2 of After life, Tony tries to overcome his grief and be sociable. He attempts to become a better friend to those around him. But in the inner soul, he was still struggling with his grief.
In this series, each character is engaging with their problems. As a result of enhancement by the emerging threat, the local newspaper shut down.
Release News on Twitter:
The exciting news was out on Wednesday on May 6. It said that it was planning a third season of the dramedy series at the time when Ricky Gervais was going live with his fans.
"Thank you, you played a blinder," Gervais told followers on Twitter. "You watched it, more of you, and faster than you watched season 1. And that's only after one week. And they are the best company in the world, Netflix… They're f**king amazing," he tweeted. He also admitted, "It's hard to say yes because it's a lot of work, and you don't want it to diminish."
Twitter confirms the story, But last week, when Gervais hinted to fans about his signing with Netflix for a season 3 of After Life, all the reactions go lively and energetic. He joked on twitter, "The better it goes down the worst it is for me, you can do something f**king amazing, and everyone goes: 'Oh god, it's the best thing ever, 10/10'." But he also said, "But if you do something else that is 9.5/10 people are like: 'It's f**king awful, this is the worst show on television.' So that's what goes through my mind."