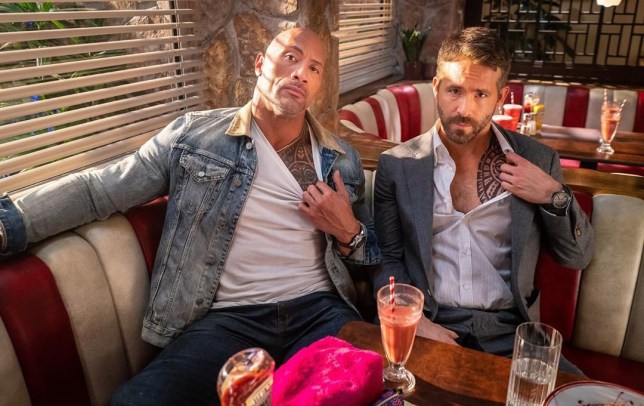 We are all aware of the bond and bromance of Ryan Reynold with The Rock. A few days ago, in an interview, Ryan was asked about The Rock, and he speaks off-camera things which The Rock is used to do.
In the recent show Live with Ryan and Kelly, Ryan was come for promoting his Netflix title 6 Underground. Ryan has revealed many secrets which are also about his new film and also about his bromance with many actors. Ryan replied so well that it makes us surprise with answers.
Ryan got the question from the host that, Is he working with his new Netflix project by the name of Red Notice?. In Red Notice, Reynolds will work with The Rock again, and this question gives a hint to the hosts to ask Reynolds about The Rock.
They asked, "what Johnson is like when the cameras aren't on for the shooting, given that the public perception of the wrestler turned actor that he is a nice guy who works hard?"
Reynolds says yes those things are right, "Off-camera, he's a lot like on-camera. Less violent. As energetic and kind, just a genuine article". The host asked one more question that if Ryan will be joining The Rock for his now-famous traveling gym known as Iron Paradise. Ryan replied with a comedy accent, "God, I hope I will not. He's like in his 48th trimester of puberty. I don't think that's going to be a very satisfying work out for him, but for me, it's going to be another bucket list moment."
The Rock shared a Picture with Ryan
Bromance of this two-man went viral when The Rock shared a picture with Ryan Reynolds. Eventually they got same type of tatto on their chest that they are showing off to the people.
Johnson gived caption that, "A #HobbsAndShaw delight when audiences go ape shit with laughs & joy when @vancityreynolds comes on screen as Hobbs' surprise partner "Agent Locke" of the CIA – who's known for stabbing bad guys in the chest with a brick ?
I've known this brilliant SOB for years and we jumped at the opportunity to mash up our tequila and gin chemistry to deliver some magic for the audience.
Thanks RR for helping make our lil' spin-off movie, the #1 movie in the world.
Fans love it, so we've done our job, brother.
#TequilaAndGin #ForTheMFnWin
#HobbsAndLocke ??"
There were lots of things on Live with Kelly and Ryan. You can read it more on our website.