Samsung is improving itself a lot than any other giant companies. Recently, Samsung has given an update on the internet beta. In which they have implemented the Grid layout for tab switcher. It is almost as similar to Google Chrome provides in tab switching.
Well, Only the beta user will get this experience because of the testing purpose. Google is also sharing this experience with only beta version users for a while.
Difference between all-new Grid layout and old layout
Since I am used to with coding and developing languages, so, I can tell you the exact difference between the old and new layout of the tab switcher.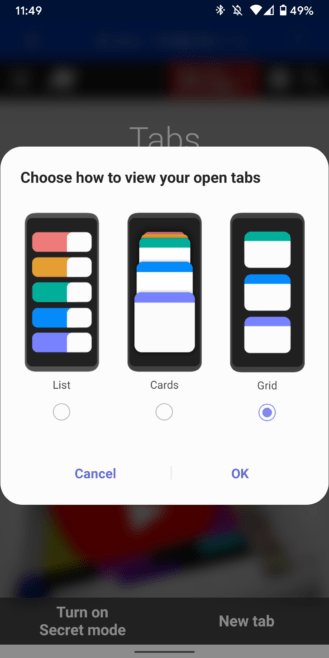 Well, this pic shows all the layout which is provided by the Samsung company. There is nothing much difference on the developing side; they just have to implement the correct line of code to change the layout. And the main thing they have to implement is resizing all the tab in a good manna that it look decent to the user.
Generally, Google chrome is providing the cards view(You can see it on the above image). But as we told you earlier that they have also implemented the grid view to the beta users. Here is the image of the grid view implemented by Samsung on internet beta.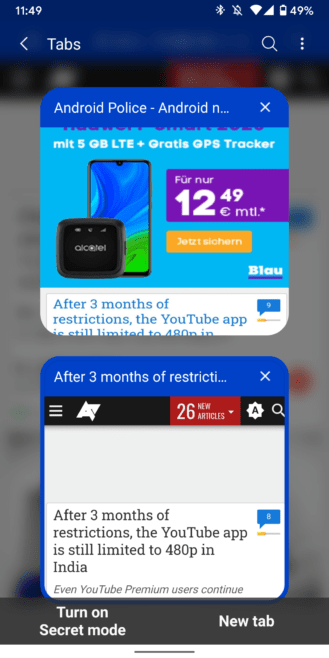 Make sure you have updated your Samsung internet as a beta internet version to use this grid layout. In Gridview, you will get an amazing view of your tab. It is arranged like the cards are arranged suitably.
What's new in the latest update of v12.1.1.5
There are many things updated by Samsung on the latest updates. But they have introduced us to two new things. Which are:
Support the Context menu in the Tab Bar of the browser.
New tab manager – See in the Grid view (which we have discussed)
To experience all of these things. You have to update your browsers with the beta version. And for that, you can set it from the Google play store, or else you can download the file externally.
Also read, Marvel's Iron Man VR – When Will The Video Game Launch? Discover The New Adventures!
So, this is about the new update of the Grid layout. Please stay tuned with us for more tech updates.