Adding wallpaper to your room is always a good idea if you want to bring some new energy into the space and refresh it. If you like bright space adding cloudy and sky cloudy wallpaper can be a great choice. This will give a completely new look to the room, which is an additional plus: with a little effort you will be able to completely transform your living space. Also, if the room is dark such motifs can make it shine and look brighter. There are so many choices, and it's up to you to just choose the colors and designs you like best. However, to make your choice easier, we decided to share a few ideas with you. Let's get started!
1. Cumulus Daylight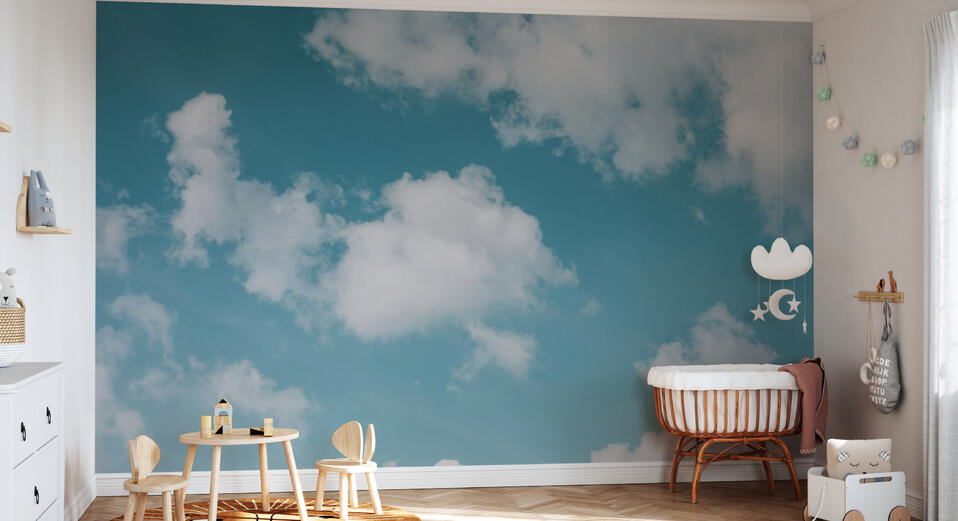 In case you want something completely simple and refreshing, we suggest you choose this wallpaper with a blue-gray sky and soft white clouds that will give the whole room a warm note and make it very cozy for sleeping, watching favorite movies, or spending time with a loved one. These neutral colors on this sky wallpaper will have a calming effect and make you always feel good when you are surrounded by them.
2. Kids Watercolor Sky and Rainbow Wallpaper Mural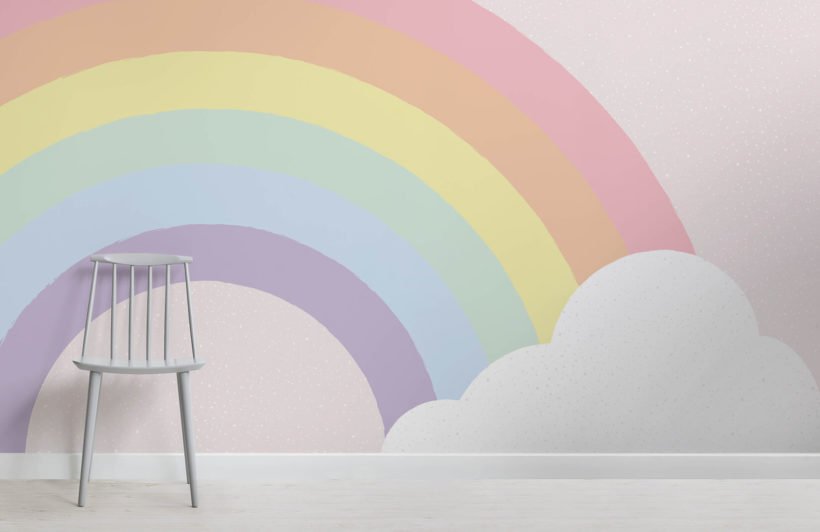 Although this is basically a rainbow and sky wallpaper that can be placed in a child's room and make it much more fun to play in, its application does not end there. If you are a cheerful person and enjoy watching vibrant colors every day, this can be a great choice for any other room as well. The combination of rainbow and sky will surely motivate you for long hours of daydreaming and enjoying the good feeling. If you are a creative soul, this kind of design can be very inspiring, which is its additional advantage. The colors of the rainbow will delight your family and friends, and who knows what deep and cheerful conversations you will have together while drinking a cup of coffee looking at this fun sky mural.
3. Cirrus Sunset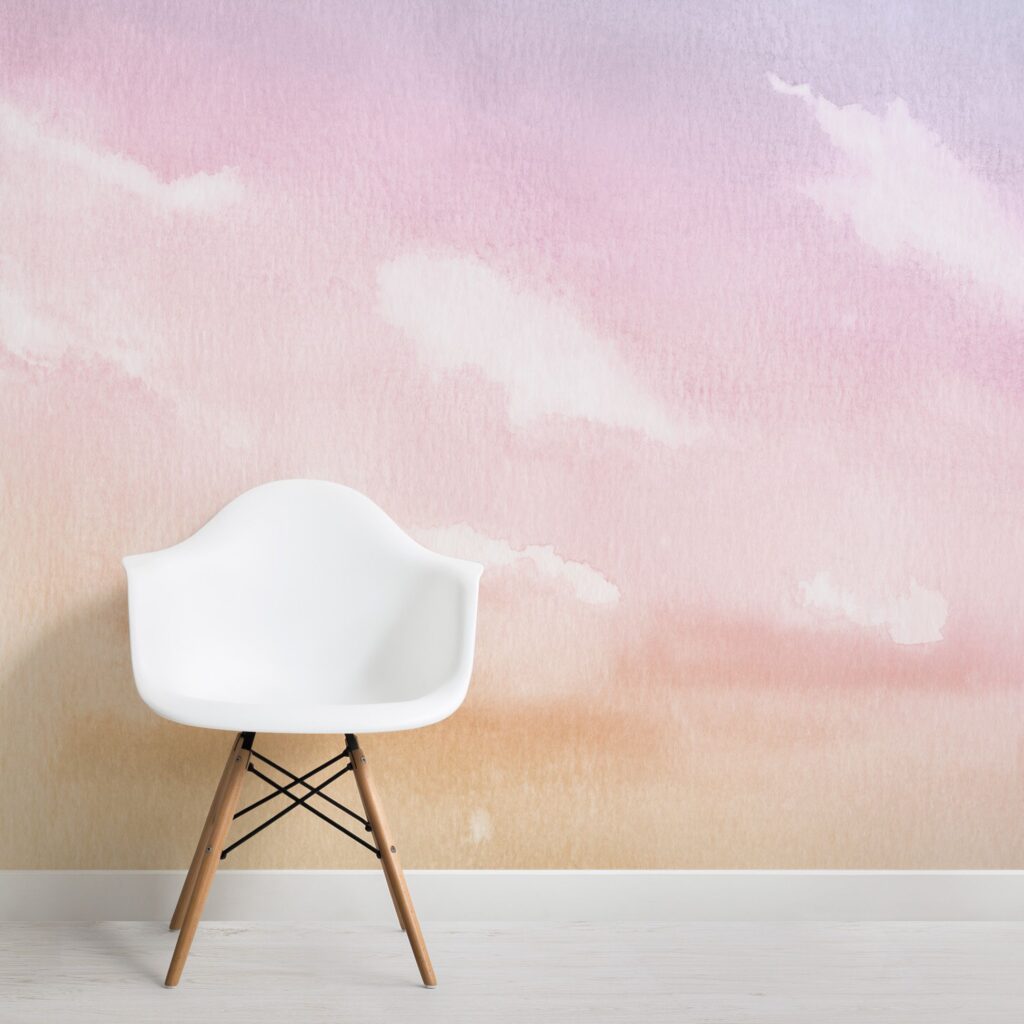 Do you enjoy romantic sunsets? So why not have them in your home every day? With Cirrus Sunset wallpaper this is entirely possible. Gentle colors that flow into each other will create an atmosphere typical of the sunset in your home… this is a truly magical design that will make you always feel in love. The colors that dominate on this wallpaper are purple, pink, and orange, with a subtle addition of white outlines that will remind you of clouds and sky every time you look at them. We could say that this design is really dreamy and girly, but it can also be a good choice for the bedroom, where from now on you will spend many romantic moments with your partner.
4. Kids Paper Plane and Animal Wallpaper Mural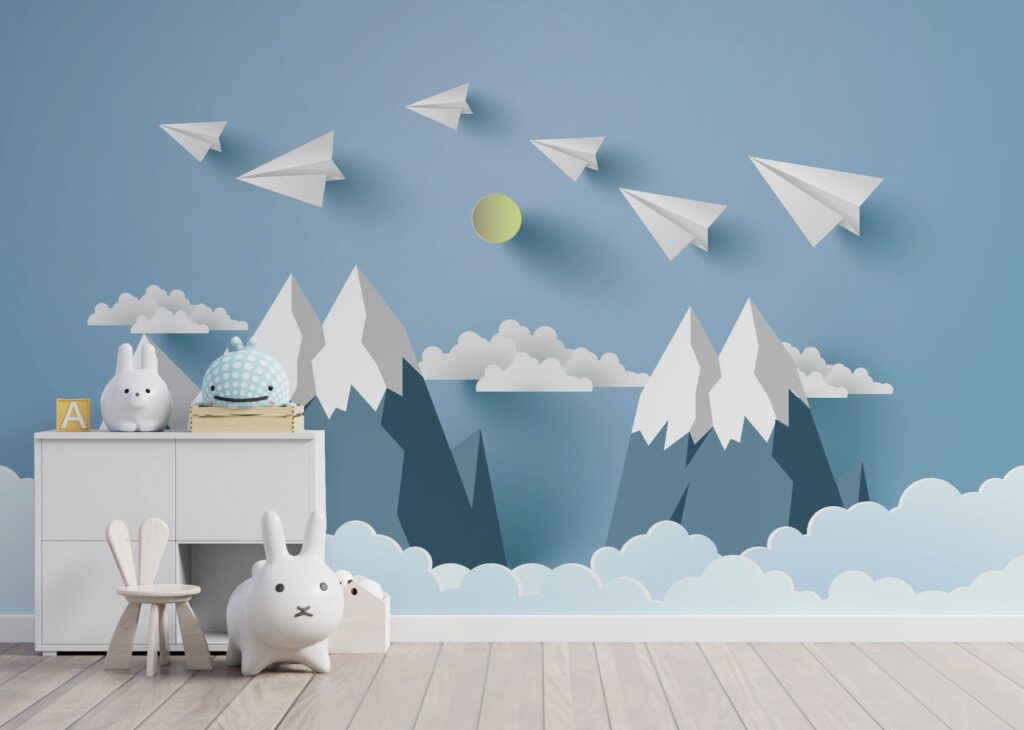 If you are looking for wallpaper for a children's room that is fun and bright enough to completely change the look and energy of the space, this one is perfect for you. Blue skies, gentle white clouds, bunnies playing the violin, and notes that stretch across the entire wallpaper… you can almost hear the happy music. You can be sure that your child will be delighted and always cheerful because these motives will make them happy and motivate them to play. It is very important that the children's room is adapted to their age, as well as to be bright enough to provide a nice atmosphere in which your child will spend hours. And if rabbits are your kid's favorite animal then there's no need to look any further… you've found the perfect wallpaper!
At Wallmur you can find a huge variety of sky wallpapers that will help you make a day in your room, but also night sky wallpapers and other designs that will fit into your home and ensure that you get the effect you wanted.
5. Altocumulus Sunset
This is another wallpaper with a sunset motif, but which contains slightly lighter colors. In case your room is dark or you just like the space where you spend time to be as bright as possible, adding this wallpaper is a great way to achieve this effect. Gentle pink shades will surely contribute to making the room much more vibrant and cheerful, and also make you feel better every time you look at this wallpaper. If you like pink tones reminiscent of sea sunsets, you don't want to miss this.
6. Fluffy yellow
If you are a fan of cloud prints then you do not want to miss this sky mural which is filled with soft clouds of vibrant colors. This is one of those wallpapers that brings a smile to the face of everyone who enters the room. Anyone who has a child in them and knows how to look forward to life will appreciate this sky mural because it will remind them of how beautiful every day can be when you focus on the right things. And imagine how much your life can be transformed when you watch something this much fun every day. We suggest that you place the wallpaper in the room where you spend the most time in order to absorb this positive energy as much as possible. And of course, you can beautify your child's room with these colorful clouds.
Conclusion:
Wallpapers can be a phenomenal way to refresh the energy of your home and make your life more fun. Yes, they can have such a significant impact! If you like the rooms to be as bright as possible or you live in an area where it is often cloudy, adding sky murals with some nice and fun colors can be a real hit. There are many different options for wallpaper on the market, so we suggest you take the time to choose the colors, design, and overall energy that the wallpaper provides so that it fits perfectly into your style and interior of the house. You will surely be able to feel the positive effect that these wonderful wallpapers will have on your life.