Many people mistakenly believe that stainless steel is just one material. Instead, it's a combination of multiple sheets of steel that resist corrosion and resist damage from extreme temperatures, watermarks, and other acidic elements.
Stainless steel is everywhere: cookware, cutlery, appliances, construction, implants, weapons… the list goes on. It is also the material of choice for amateur and professional cooks for its durability, excellent ability to brown meats and oven resistance.
However, not all stainless steel is of the same quality, so you need to keep these tips in mind when shopping. When you know what to look for, you'll be able to choose a stainless steel cookware set for your kitchen at iMarku.
Essentially, steel contains small amounts of alloys and iron. In most cases, it also contains trace amounts of carbon. Steel is stronger than ordinary iron.
Unfortunately, it's still corroded. To solve this problem, about 10% to 30% chromium is added to the steel. This plays a vital role in making it corrosion-free. Now, let's take a quick look at its pros and cons.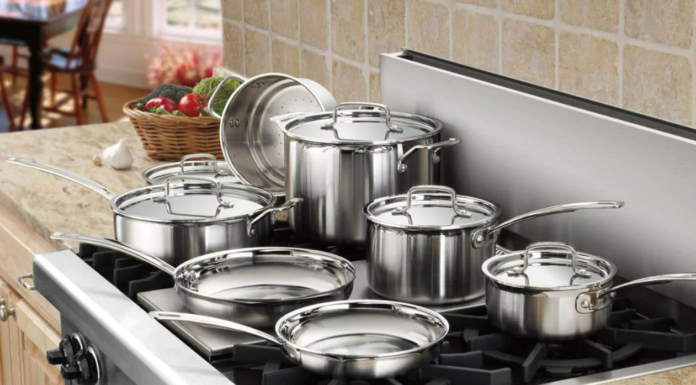 Pros
The non-toxic, uncoated surface will not peel or chip.
Not affected by acidic or alkaline foods.
Steel pans are very sturdy and accommodating. They are practically unbreakable.
Perfect for all those lazy nights and dishwasher-safe (or maybe it's just me).
Versatile: Stainless steel can be used for everything from sautéing to searing steaks. With the right temperature and amount of oil, you can cook delicate things like eggs.
No Special Attention Required: Clean as much as you want, regardless of condiments (like cast iron cookware).
Heats up faster than cast iron.
Appliance-safe metal (remember, no coating). However, make sure the handle and lid are oven safe.
Charred food particles that adhere to the surface create incredible flavors.
recyclable
Cons
Food sticks, therefore it's less user-friendly for beginners.
Extra Calories: To prevent sticking, use plenty of cooking oil.
Thermal conductivity is not as good as ceramics. (However, a multi-layer pan with aluminum or copper inserts will solve this problem.)
If you burn cooking oil or overheat your pan, it may discolor or darken.
It is not allergy friendly due to the nickel concentration.
A set is expensive
4 Things Need To Know Before Buying It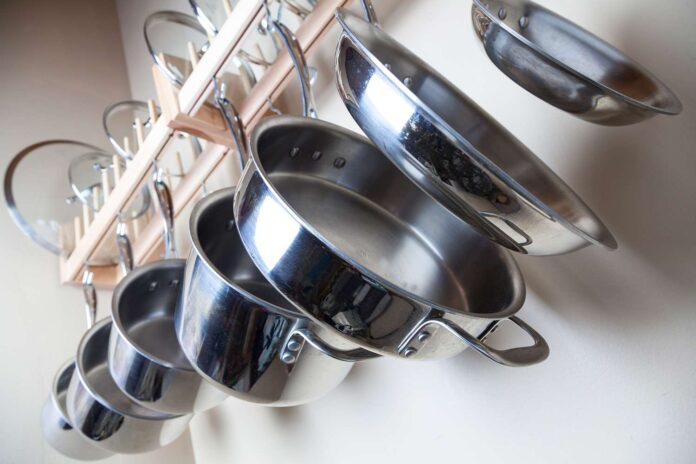 1. Design and Durability
When it comes to design, the first thing that comes to mind is whether these pots and pans are easy to handle. In addition, other aspects must be considered, such as the fit of the lid or the comfort of the handle.
Also, their ability to pour without dripping, as well as their appearance, is important. While the durability of stainless steel is undeniable, it is best to evaluate the quality of your cookware when purchasing.
2. The perfect suit
We try to select those that offer you the best value. Set sizes may vary within the same brand. So whenever you buy the right stainless steel cookware, check the piece size.
3. Heating performance
Certain factors, such as how the cooker conducts heat, how it heats up, how long it retains the heat, or the quality of the internal heating core are all essential. Heating performance indicates the overall quality of the cookware.
4. Annual Warranty and Usage Fee
Another important thing is to check the warranty coverage and how the warranty is honored after purchasing the cookware from the manufacturer. Next is the annual cost of use.
For example, choosing a $150 stainless steel pan is always better than a $30 nonstick pan. That's because nonstick pans need to be replaced every two years, while stainless steel pans don't need a replacement for decades.
When you're planning to buy the best stainless steel suits, you may find it overwhelming to find a ton of products. And, if you're a first-time buyer, the myriad of cookware brands can be confusing.
While it's always good to choose a few stainless steel items that you may need frequently while cooking, you should prefer cookware sets that contain many items.
Before buying individual cookware for your kitchen, you should consider the kitchen as a whole. That's because you want some pans that are perfect for a specific task. It's crazy to expect seven different functions in one pot, and no cookware can deliver.
How to clean stainless steel cookware?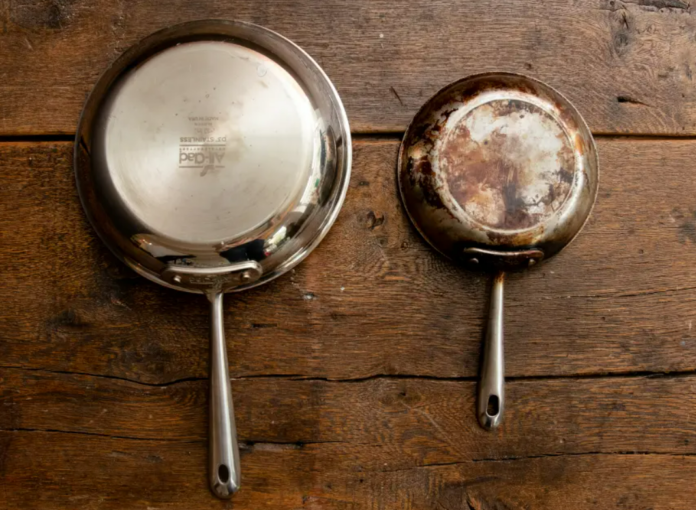 When cleaning your stainless steel cookware, you'd better follow these tips:
Never heat a pan when it is empty, even on low heat. Also, don't let the pot boil or it will dry out.
In case you forget to have a pan on the stove, it will eventually boil until it dries out, don't do anything right away. Wait for it to cool down before attempting to repair or restore your cookware.
Do not put salt in a cold pan as it will cause white pitting over time. If you want to prevent damage to your pot or cookware, it's best to add the salt after the water has reached boiling point. Keep this in mind when cooking with stainless steel appliances.
Always wash cookware by hand. While most stainless steel appliances are now dishwasher safe, washing machines can still leave marks on the surface after repeated washing. To prevent this from happening, you have to do the cleaning manually.
Avoid using chlorine fade to clean the kitchen or cookware.
Once you've selected a strong yet gentle cleaning solution, when cleaning appliances, scrub lightly over the surface. Use a paper towel (or any soft cloth) when wiping the answer off the surface. Make sure to rinse thoroughly to remove any residue. Afterward, clean the surface again until it is completely dry.
When cleaning stainless steel appliances in the kitchen, it is best to use warm water. Depending on the extent of the stain or mark, you can use the water itself or add detergent or cleaner to the water mixture.
Avoid using wire mesh brushes or wool scouring pads. These are too abrasive and will increase damage to the surface. Instead, use nylon or other mild pad or rag to remove tougher stains and scratches.