This show has marked its place as the longest-running TV Show of America. But, like most of other shows and movies, it has faced the impacts of the worldwide lockdown due to the outbreak of coronavirus. Supernatural Season 15 is the finale season of the show and the shooting was in process. But, after the release of 13 episodes, new releases were canceled due to the outbreak of COVID-19. Read this article out to know all the updates about the release of Supernatural Season 15 Episode 14.
Supernatural Season 15 Important Updates
Season 15 is the last season of this dark fantasy series. It premiered on October 10, 2019, on The CW. This 20-episode long series was supposed to conclude on May 18, 2023. But, due to the current circumstances, Warner Bros. Television Studios have decided to push it forward.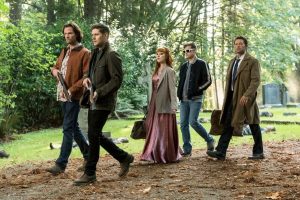 In March, Andrew Dabb made an announcement that this season will be put on hold after the March 23 episode (13th Episode). However, there has been no official announcement about when the rest of the episodes will be released.
When will Supernatural Season 15 Episode 14 release?
Well, we can only guess the release date of the 14th Episode of the series as the makers haven't given out an official date. So, as per speculations, the remaining episodes will most likely start airing August or September this year.  Let's wait for an official word by the creators of the show.
Plot and cast
The story revolves around two brothers Sam and Dean. They were raised by their father John and take-up the same path of fighting evil supernatural beings. They mainly are on a mission to kill the monster who killed their mother. Eventually, one of them started developing visions and found that the visions were related to the killing of their mother.
Later, their father dies at a very crucial time and the brothers lose their guide. The brothers then head towards achieving their objective of killing the monster.
The star cast of Supernatural Season 15 includes-
Jensen Ackles as Dean Winchester
Jared Padalecki as Sam Winchester
Alexander Calvert as Jack
Jake Abel as Adam Milligan
Misha Collins as Castiel
Emily Swallow as Amara
Ruth Connell as Rowena Macleod
Osric Chau as Kevin Tran
Rob Benedict as God
Shoshannah Stern as Eileen
David Haydn-Jones as Arthur
Lisa Berry as Billie
We'll keep you updated about any official announcement about Supernatural Season 15. Stay tuned to get all the latest information about the same.