Do Online Chat Rooms still exist?
To begin with, let's understand what an online chat room is. An online chat room is a website that allows people to send messages to one another in real-time. Online chat rooms can be used for anything, from customer service communication to using a dating chat room or making new friends.
It is true that online chat rooms no longer get the kind of love and attention they used to get back in the day. However, that does not mean that online chat rooms have become extinct. In fact, chat rooms still exist and are quite popular among certain groups of people. Online chat websites are a great way to escape the everyday noise, have enjoyable, thought-provoking and refreshing conversations with strangers and befriend new people.
However, finding the right online chat room that works for you can be one hell of a challenge. This is because there are tons to choose from, and the sheer number of options can be pretty overwhelming.
This article outlines our top 10 online chat rooms that we think are great for making new friends. Let's check them out:
Top 10 Online Chat Rooms
Looking to chat online for free? Want to meet new people without the hassle of going to bars or coffee shops? Are you an introvert who struggles with communication in public spaces? Here are our Top 10 online chat rooms perfect for getting to know new people, making friends and even seeking romantic relationships.
1. WooPlus
If you are looking for online chat rooms that offer a top-tier, premium chatting experience without breaking your bank, then WooPlus must be at the top of your list. Besides being one of the top niches, and dating apps worldwide, WooPlus is also one of the best online chat websites out there. Since its launch in 2015, the WooPlus community has grown to nearly half a million worldwide. This includes over 3.5 million matches, equating to a success rate of approximately 91%. The all-inclusive trendy app has ranked #1 on Google Play and bagged major media appearances in BBC, Yahoo, People Magazine and Mirror, etc.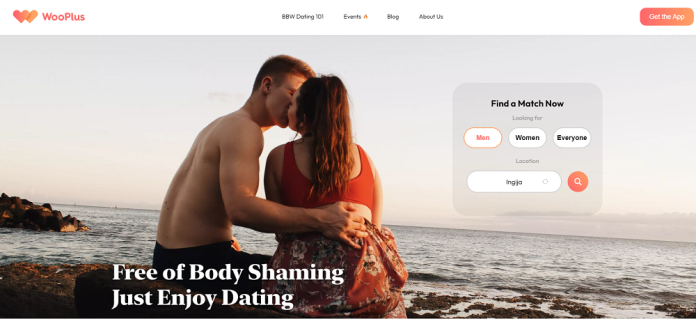 Best For: The BBW and LGBTQ community. WooPlus is ideal for the pursuit of deeper connections and long-lasting relationships.
Pros:
The easy, free-of-cost, one-minute registration process
Ideal for BBW singles and other curvy people
It is an all-inclusive app, so it is a safe space for the LGBTQ community
The online chat room feature is entirely free-of-cost. Besides that, there are also tons of other free features, including search filters and liking and commenting on pictures
It is a highly interactive app and allows you to actively regulate your interaction between anything from 'being friends' to 'looking for a serious relationship.' Some interactive features include liking and commenting on pictures and poking one another.
Features allow users to dynamically share activity, making them feel like they are a part of a social community. These include sending 'Presents' using the coins you get when you log into the app and the 'Moments' tab where you can share your top activity with the WooPlus family.
It has a robust security system that filters out fake profiles and scammers.
Has strict policies against cyber-harassment and discrimination
Has a user-friendly, innovative design
Cons:
The lower population of male users
The absence of live video chat limits the chatting experience
2. Badoo
With over 100 million downloads and 5 million reviews, Badoo is one of the most popular online chat rooms in 2022. Using Badoo, you can chat with random people, find friends and potential partners close to you or in other parts of the world and build meaningful relationships– all for free! Due to its high success rate in connecting people, users have identified its match-making potential and often compare it to Tinder.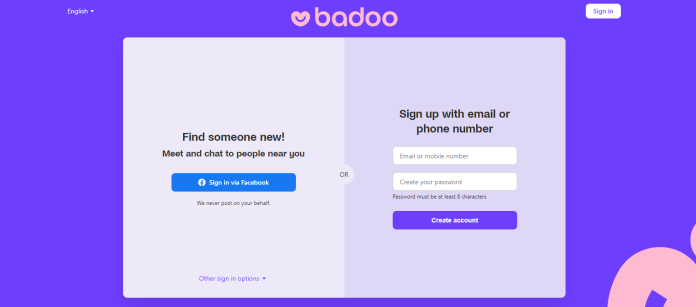 Best For: Badoo is best for people looking for friendships and casual dating, but not serious relationships.
Pros:
High level of member activity
With Badoo, all users can chat online free
Of many other online chat rooms, Badoo is simple and easy to navigate
It has an efficient security system, so 95% of users are legitimate
Tons of unique features for a superior chatting experience
Besides chatting and online hangouts, it offers other avenues of entertainment like matching games and quizzes
Cons:
Technical glitches and occasional errors
Most of the active members are only from European countries
Not a great option for long-term relationships
3. Chatiw
Although it functions less like a dating chat room, Chatiw is an excellent online chat room option for users looking for affordability and easy accessibility. It allows people to chat freely with strangers and even in groups made in the Chatiw community. Using the application is very simple and straightforward- all you have to do is enter your basic details in a form on the site, and it will automatically match you with people in your age group and according to your location and interests.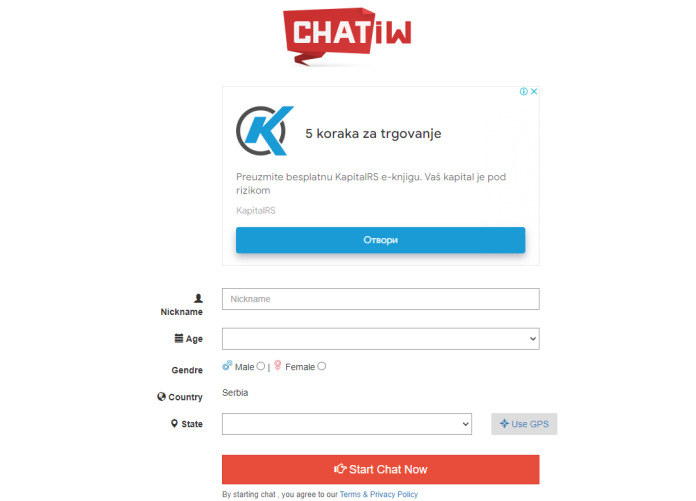 Best For: Chatiw is best for people looking for affordable online chat rooms solely for making new friends.
Here are some of the pros and cons of Chatiw:
Pros:
Simple and easy to navigate
Compared to other online chat websites, it is easily accessible on Android, iPhone/iPad and Tablet phones
Key features include mobile chat (chatting on the go), random chat (talking to people anonymously and photo sharing in online chat rooms
Cons:
Lots of ads on the free version
Cannot send video content or do live video chat
4. MeetMe
With over 10 million users and over 2 million reviews, MeetMe is one of the most extensive online chat applications in 2022. Although initially intended to function as a dating site, it delivered more successful results as a chatting platform to e-meet strangers and build friendly relationships with them. MeetMe works best for people looking for multiple modes of communication.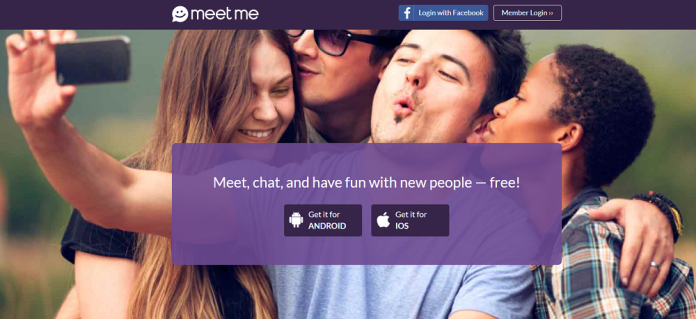 Best for: MeetMe is ideal for people who want to meet and befriend local strangers but do not wish to pursue a romantic rendezvous with them.
Pros:
The chat feature is free of cost
Besides text messages, you can share photos and videos and engage in video chatting and live-streaming
Has a high level of user activity, worldwide
It can be easily downloaded on iOs and Android
It has other exciting and interactive features like casino and arcade games and sending gifts
Cons:
Has tons of scammers and fake profiles
5. Talk.Chat
Regarding online chat rooms, anonymity is crucial for an individual's safety. And that is precisely what Talk.Chat offers. Whether you use the Talk.Chat's online chat rooms from your browser, or your mobile phone, it is 100% free. Talk.Chat functions more like an online chat room to make friends and less like a dating chat room to look for boyfriends and girlfriends.
Best for: Talk.Chat is the perfect choice for individuals who value anonymity more than anything. It is ideal for making friendships and not for dating.
Pros:
No hassle of registration and account creation.
There are many online chat rooms where you can talk about various topics like sports, arts, business, recreation, etc.
Has the flexibility to make your own online chat room.
Cons:
All chats are group chats, so there is a lesser sense of privacy.
Your username will expire in a week if you do not sign up.
Cannot share images, videos or emojis.
6. eHarmony
Although it functions primarily as a dating site, eHarmony also offers exciting online chat rooms to form meaningful friendships. eHarmony online chat rooms are best for people who want to interact anonymously with authentic profiles.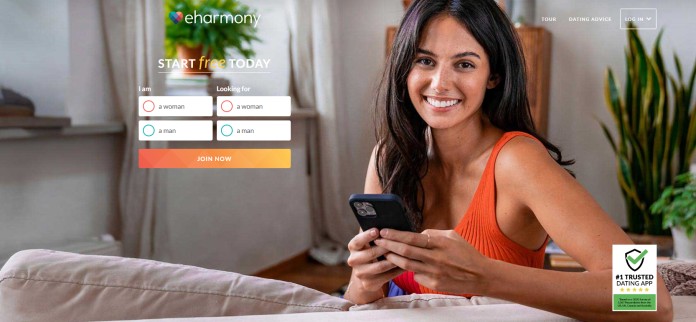 Best for: People who form deeper, long-lasting connections for dating purposes.
Pros:
It has a stress-free and hassle-free registration process.
The application is user-friendly and easy to navigate.
It has a wide range of authentic matches.
It has a robust authentication system that filters out spammers and fake identities.
A high-tech matching system that ensures a profound success rate.
Cons:
More expensive as compared to other online chat rooms.
Not recommended for casual dating.
7. EliteSingles
If you are looking to expand your friendship into a long-term, serious, committed relationship, then Elite Singles is just the right chat room option for you! Therefore, compared to other online chat rooms, Elite Singles function more like a dating site. It has tons of great features, some of which are as follows: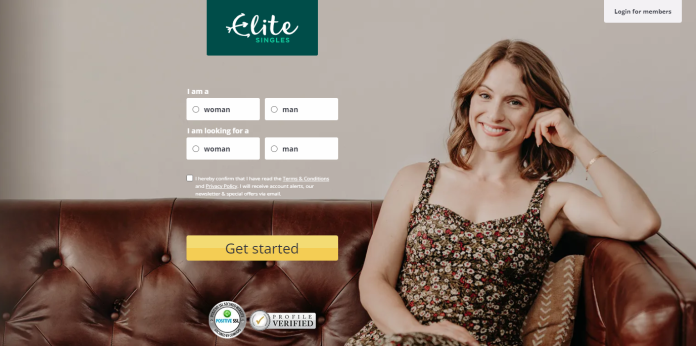 Best For: People who seek friendships to pursue a romantic relationship in the future.
Pros:
Intuitive, easy to navigate, user-friendly design
It has a high-tech algorithm that matches people based on personality traits
Tons of sophisticated dating filters and successful matches
Offers in-person and virtual speed dating events
Cons:
It has a long and tedious registration process
8. SKOUT
The Skout community is currently 10 million users strong, making it one of the most popular online chats. Skout is mainly recognized as a social media and dating app with tons of unique features that make using it a delightful experience. Some of its most salient features besides chatting include browsing profiles, live streaming and broadcasting and proximity-based preferences.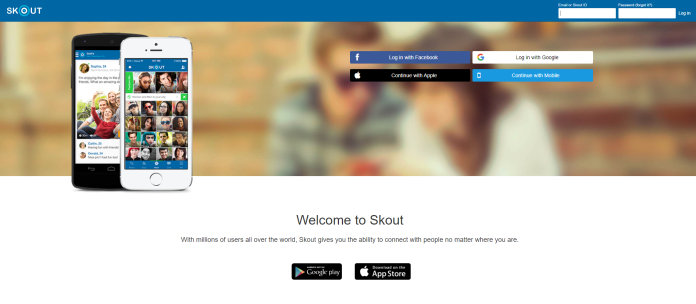 Best For: Ideal for people who are looking for a feature-rich experience.
Pros:
Perfect for community building and manifesting long-term friendships
A large community of active users
A long list of interesting features
The app is easily accessible by both Android and IOS users
Cons:
Too many advertisements on the free version
9. Zobe
Zobe is one of those online chat rooms that allow you to communicate with its vast community without the hassle of registration. Chat rooms are available based on age, gender and topics of interest, etc. In the domain of online chat rooms, Zobe is a fun, friendly place to meet new people and manifest good relationships.
Best for: People looking for good friends and casual dating opportunities
Pros:
No sign-up or registration requirements
Unlimited chances to change your username
Possess the flexibility to create your own chat rooms
Cons:
Non-efficient customer support
10. Enter chatroom
Enter chatroom is one of the best online chat rooms that offer you the flexibility of a no-registration entry. While browsing others' profiles, you can see who is viewing your profile and your profile pictures.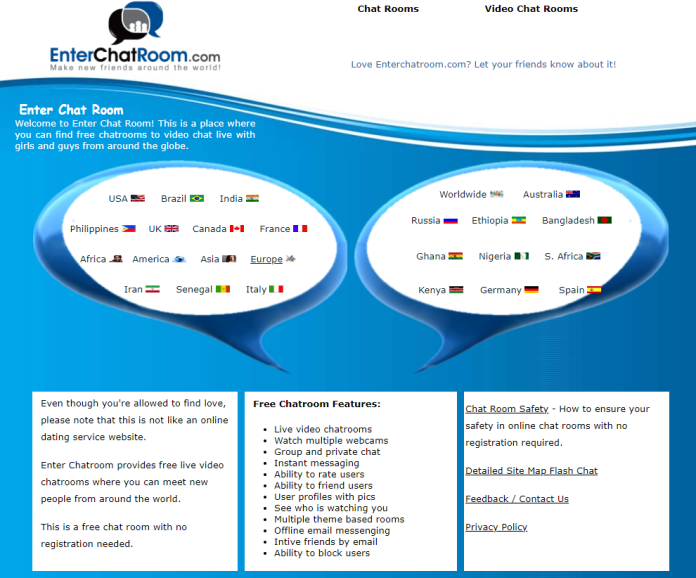 Best For: Individuals who expect a premium chatting experience
Pros:
It is user-friendly and easy to navigate
Complete profiles, including descriptions, photos and videos
It has tons of excellent features, including customizable private chat, chat groups, multiple HD quality webcams, and instant messaging
Offline features like offline email texting
Cons:
A lot of scammers and fake profiles
Section 3- FAQs
1. Are online chat rooms legal?
Yes, chat rooms are legal. However, certain acts during communication through online chat websites face regulation and prohibition due to safety and privacy concerns. For instance, recording an online conversation without the consent of the other party is strictly prohibited. On certain online chat websites, sharing vulgar, offensive, and culturally, racially and religiously insensitive content is also not allowed. In some parts of the world, adult chat rooms are also condemned and sometimes even wholly prohibited.
2. How can I chat online for free?
The Internet has tons of great options to chat online for free. Online free chat rooms are one of them. You can chat freely with strangers, without any downloads, and set up or even register. If you are looking for a free online chat room to make new friends, scroll back as this article enlists the top 10 online chat rooms you must join!