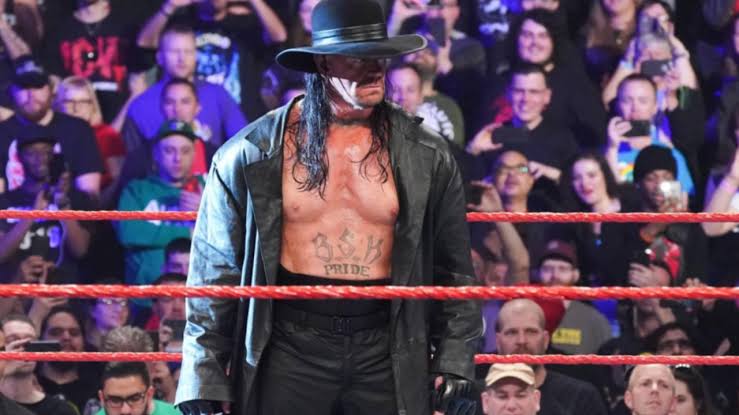 We saw that on the final episode of The Last Ride, WWE legend The Undertaker made an appearance to call time on his incredible 30-year career. He was saying he has 'no desire' to return to the ring.
The Deadman (Mark Calaway) said at the WrestleMania 36's Beyond Match, "If there was ever a perfect ending to a career, that right there was it."
Undertaker gave a statement, "If Vince was in a pinch ever, will I come back? I guess only time will answer that."
In support of his statement, he said, "In case of any emergency, you can break glass, and you can pull out The Undertaker. I will consider it. But, at this point in my career, I have no desire to get back in the ring."
We saw that within some minutes of The Last Ride airing, The Undertaker was trending on social media.
Twitter was bombarded with tributes to one of WWE's greatest icon ever, by fans and fellow pro-wrestling stars showing their respects. They were using #ThankYouTaker as a medium to thank him.
Here are some of the best reactions we saw.
AJ Styles, the man who in real sense retired The Undertaker, tweeted: "Still floored by the experience and reaction to the Boneyard Match at WrestleMania. If this was the last time Undertaker will ever lace up his boots, I'm truly honored it was against me."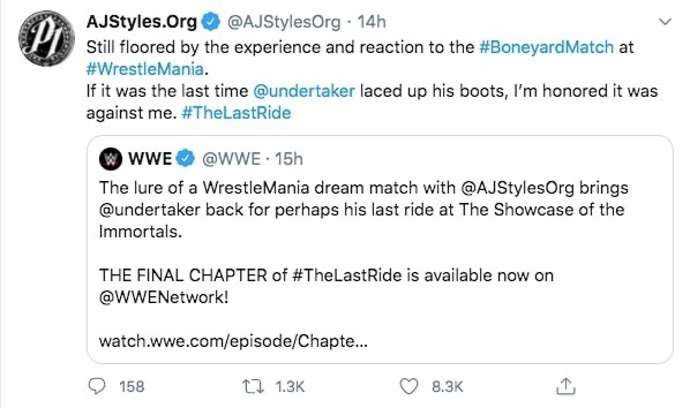 Also, his fellow main roster star Billie Kay wrote: "A true icon that devoted his life to this business. She wrote, #ThankYouTaker" On the other hand, Peyton Royce, her tag team partner simply added "ICONIC!"
Then we saw, NXT and 205 Live stars Tony Nese sharing his favourite Undertaker memory and saying that this was the moment he became 'hooked' on wrestling.

"Undertaker vs Yokozuna – Casket Match. Royal Rumble 94′ Providence Civic Center, RI. I have watched wrestling for many years now, but this match and the amazing aftermath were pure bliss and I was hooked for life."
Following that, SmackDown's Ember Moon also paid tribute to UnderTaker by thanking him for everything he has done for the industry.
She tweeted, "Words cannot express how much you have done for all of us! #ThankYouTaker."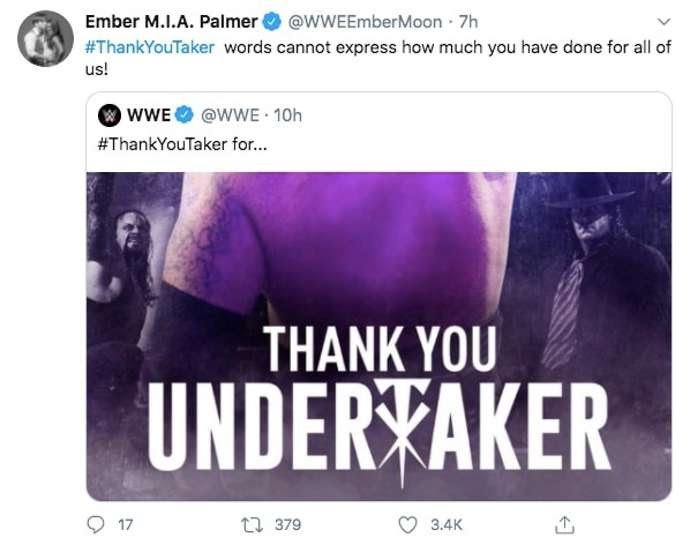 One of the best reaction probably was the one that came from Tomasso Ciampa, one of NXT's top stars. He posted an image from 2005 of him sharing the ring with Undertaker when he made his WWE debut.
"I guess the rematch is off the table," he said.
"It was not only his fellow WWE stars paying their tributes to Undertaker, but we saw that Twitter was full of fan tweets with their favorite memories of The Deadman."
One user wrote: "Hall of Fame 2023 needs to be headlined by this man."
While we saw another one saying, "Thank you for making our childhood so cool. Thank you for the journeys you took us on. Thank you for growing with us, and evolving. Thank you for being larger than life."
Undertaker said that if Vince needs him in an emergency, he will come. But, even we know that may never happen.
So, for now, it seems he is ready to step away for good. Finally, after such an incredible 30-year WWE career, we can only say one thing to this Icon, #ThankYouTaker.
Stay safe and keep reading for more updates.