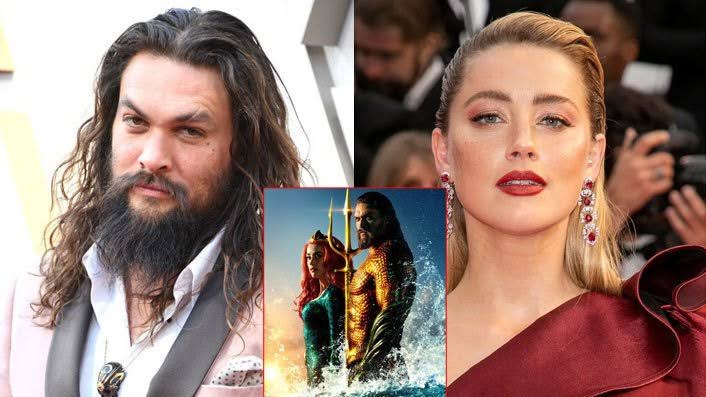 If the sources can be trusted, there are rumours that Amber Heard will not be present in Aquaman 2. As per reports, she has been annexed by the studios for the sequel. Taking the suggestions into consideration, she is facing legal trouble for fighting against her ex-husband Johnny Depp. It is the reason that Heard will be not there in Aquaman 2.
This trouble began when she joined the #MeToo and #BelieveAllWomen movement back in 2016. At that time, she blamed her husband for physical abuse and domestic violence. When she came with a black eye to the media, the film producers and Hollywood Press took her side. As a result, in the end, both of them got divorced.
Later, Johnny Depp went ahead and filed a defamation suit against his ex-wife Amber Heard and British tabloid, The Sun.
Amber Heard and Johnny Depp
He went ahead and released a few tapes in which Amber was striking him back and also mocking and taunting him. After these releases, she found herself in a big legal trouble. Also, the court went ahead and gave Depp the go-ahead signal and agreed to his $50 million defamation suit. After these audiotapes were released, several petitions were passed against Amber Heard. One of the appeal requested to replace her from her character Mera, in Aquaman 2.
Aquaman 2 has grabbed a lot of eyeballs globally due to these countless petitions filed to remove Amber Heard from the franchise. As per latest reports, her pictures were released getting cozy with Tesla maker Elon Musk. It has landed her in even more trouble with the DC Universe. The latest reports suggest that Arthur Curry will undoubtedly reach an endpoint with his lead role, and also might retire as the hero after Aquaman 3.
Amber Heard will exit from Jason Momoa's Aquaman 2!
Yes, that's right! According to a source, "Arthur will be continuing as the king, but he will give the role of Aquaman to Kaldur'ahm aka Aqualad. Kaldur will then become the new face of the franchise. Surely, this storyline has an inspiration from the recent Young Justice: Outsiders. It is the third season of the DC Universe animated series, in which the same thing happened. And, for The New 52 comics, Kaldur will be portrayed as an openly gay man. According to sources, they are trying to find an openly gay actor to portray him."
A still from Aquaman
What will be the fate of Amber Heard?
As per the latest reports, it is kind of finalised that Amber Heard is the losing party in the defamation suit. So, she will be removed as the spokesperson of L'Oreal Paris. Even the company is under high pressure regarding her exit, but they have not commented on this yet.
Who will be replacing Amber Heard as Mera in Aquaman 2?
As per reports, there has been no validation from the Well, Detector Bros. regarding Amber's exit. So there is no point in discussing with them about her replacement for Mera. But as per sources, Emila Clarke will be replacing her for the role. She is a brilliant actor who has proved her worth with ber acting in the Daenerys Targaryen in Video Game of Thrones.
Amber Heard
When will Aquaman 2 hit the screens?
As of now, reports say that the shooting of Aquaman 2 will not start before 2023 and so it is expected to release on 16 December 2023. Due to the sudden outbreak of Coronavirus, the shoot can further get delayed. And, Amber Heard will not be starring in the sequel for expressing her views on social media. This has been attracting a lot of negativity around her.
Stay safe and keep reading for more updates.