The classic show Animaniacs is loved by all us 90s kids, isn't it? Well, get ready to recall your memories very soon. Hulu is soon coming up with a rebooted version of this American animated comedy. We have got all the updates about Animaniacs Reboot here for you. Dive right in to know everything about it!
Animaniacs Reboot
Amblin Television along with Warner Bros. Animation started working on this version of the series somewhere around mid-2017. Later, in January 2018, Hulu officially announced the series. This decision was taken after the immense popularity gained by the show when it started streaming on Netflix in 2016.
You can listen to the theme song of this awesome series below and recall your memories! 🙂
Animaniacs Reboot release date
As per the current information, the show will have at least 2 seasons. This is Hulu's first original show meant for the family audience. It is for sure a very exciting project with such a great team on-board. The first season is set to release in 2020 itself. But, an exact premiere date has not been announced yet.
In addition to Animaniacs Reboot, Hulu now has the rights of the classic series as well. This means you'll be able to have a great time watching all the episodes of Animaniacs. The list includes Pinky and the Brain, Elmyra and the Brain, Tiny Toon Adventures, and Pinky.
Cast and crew of the reboot version
The executive producer of the series Steven Spielberg will be seen holding his spot again. Wellesley Wild and Carl Faruolo will serve as the showrunner and the supervising director, respectively.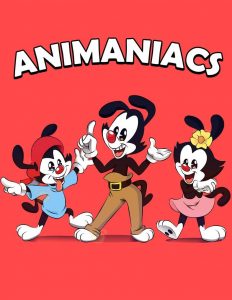 Also, the voices which we fell in love with during our childhoods will be back for Animaniacs Reboot as well! Stars who'll be giving life to their respective characters yet again include:
Paulsen as Yakko and Pinky
Harnell as Wakko,
MacNeille as Dot,
LaMarche as the Brain
After so many years, the time has finally come to see a fresh and exciting version of our most loved childhood series. The original team is back to deliver a masterpiece to the audience of this classic series. Conclusively, let's wait till they announce a release date and give out the trailer. We'll keep you updated about everything new. Stay tuned!