Friends is a series which streaming on Netflix for the last five years. It is one of the most popular shows. It won 6 Emmy awards, and excellent comedy series.it has ten seasons(236 episodes).friends were directed by y David Crane and Marta Kauffman, which in contact with (National Broadcasting Company)NBC.this show has started from September 22, 1994, to May 6, 2004. The series was written by Bright/Kauffman/Crane Productions, in partnership with Warner Bros. Television.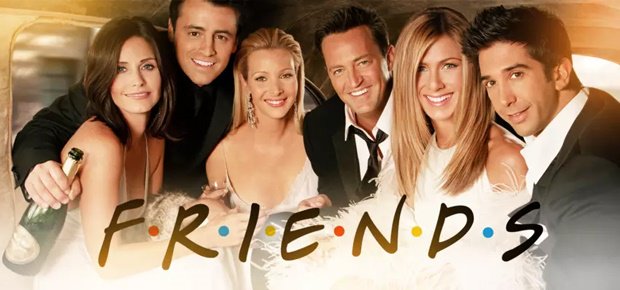 In 2015, it arrived at Netflix new generation people attract to the six friends in the show are about six young adults in their 20s and 30s who lived in Manhattan, New York City. Not sure where they were heading, but not too worried about it either.most of the show shooting took place in apartments.
In this series, a group of 6 members (3 girls and three boys).it is about commitment, meaning, and varied personalities, so the journey of friends revolves around this. Through they struggle many problems like bad relations, hook-ups, wrong profession moves, marriages, breakups, kids and familial fall-outs, the six characters on Friends were there for each other, even as some pairings moved from Platonic to romantic also back again.
Friends are always family when we have any problem we share with friends. Friends always take care of us and solve problems. The idea of a friend's TV show is about the issues faced by an adult in this show narrated same-sex wedding, impotence, choosing, surrogacy, and single parenthood.
Friends Leaving Netflix – Cast
Jennifer Aniston (Rachel Green)
A fashion lover, Rachel, first goes with Monica in season one after marrying Barry Farber. She dates other guys through the series, such as an Italian friend, Paolo, in season one; Tribbiani in season ten. Rachel's first post is as a server at the coffee house Central Perk, but later becomes an assistant client at Bloomingdale's in season three, and a customer at Ralph Lauren in season five. In the last chapter of the list, Ross and Rachel announce their love for each other, and Rachel resigned her job in Paris to be with him.
Courteney Cox (Monica Geller)
The mother and a chef, known for her perfectionist, bossy, ambitious, and good quality. She serves as a cook in several restaurants during the show. Her first relationship is with a family friend Richard Burke. The pair keeps a healthy connection until Richard states that he does not want to have babies. Monica and Chandler Bing next start a bond after spending time with each other in London, then, leading to their marriage and adoption of twins at the final episode.
Lisa Kudrow (Phoebe Buffay)
She is educated as a musician. She composes and harmonizes her strange songs, herself on the guitar.she has three serious relations over the series David, Minsk Gary, Phoebe, and Mike get married in season ten.
Matt LeBlanc (Joey Tribbiani)
A struggling actor and food lover who becomes famous for his role Joey has multiple short-term dates. He is honest, caring, and goodhearted. He falls in love with Rachel, but Rachel says to Joey that she cant share her feelings. But after realizing, Rachel's complicated relation with Ross, they turn to be buddies.
Matthew Perry (Chandler Bing)
A manager in the statistical analysis and data reconfiguration for a huge multinational company. Chandler despises his job, although it pays well. He finally quits his job due to a change to Tulsa. Chandler marries Monica and adopts twins.
David Schwimmer (Ross Geller)
Monica Geller's elder sibling, he works as a paleontologist at the Museum of Natural History and later professor of paleontologist at New York University. He has three failed marriages during the series: Carol Willink, Ben Geller, Emily Waltham, he and Rachel have a child, Emma. They finally admit that they are in love in the final episode. And it's time to leave Netflix and say bye to friends, which change our new generation with beautiful memories.