As per reports, Ariana Grande has a new man in her life. She just had a short term fling with the Social House's Mikey Foster. Now, the reports suggest that she is dating a real estate agent, Dalton Gomez. This news broke when the two of them were seen getting close during the time of self-quarantining.
Now, as we can see that Ari is using this time to get to know her alleged boyfriend properly, let us also know something about him. Keep reading to learn more about Ariana's alleged boyfriend, Dalton Gomez.
Here are some facts about their relationship, over the time:
1. It seems that they confirmed their relationship with the video.
It is a relief that when all the fans are speculating about the relationship since the past few months, they just kind of came out and gave a confirmation to it. Ariana came out with her man in her music video with Justin Bieber, "Stuck With U."
We saw that at the end of the video, Ariana Grande embraces Dalton, and he kisses her head in response. Then we saw, he gave her a spin and revealed his face on the camera.
Now, after these speculations for months, when they come out like this, it seems that they are ready to talk about their relationship in public.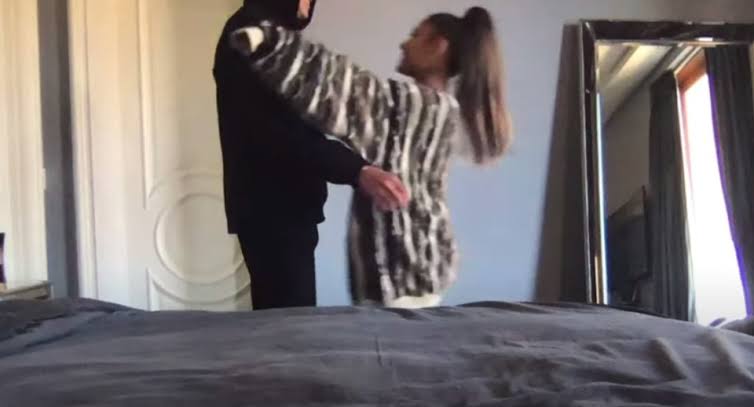 2. They are quarantining together.
According to TMZ, the alleged couple has been seeing each other for a few months now. During this pandemic situation, they are also quarantining together. Fans came to know about this when they saw Dalton in Ari's IG stories. They were able to identify him because of his tattoos.
Okay soooo, maybe she does have a new man. Named Dalton Gomez. #ArianaGrande Either way, I'm so happy for her. pic.twitter.com/7d2gvAU6d9

— Sᴏʀᴀ (@ASoraWild) March 22, 2022
According to a source, the alleged couple is social distancing together. The source said, "She's gotten to know him quickly with the quarantine. They've been spending a lot of one on one time at home". It is confirmed that Dalton is at Ariana's house for a few days now. They go for a drive once in a while, and otherwise, they are staying inside.
3. They first met through some mutual friends.
As per reports, Ariana and Dalton "run in the same circle." Also, according to a source, Dalton used to be a dancer. This way, they have a lot of familiar friends. So, they first met through some of these familiar friends only.
4. Dalton also has other famous friends.
As per reports, Ariana is not Dalton's only famous acquaintance. Back in 2017, we saw him in Miley Cyrus' Instagram stories.
Dalton Gomez via Instagram Stories pic.twitter.com/wm5j3WUOKV

— Miley Cyrus Germany (@MileyRCyrusGER) July 9, 2017
5. Dalton is a real estate agent.
The sad news is, his Instagram Id is private, so we cannot get a lot of information, but his Insta bio says that he is in real estate business in Los Angeles. So, we can guess that he must be selling multi-million dollar houses in Los Angeles.
Looking at his bio, we got his real estate group's website. Dalton was raised in Southern California. It also says that he is in the luxury real estate business for about five years now. Him being with Ariana is now explainable as he has a lot of A-list clients.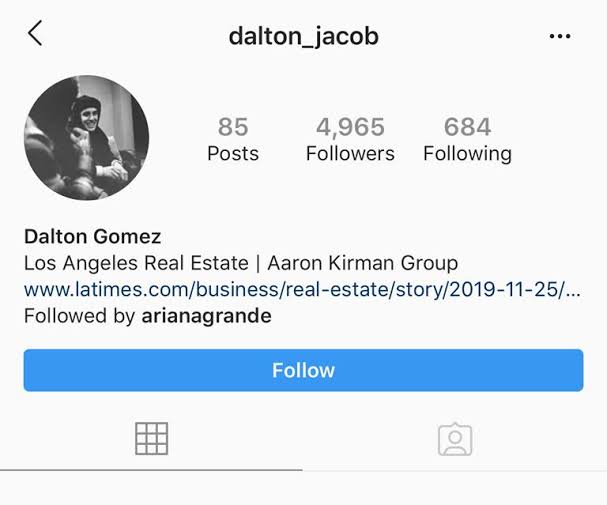 6. The alleged couple was seen making out at the beginning of this month.
As per reports, we cannot confirm that when did Ariana and Justin began to date, but we can be sure that they are dating for almost a month now. You must remember that Ari was caught kissing a mystery man at a restaurant in Northridge, CA. Now, we can suppose that he was Dalton.
7. Dalton is getting flirty with Ariana.
We saw that when Ari went live on Instagram a few days ago, Dalton was watching that. Later, he also commented on the video below, "This gurl cute." This shows that the relationship is in a good space now.
Now to the more solid proof. Ariana has gone live on instagram yesterday, and one particular comment made her say "I feel blessed." This comment is by Dalton, and her response is in a little delay, like responses usually are in a live stream on instagram. pic.twitter.com/WG08R9xokq

— ~M (fan account) (@letmeluvme) March 22, 2022
It is undeniable by now that they are together, thanks to their hanging out and make out sessions that are going viral for over a month now. But, we cannot still confirm that, as neither Ariana nor Dalton has come out yet and admitted anything about the relationship.
Stay safe and keep reading for more updates.